Transmitting news and information about sustainable endeavors in Coastal Virginia and beyond. Updated Weekly.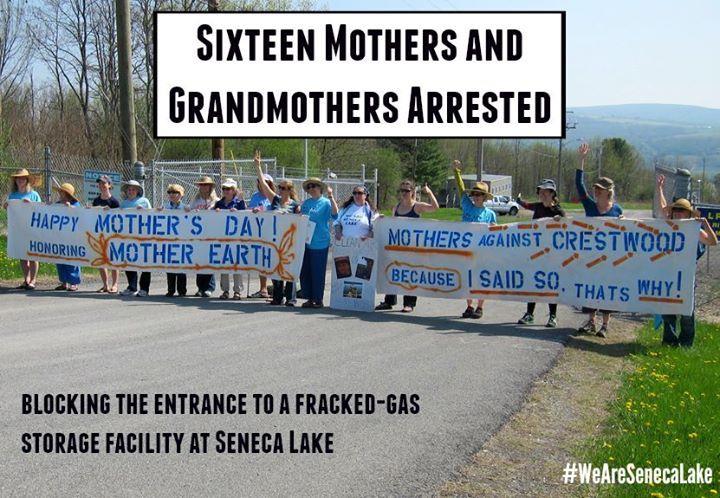 NY Mothers' Day 2015 Protest- According to #WeAreSenecaLake, 24 municipalies representing 750,000 people have passed resolutions opposing the Crestwood gas storage plant in NY - Image: WeAreSenecaLake
Surge for Fossil Fuels Protests
Posted 5.13.15 by Carol Brighton

Fossil infrastructure initiatives across the country have sparked a national movement against a growing and contentious industry.  University students are campaigning for divestment, utility shareholder meetings are being disrupted by demonstrators and mothers and grandmothers are being arrested while protesting at energy sites. Whether it's concern over the potential of a personal property right violation or the environmental threat posed by fossil development, folks in communities everywhere are up in arms and taking action.  With several high profile projects in the mid Atlantic, the region is a hotbed for civil activism.  In Washington, FERC, the federal agency responsible for approving what many consider to be controversial energy plans, has rescheduled its May meeting in the hope of escaping the ire of protestors.
Fueling regional demonstrations are plans for drilling off the Virginia and southeast coast, 2 major Virginia interstate pipelines, and Cove Point, a liquefaction and export facility on the Chesapeake Bay in Southern Maryland.
Several issues are of particular interest to land and business owners: Paramount among them are property and financial losses associated with the hazardous infrastructure. Surrounding communities also face public risk and environmental damage caused by construction, a spill or explosion. The long-term and far-reaching impacts on water and air resources likewise has environmentalists concerned. While water pollution has long been an issue related to drilling, recent news from the University of Maryland indicates that air pollution from fracking wells hundreds of miles away is reaching the Bay area.  Meanwhile climate activists condemn the harmful release of greenhouse gasses during fossil extraction and combustion processes.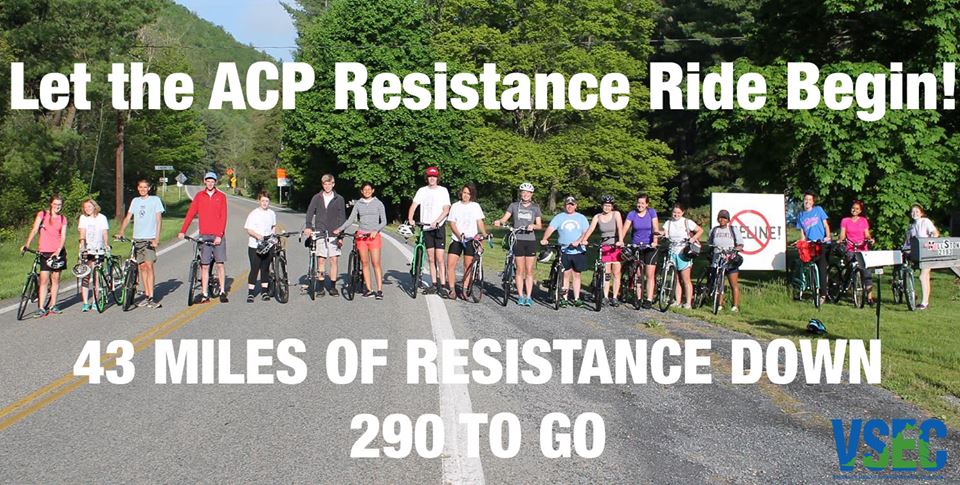 Virginia student Resistance Ride May 9-19 aims to put a spotlight on the damage the public and environment will suffer from the Atlantic Coast Pipeline development. The proposed ACP route traverses the Commonwealth and crosses the George Washington National Forest. According to VSEC, it will threaten 10 different federally recognized endangered species. Further west, the Mountain Valley Pipeline is likewise being contested. - Image: VSEC May 10, 2015
Virginia Students Feed the Resistance Fire
In Virginia, the Atlantic Coast Pipeline (ACP), has ignited a fireball of resistance from residents. The planned pipeline will carry fracked natural gas from West Virginia through Virginia to North Carolina. A Hampton Roads spur could extend to the coast via Suffolk and Chesapeake. The threat of eminent domain claims and legal action has pitted landowners and local communities around the route against a major power in the state: Dominion.
In addition to the myriad of development issues discussed above, a swath of clear-cutting through treasured landscapes could upset fragile ecosystems and create a path for foreign species invasion. To raise awareness and document the struggle of local residents fighting the pipeline intrusion, a group of Virginia university students is cycling through the Commonwealth. 30 students from UVA and several other schools embarked May 9 to tour a significant segment of the proposed pipeline route. They are stopping along the way to  meet with folks directly affected by the infrastructure and will be reporting on their 10 day 330 mile journey via facebook and twitter.  The resistance riders will complete their tour in Norfolk on May 19. 
Rider Kendall King-Sellars who also heads up Divest UVA says "I believe new fossil fuel infrastructure continues our dependency on dirty, harmful energy. It's time for a just transition to renewables!"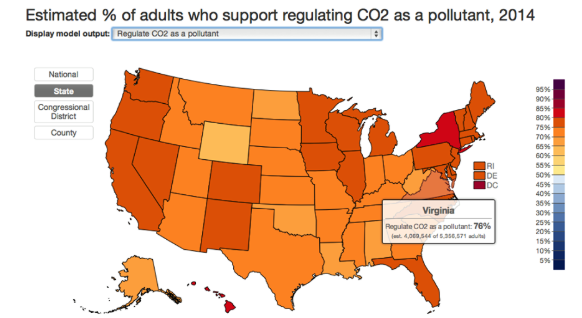 Public sentiment from the Yale Climate Opinion Maps indicate that 76% of Virginia adults support regulating CO2 as a pollutant, 79% support renewable energy research and 61% support requiring utilities to provide 20% of energy through renewable resources. Click on the map to go to the interactive site, where you can research opinion from the state, to congressional district and county level. Image: Screen shot from the Yale Climate Opinion Maps
Interpreting the results from Yale and George Mason survey data, it appears that a majority of Virginia residents share King-Sellars sentiments. Estimates show a clear consensus supporting CO2 regulation and renewable energy development. This should come as no real surprise. Already afflicted with sinking shorelines, the damage caused by rising seas is very personal to many coastal Virginia residents. 
The Department of Defense shares this concern. Home to numerous strategic facilities, sea level rise in coastal Virginia also threatens critical infrastructure and national security. Fortunately, the DoD is acting on a plan to reduce dependence on carbon and develop alternative energy sources. By 2025, one quarter of the energy consumed at DoD facilities is slated to be generated by renewables. A 2 MW solar farm is operating at Naval Station Norfolk and several free solar training opportunities for transitioning vets are now scheduled at the Chesapeake campus of Tidewater Community College (flyer).
Progress on the clean energy front is also being made in the Commonwealth. Governor Terry McAuliffe just announced a two year acceleration of a state goal to reduce consumption of retail electricity by 10%. A solar development authority was recently created and state law now allows businesses to pay for renewable energy and efficiency improvements through property taxes or other assessments. Dominion, the largest utility in the state, has also made a significant commitment to solar with plans to deploy 400 MW solar generating capacity by 2020. Meanwhile, North American Wind Power reports the utility made the decision to "put the breaks" on an offshore wind pilot project citing cost concerns. With the potential to launch a new industry in the region, the demonstration project was scheduled to have turbines spinning off the coast as early as 2017. Hopefully this move merely represents a temporary setback. One way to ensure that the Commonwealth stays on track with renewable programs is through the adoption of a mandatory renewable portfolio standard (RPS). By setting specific production goals, the Commonwealth could create a new clean energy economy.
Want to show your Support for Clean Energy in the Commonwealth?
Hands Across the Sand, a clean energy solidarity rally is scheduled for this Saturday, May 16 at the Oceanfront. Next month, on June 18, VB native Pharrell Williams is coordinating an international effort to amplify the call for climate action with Live Earth Concerts on every continent that will reach 2 billion people worldwide.  Read more about climate action in Virginia here. Add your voice to the Live Earth movement here.
Need more Information? Embedded below are clips from curated news collections on Pinterest. Click on the links above to go directly to the full Pinterest collections:
Conventional Energy Concerns Pinterest News Clips:
Earth-Climate Pinterest New Clips:
Check the Archive for Previous Posts
All Rights Reserved. Disclaimer.