Transmitting news and infomation about sustainable endeavors in Coastal Virginia and beyond. Updated Weekly.
Ripple Effect | Following Eco Tech and Trends
This is No Folk Tale:  ELF Sightings in Virginia
Enchanting Mode of Transport Emerging Everywhere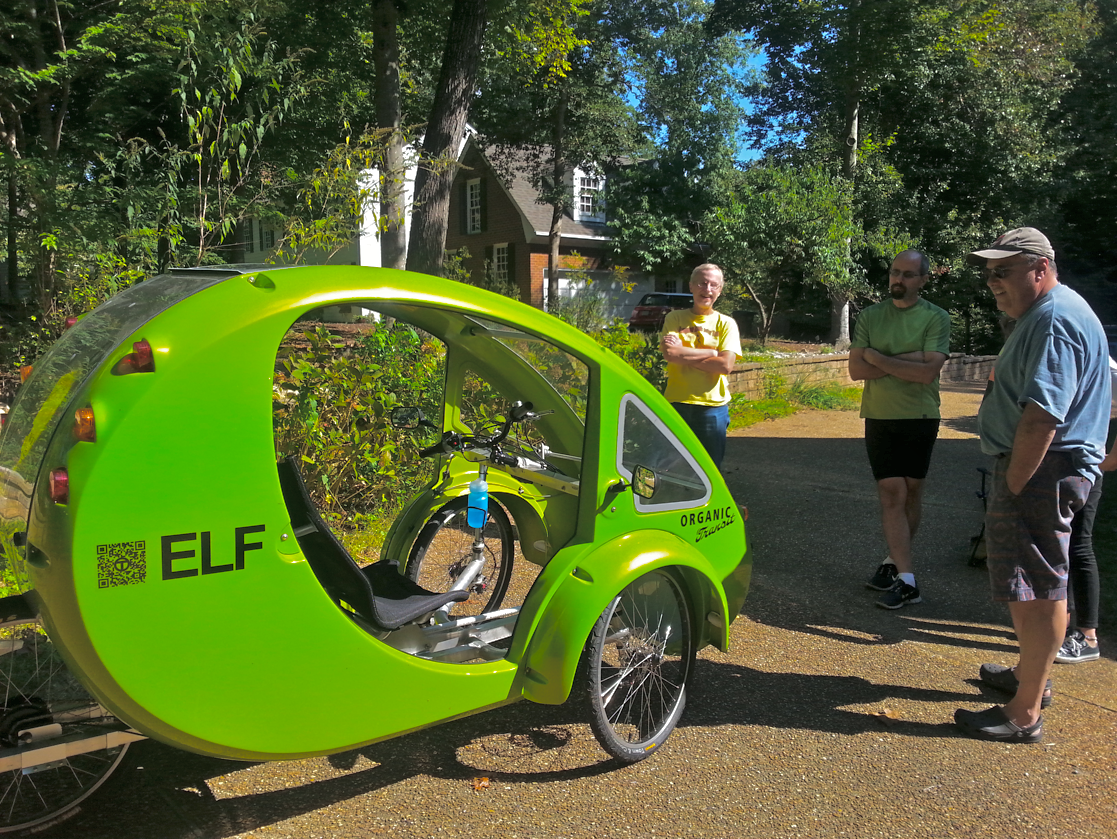 William & Mary/VIMS ELF on display during the Hampton Roads Solar Tour on October 4, 2014 in Williamsburg, VA. The ELF offers an alternative to fossil based transport which releases carbon contributing to climate change and nitrogen which has played a major role in the Chesapeake's Bay' decline.
Posted 29 October 2014 - by Carol Brighton
Given the old world charm of historic Williamsburg and the whimsical theme park atmosphere of Busch Gardens, an ELF spotted in the area may not seem all that surprising.  While not actually magical, the ELF encountered around town is certainly enchanting.  The sprightly solar powered cycle is turning heads and attracting interest at Fall events like William and Mary's Homecoming and the school's Science Day at the Virginia Institute of Marine Science.  According to David Malmquist of VIMS, the machine was purchased through a University grant and is used around the main college campus in Williamsburg and at VIMS in Gloucester to promote and demonstrate sustainable transport.
A protected trike, the 150-pound American made ELF, with a built in rooftop solar panel is not just a local attraction: Manufacturer Organic Transit of Durham, NC is shipping it to customers all over the country and has garnered the attention of both national and international press outlets.   The brainchild of company founder and CEO Rob Cotter, the ELF was designed to fill a niche between the car and bicycle.  At a talk earlier this year at VIMS, Cotter shared his company vision of "environmental prosperity" and more liveable communities. He pointed out that the vast majority of auto excursions are made by individuals and average about 2 miles which could easily be served by a better form of transport.   With protection from the elements, ample storage space and room for a pet or human passenger, the ELF is particularly well suited for local errands.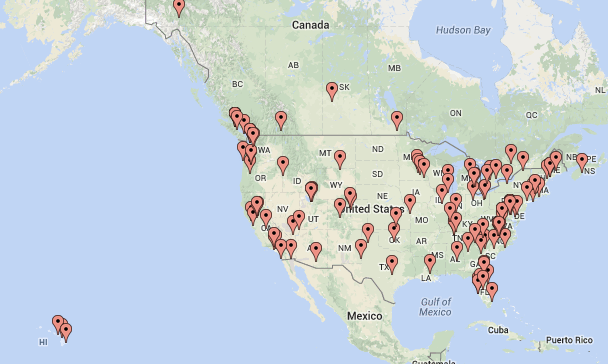 ELF dispersal across the Country - Map: Organic Transit
As a former race car designer with a pioneering background in solar and human powered propulsion, it was natural for Cotter to unite concepts to create a safe, efficient, healthy and eco friendly machine. After completing a successful crowd funding campaign, raising over twice the $100K goal in just 30 days, the fledgling operation moved to a new manufacturing facility in 2013 to kickstart commercial production. To date, Cotter reports that over 400 models have been sold.  As illustrated in the map, the ELF's far-reaching appeal is evident in its rapid spread throughout the Nation.
The standard ELF runs about $5500 and can reach speeds approaching 30 mph under both pedal and electric power.  The range for the basic model is 15 miles in electric only mode which doubles with pedal assist. Installing 2 upgraded batteries will extend the hybrid range to 90 miles. A full charge under the sun takes 7 hours or 2.5 hours from an electrical outlet.  The shell available in several colors is made from recycled and recyclable Trylon and sports headlights, turn signals and rearview mirrors.
A look through the Organic Transit facebook page reveals that folks buy the ELF for many reasons. Some made their purchase to save the earth, others for health or their budget. Legally recognized as a bicycle in all 50 states, it can travel in bike lanes/paths and requires no licensing, registration or insurance.  Cotter estimates that daily distance commuters can achieve a pay back for their investment in as little as 7-8 months while also reducing tons of CO2 emissions making it an "inexpensive way on a personal level to alleviate environmental damage." So, for a modest investment, the ELF enthusiast can have a big impact. Cotter equates the carbon offset created by a high mileage rider to that achieved by a 100% solar powered home owner.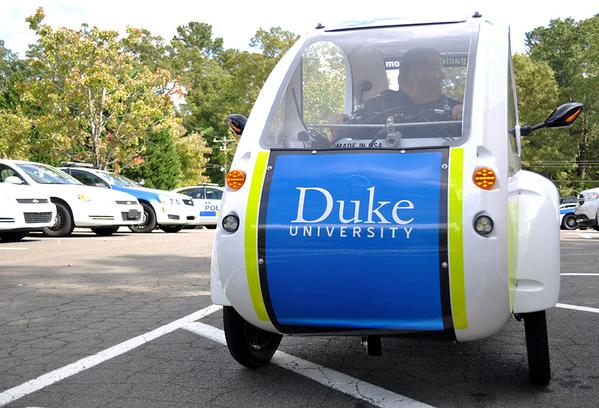 Fleet use is an ideal application for Organic Transport. In Montana, the ELF is the local workhorse for the Cascade City-County Health Department. Recently, the Duke University Police Department added an ELF to it's fleet. Kent State, Arkansas State and two Virginia schools, William and Mary and Bridgewater College are also counted among elite ELF owners. Image: Duke University/ @WorkingatDuke
Organic Transit is continuing to innovate and expanding its offerings. A prototype for tactical purposes has been designed. Plans are in the works for a two-seater and a variety of utility models for the likes of pizza delivery and more.  An autonomous unit is also under consideration and new features like doors for cold climates are some of the many options that will soon be available.  The company is also developing a unique operating model that includes regional production facilities.   The idea is to employ the resident labor force to assemble machines using locally sourced components, where available, along with proprietary elements made in North Carolina.  Such enterprises could also be part of workforce development and training schemes.
Filling a unique niche by offering a socially and environmentally responsible solution for a broad variety of local transport needs without the hazards of fossil pollution, the ELF is not just attractive to individuals: Fleet operators, like the  Duke University Police Department are also beginning to recognize the benefits. Considering fuel costs alone, each unit offers thousands of dollars annually in potential savings over conventional transport. The ELF can also be easily customized to reflect corporate or institutional allegiance and given the novelty of the machine, it is a great vehicle for business and brand promotion.
At the time of this writing, Stephen Szucs is en route from Canada to Key West in an ELF. Empowered by the ELF, Szucs is on a mission to deliver a sustainable message to the masses. Dubbed the "Sustainable Joes ReThink Tour," he is making stops along the way to highlight and participate in eco conscious endeavors. In Baltimore, he participated in tree planting and in Richmond he visited with organic food entrepreneurs. During his visits, he is reaching out to local residents with a goal of amassing a million pledges of sustainibility. The ELF prominently displays the web address of his sponsor, a Florida based annuity trader.
Information about the ELF can be found at the Organic Transit website. To learn more, watch the VIMS presentation recording with inventor Rob Cotter or Electric Bike Review's evaluation and test drive on Youtube.
For timely news on clean transport visit Carol's Pinterest Collection.
Tidewater Current Posts on Eco Transport:
On the Horizon: Reviving Sail Transport
Converting to Electric Transport
Sailing Into a Sustainable Future
View more images below of of ELFs at work.
Kansas City Handy Man Service - Image: Bike to You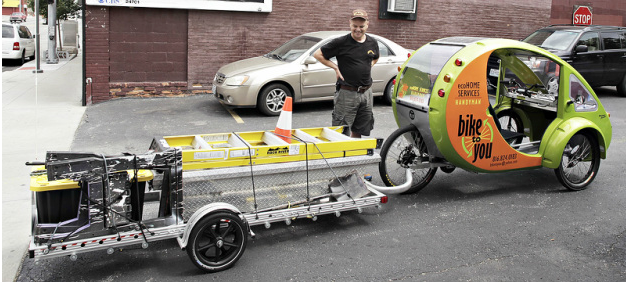 William & Mary ELF on display in Williamsburg at the Hampton Roads Solar Tour - Image: C. Brighton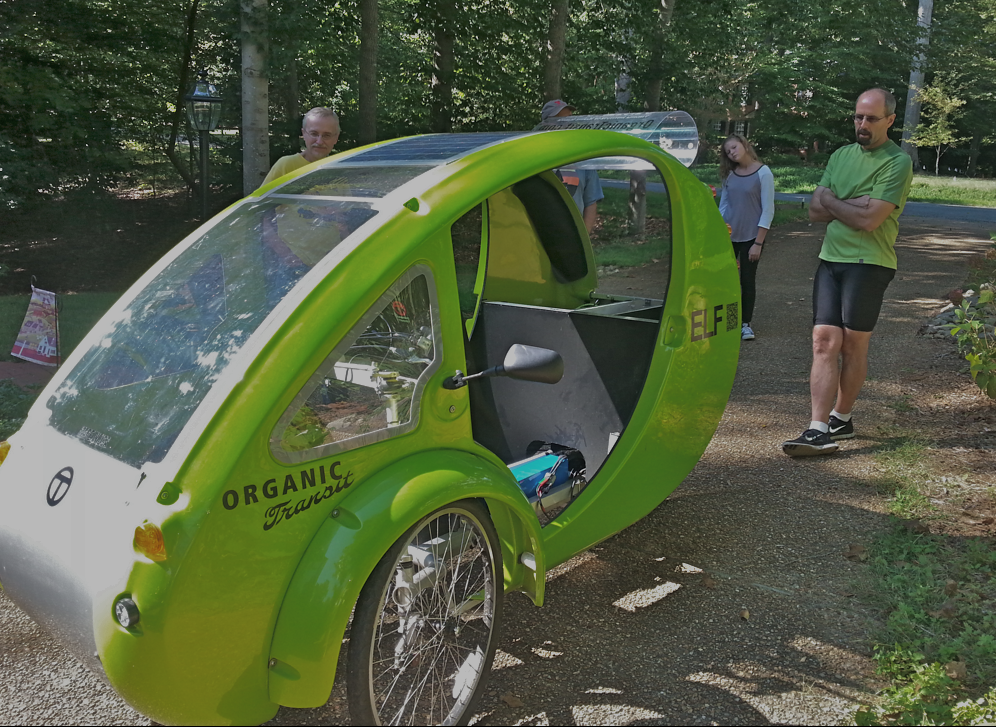 Bridgewater College Mascot in an ELF, Bridgewater, VA - Image: Organic Transit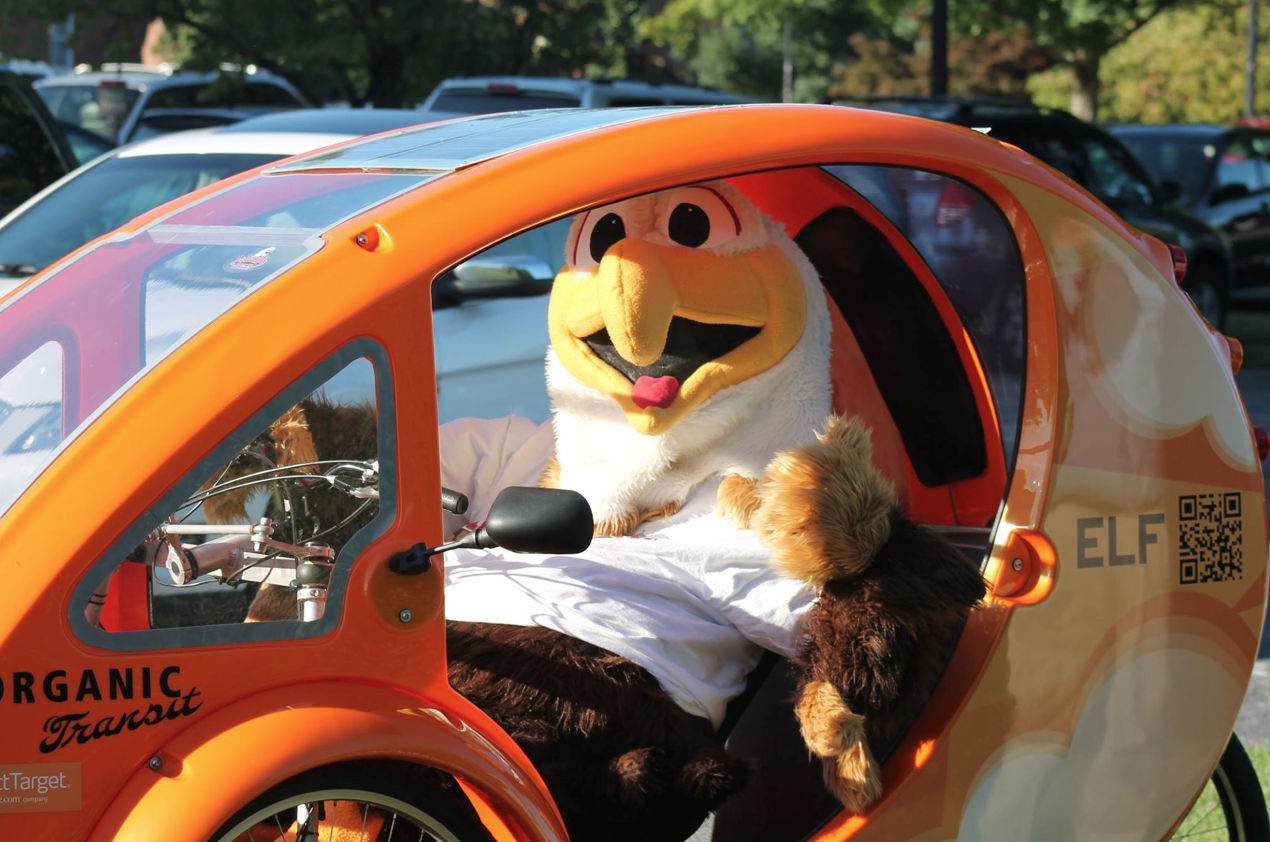 There's no better way to explore the streets of downtown Raleigh! - Image: Citrix Facebook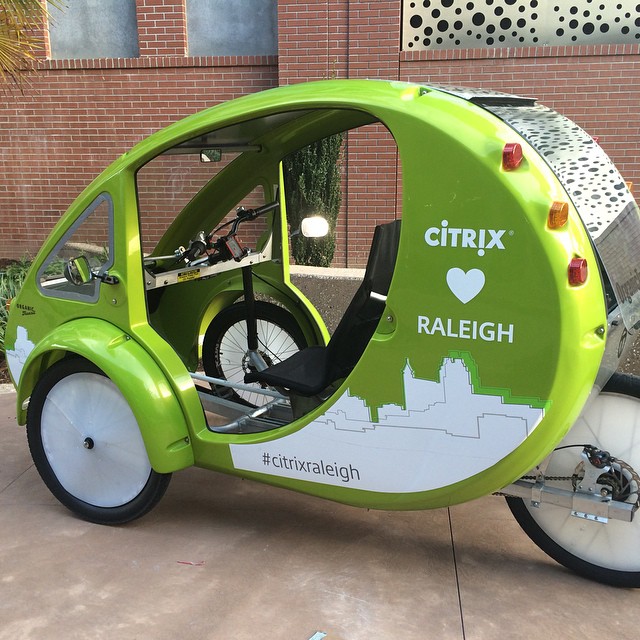 New Model - Image: Organic Transit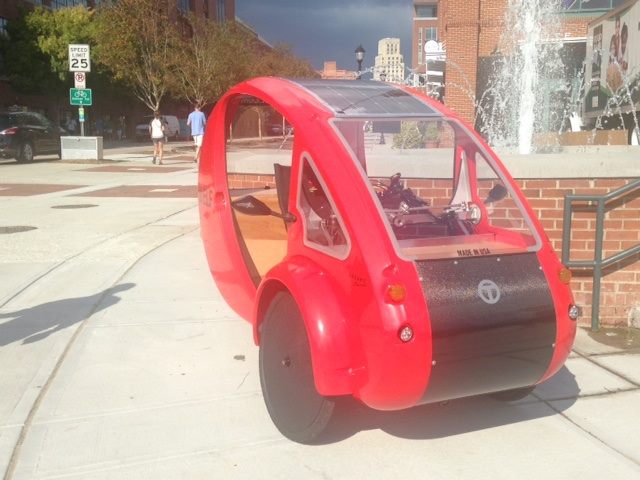 Delivery ELF without the Shell - Image: Organic Transit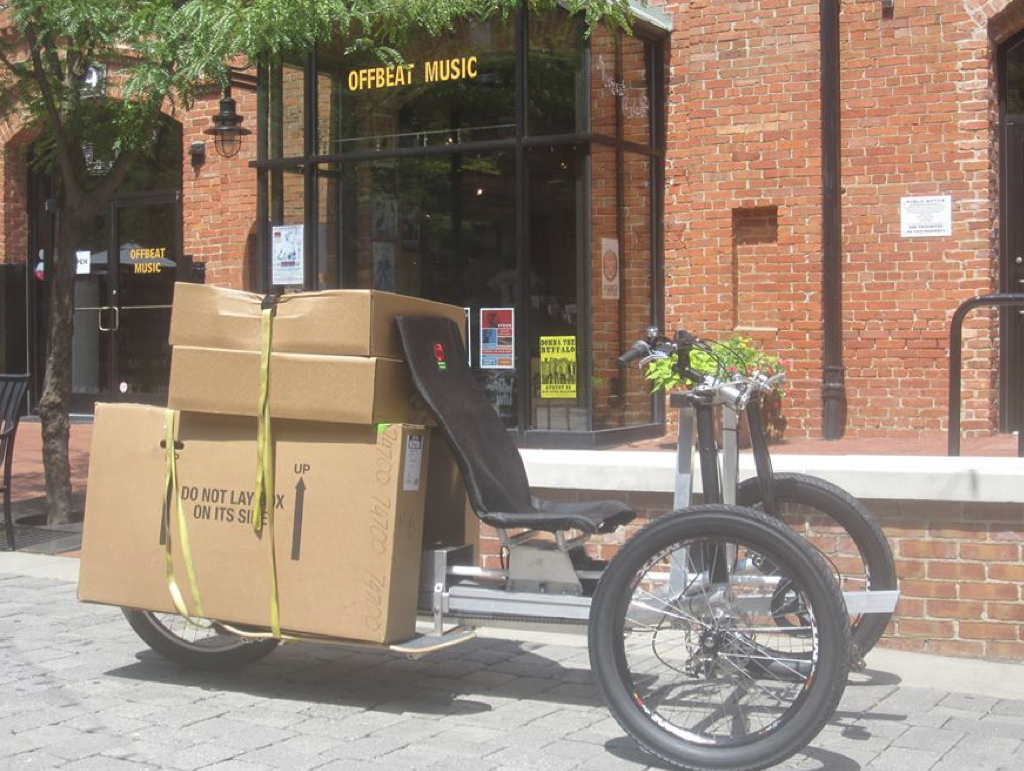 Check the Archive for Previous Posts
All Rights Reserved. Disclaimer.