Transmitting news and infomation about sustainable endeavors in Coastal Virginia and beyond. Updated Weekly.
Ripple Effect | Eco Tech & Trends | Strategies to Save the Sea
The Stars Come Out for the Ocean

Posted 1 December 2014 - by Carol Brighton

From Below the Waves to Satellites in Space, From Tiny Islands to Music and Film Giants, Initiatives are Being Launched to Protect our Life Support System, the Ocean.
Over the summer Fabien Cousteau, grandson of Jacques and an acclaimed oceanographer in his own right, spent 31 days under the sea. From Aquarius, an inhabitable underwater laboratory off the Florida Keys, he and a team of revolving scientists conducted research. Streaming a live video feed, Mission 31 had followers all over the world, generating press and focusing attention on ocean issues.
More recently, a new Sea Sheppard vessel was unveiled in Marina Del Ray, CA, who's famous namesake was on hand for the christening. The R/V Martin Sheen is a sailing research ship that will be used to investigate the growing problem of plastics in the ocean. And in September, sporting apparel made from plastic debris recovered from the sea, Virginia Beach native Pharrell Williams illuminated the potential of solutions to deal with plastic pollution. The RAW for the Oceans clothing line is a joint venture between Williams' company Bionic Yarn and G-Star. The debut of the collection was a star-studded event held in New York City that was followed by a summit that brought together conservation leaders to address the state of the ocean. Planners of both the fashion show and the "Summit on Wall Street" hosted by Parley for the Oceans created an immersive "deep sea" experience to connect the audience with the ocean. Dr. Sylvia Earle, an icon of ocean exploration, pictured below with Pharrell Williams was the headliner at this event.
Pharrell Williams and Dr. Sylvia Earle in New York City, Sept. 2014 - Image: Dr. Earle's Twitter Feed

"Even if you never have the chance to see or touch the ocean, the ocean touches you with every breath you take, every drop of water you drink, every bite you consume. Everyone, everywhere is inextricably connected to and utterly dependent upon the existence of the sea." – Dr. Sylvia A. Earle

"Dear human beings: very few of us think of the oceans beyond what we want from it. The oceans need us now. It's filling up with plastic and ruining the neighborhood. G-Star and Bionic Yarn want you to come together for Big Blue and wear the responsibility for the oceans. Happy life, happy human beings, and happy oceans." – Pharrell Williams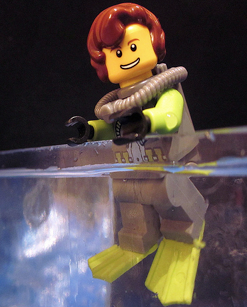 Sylvia Earle immortalized as a Lego figure has been referred to as a "Living Legend" by the Library of Congress, and the first "Hero for the Planet" by Time Magazine. Image:
pixbymaia on flickr
Dr. Earle Receives UN Award - Has Hope for the Ocean
In November 2014, Dr. Earle received another in a long line of prestigious awards: The United Nations Environment Program Lifetime Achievement Award as a Champion of the Earth. Immortalized by Lego (pictured) and Google with a statue at their Mountain View, CA headquarters displayed among other ocean heroes like Jacques Cousteau and Carl Brashear, Sylvia Earle is considered a "living legend." As a world renown ocean explorer, her list of accomplishments, honors and titles is as deep as the sea she has spent a lifetime studying. Fascinated with the prolific abundance of marine life as a child, Dr. Earle studied marine biology in the 1950s and was an early adopter of SCUBA technology introduced by Jacques Cousteau. At the same time astronauts were putting the first footprints on the moon, Earle was sharing a similar experience under the sea. She was thrust into the international spotlight in 1970 when she led a team of female aquanauts that lived in and conducted research from and underwater research lab, the Tektite II, in the US Virgin Islands.
In her pursuit to explore and conserve the ocean, she has visited many of the world's most remote locations, logged some 7,000 hours under the water and authored hundreds of articles. And, unfortunately, what she has been able to document in a career spanning over 60 years, is the dramatic decline in the productivity of our oceans. In a TED talk she notes that "In my lifetime 90% of the big fish have been killed."
Despite witnessing an underwater catastrophe that cannot be seen from above the sea surface, Earle has hope for the ocean. She points out that "There is good news. ... There are still places in the sea as pristine as I knew as a child. ... 10% of the big fish still remain, there's still some blue whales, there's still some krill in Antarctica, there are a few oysters in the Chesapeake Bay, half the coral reefs are still in pretty good shape... There's still time, but not a lot, to turn things around."
Earl Takes Action to Protect and Explore the Ocean
To increase protected marine areas now only covering 3% of the ocean to 20% by 2020, Dr. Earle has launched a global initiative. She likens the system to national parks and preserves that now protect 12% of important landscapes. Her non-profit, Mission Blue, is committed to safeguarding a network of Hope Spots. These are vibrant coastal and ocean ecosystems critical to restoring the health of the ocean. In August, Netflix released a documentary on Dr. Earle and her project. Through the documentary titled "Mission Blue," you have the opportunity to travel along with Dr. Earle in time and space to experience how the oceans have changed. From observing pollution in the ocean depths to the harvest of menhaden in the Chesapeake Bay, the feature chronicles the devastating impact of human activity on marine ecosystems. Follow the link to watch the trailer for "Mission Blue." If you have a Netflix account, you can watch the entire documentary from that page.
Dr. Earle is also deeply immersed in another important endeavor: Access to the world's deepest locations to document life found there. It is estimated that 95% of life on Earth calls the ocean home and according to NOAA, 95% of the oceans are unexplored. Without knowing what is there, it is impossible to understand its value and protect it. Part of the problem is the lack of technology to conduct research in the highly pressurized environment found at ocean depths. To reach the world's deepest crevices, Dr. Earle founded Deep Ocean Exploration and Research (DOER) Marine. She is building a dream machine: A submersible that will not only take her to the ocean depths but with the capability for manipulation and 360 degree observation as well as the instrumentation necessary to collect and record data. The real breakthrough came with the development of a type of glass that actually becomes stronger with pressure. Watch a video about the project.
Corals
Another group associated with Mission Blue, the Catlin Seaview Survey, is filming coral reefs all over the world ocean in panoramic vision. Access to their collection of imagery and data is readily available to anyone with a connection to the internet and will serve as a baseline tool to record change occurring over time in the planet's most diverse yet fragile ecosystems. Coral reefs are often referred to as the "Rain Forests" of the sea. Once considered plants, corals are in fact animals and they provide critical habitat for economically valuable species. They also protect our shorelines and draw tourists and their dollars. But as long lived sensitive creatures, they are subject to damage from fishing activity as well as pollution and have subsequently suffered serious losses in recent years. In August, NOAA listed 20 species of coral as threatened under the Endangered Species Act.
Although corals are more often associated with equatorial regions, they are also found in cold waters, including the East Coast's prolific deepwater canyons. Over the course of two months in the Fall of 2014, NOAA's Okeanos Explorer Mission scientists deployed a remotely operated vehicle within many of the East Coast canyons to explore and document coral and marine life there. The video footage along with commentary from researchers was broadcast live during the dives. Learn more at NOAA Okeanos site.
Policies and Programs to Protect Marine Resources
Overfishing and pollution are among the top threats to marine resources. As debris and fishing vessels seem to know no boundaries particularly on the high seas, there is a great need for coordinated efforts to ensure the vitality of marine ecosystems. While progress is far too slow for some, it is moving forward.
With the exception of a few important fisheries, managers in the United States have successfully tackled overfishing in many areas and stocks are being rebuilt. Unfortunately, that is not the case globally. Almost 30% of world fish stocks are overfished and another 60% is being harvested at or near the maximum sustainable limits. Because more than 90% of our seafood is imported, and some estimates suggest that over 30% of that is illegally sourced, the US has a very important role to play in protecting international fish stocks.
Excluding questionably produced harvests from entering our markets also protects our fishing industry. Pirate product flooding our markets drives prices down and hurts US fishermen who follow the rules. In 2009 the US was instrumental in negotiating an international treaty, the Port State Measures Agreement, that would help to eliminate pirate fishing. While the Senate ratified the treaty, enabling legislation never made it out of Congress. Over the Summer, a Presidential Task Force was organized to see how existing laws could be modified to reduce illegal, unreported and unregulated (IUU) fishing. Their recommendations are expected December 14.
Meanwhile ocean managers are currently considering ways to protect the unique communities of deepwater corals off the East Coast. The Mid Atlantic Fishery Management Council issued an amendment to the Atlantic Mackerel, Squid and Butterfly Fishery Management Plan and is expected to hold hearings this winter.
Big Preserves Announced Around Tiny Pacific Islands
Through a Presidential Proclamation, the US recently expanded the Pacific Remote Islands Marine National Monument area creating the largest marine protected area in the world. The monument now encompasses seven atolls and islands covering of 308,000 square nautical miles in the central Pacific Ocean. And the US is not acting alone. Palau is creating a National Marine Sanctuary the size of Texas that will protect some 193,000 sq. miles. For his efforts establishing the preserve, President Tommy Remengesau, Jr. was recognized alongside of Sylvia Earle by the UN in November. Aware that vast fish stocks inhabiting the lagoons and territorial waters surrounding the island archipelago are worth more to to the people of Palau alive than dished up for supper on a distant shore, plans are underway to stop industrial and foreign fishing within the islands exclusive economic zone. There are challenges to overcome. Its expensive for a little country to patrol and police vast expanses. A crowdfunding campaign that was to finance monitoring and enforcement support fell short of goals.
The Leonardo di Caprio Foundation also recently announced $2 million in funding for ocean conservation. Some of the money will support significant marine reserves in the Republic of Kiribati and the Cook Islands. And some will go towards programs to stop illegal, unregulated and unreported fishing coordinated through the nonprofit Oceana.
SkyTruth: Watching the Sea from the Stars
To ensure that established preserves function as intended, monitoring technology is now available. And it originates from a surprising place. In the mountains of West Virginia a small group of researchers mine something unusual in the state: Satellite imagery. The Sheperdstown staff of SkyTruth sifts through satellite data to document the location and extent of industrial activity both close to home and around the world.  From extraction initiatives high on mountaintops to the open ocean, a team sorts through imagery to monitor activity, record change and expose suspicious operations. While only a one man operation in 2010, Skytruth made news headlines when it revealed that BP was vastly underestimating the amount of oil flowing into the Gulf of Mexico after the Deepwater Horizon Explosion.  Still with only a small staff, the group accomplishes a great deal by crowd sourcing work out to concerned citizen volunteers, something they refer to as "Skytruthing."
The group just announced that they teamed up with Oceana and Google to develop an online platform that will function to assist commercial fishing watchdogs. A prototype of Global Fishing Watch is being used by Oceana and will soon be made available to other agencies and non-profits.  With more funding, the platform will be accessible to the public at large, so that anyone can get involved and protect marine resources.
As described in the video, overfishing is a dire planetary concern.   "So much of what happens out on the high seas is invisible, and that has been a huge barrier to understanding and showing the world what's at stake for the ocean," said John Amos, President and Founder of SkyTruth. "But now, satellite data is allowing us to make human interaction with the ocean more transparent than ever before. Fishermen can show how they are doing their part to fish sustainibly, we can motivate citizens to watch the places they care about, and we can all work together to restore a thriving ocean."
Accessing AIS data, users of Global Fishing Watch can visualize the movement of ships. While only large fishing vessels are required to transmit data through the AIS system, smaller fishing vessel are adopting the technology to avoid collisions in a busy ocean.  Fishing patterns evident in the AIS can be viewed in real time. And by comparing the AIS visualization with satellite imagery a lot can be revealed about activity that is not recorded.
What's Next:
As human population grows and demand for brain and heart healthy protein rises, fisheries and their ocean home will be put under even greater pressure. There are many innovative practices and technologies being developed to reduce human impact. Among them, land based aquaculture in recirculating tanks. Follow the link for previously posted info. Another post is in the works highlighting the potential of aquaculture and advances in traceability, labeling and fish choices.
For more on plastic pollution and protecting ocean resources, read the posts below:
Celebrating the Sea & Talking Trash
Avoiding a Collision Course among Ocean Giants
Fishing for Sustainable Seafood: Successful Solutions to Feed the Future
BBC Future Clips features Dr. Sylvia Earle Describing her Deep Search Submersible Dream Machine
Check the Archive for Previous Posts
All Rights Reserved. Disclaimer.