Transmitting news and infomation about sustainable endeavors in Coastal Virginia and beyond. Updated Weekly.
Splendor in the Trash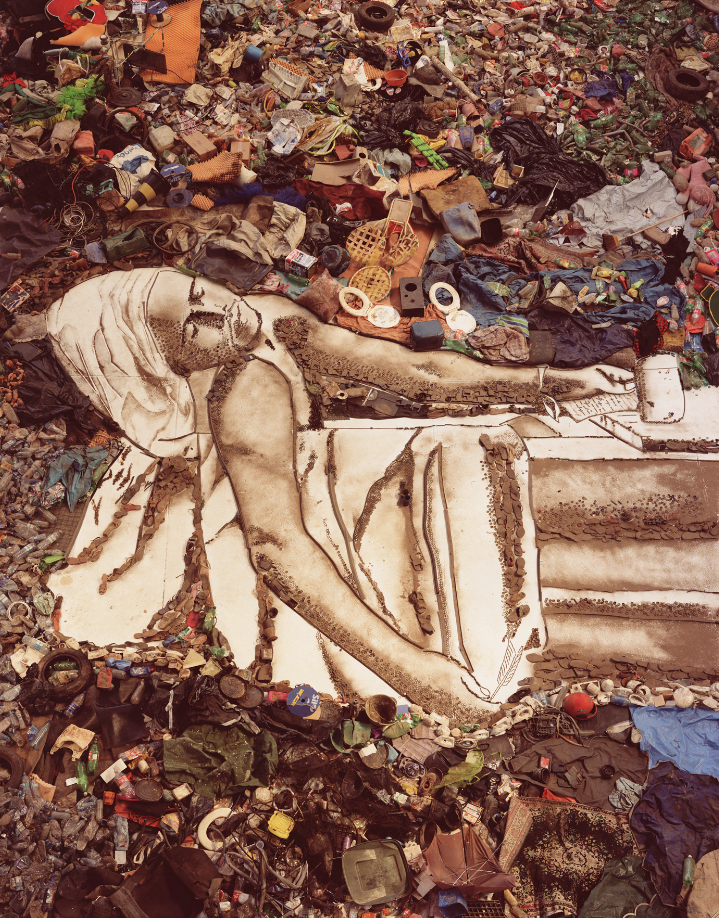 Final Tiaõ photographic print entitled "Marat/Sebastiao–Pictures of Garbage" - Photograph by Vik Muniz, courtesy of Vik Muniz Studio
Posted 3.30.14 by Carol Brighton
Part of Vik Muniz's exhibit currently on show at Virginia Beach's Museum of Contemporary Art portrays treasures created using items reclaimed from the world's largest landfill, Jardim Gramacho in Rio de Janeiro.  While the products constructed from refuse are mesmerizing, it is the story behind the project that truly inspires. 
Included with admission is a screening of the critically acclaimed documentary Waste Land  (trailer below).  In the film, the lives of several of the thousands of recycling workers responsible for collecting 200 tons of salvageable material daily, are highlighted. Invited to participate in the art project, the catadores' personal perspectives are transformed as each work of art is fashioned from their story and their sweat.  For their role in the project, the workers earn personal pride and donations for the organization that supports their collective and community.
The art is on display until April 27.  Along with the exhibit and documentary, more information on recycling is showcased.  Unfortunately, more waste is landfilled in the United States than is recycled or repurposed.  Universal adoption of the perception that there is treasure in trash may not elevate all discards to commodity status, but it could serve to significantly reduce the landfill waste stream. Read more about the value of waste and the clever ways trash is being managed in the following post: Waste as a Resource.
---
Waste as a Resource
Posted March 30, 2014 - by Carol Brighton
By treating municipal solid waste as a resource, the need for landfills can be eliminated.  Landfills not only take up valuable real estate, they are also responsible for water and air pollution, contributing significantly to greenhouse gas emissions.
Despite a focused effort to reduce disposal needs through recycling and composting programs in the United States, the EPA reports over half of discarded materials end up at the dump.  In Europe recycling programs are far more rigorous.  Sweden for example recycles 99% of its waste.  This significant accomplishment is possible through an ambitious waste to energy recycling process.  The program has been so successful, that the country now imports trash from its neighbors to fuel its power plants.
From an environmental standpoint, designing materials for endless reuse is ultimately the best method to manage solid waste.  The cradle to cradle initiative championed by Charlottesville, VA architect Bill McDonough provides a certification framework that promotes life cycle design.
While waiting for a C2C design revolution to makes some serious headway, a number of innovative endeavors are contributing to a reduction in the waste stream. Noteworthy initiatives to transition away from landfilling are underway while some clever uses for waste and  management facilities are likewise moving forward.  
Waste, Energy and Recreation at Amager Bakke
In support of a goal to become carbon neutral, Copenhagen planners are replacing an antiquated waste-to-energy (WTE) plant with a highly efficient, state-of-the art facility under construction at the existing industrial site.  With a vision to improve the local environment, designers from BIG have created a project that not only, manages waste, generates electricity and provides heat for 150,000 households, but also functions as a recreation destination.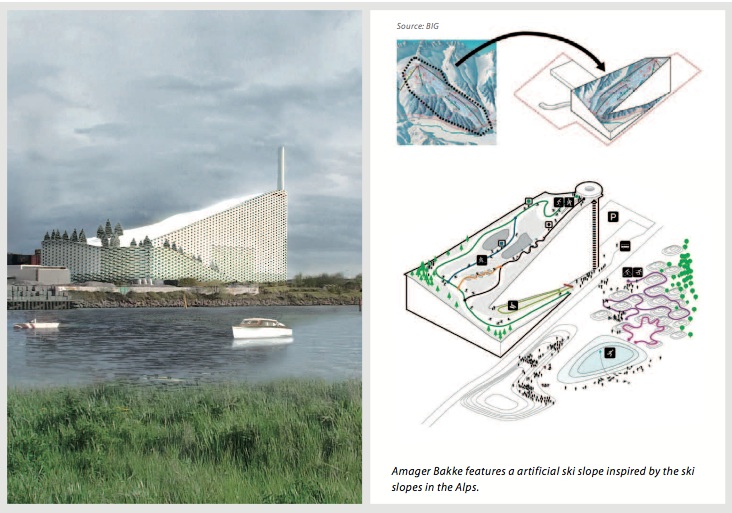 Image: BIG/BjarkeIngels Group
A glass walled elevator incorporated into the smokestack will provide access to the highest vantage in the city and, yes, a ski slope. During warmer weather, the facade seeded with planters will be full of greenery while the surrounding landscape will serve as a community park and include paths to connect current and planned housing complexes. Read more here.
WTE conversion exists here in the United States. The EPA reports some 86 plants in operation as of 2010. Most of the commercial scale plants, like the 5 in Virginia including one in Portsmouth, were constructed over 20 years ago. As rates of recycling and composting have leveled off, there is renewed interest in WTE. And communities like Frederick, MD and Palm Beach, Florida are embracing the technology.
In addition to energy and heat, fuels can also be produced from waste. And there are a myriad of ways this is being accomplished. Fiberight, a company with a pilot plant in Lawrenceville, Virginia has developed a unique process to sort and separate the material delivered straight from municipal trucks. Metals and plastics can be recycled while the organic material is fermented to produce what has been dubbed "trashahol." With a $25 million federal loan guarantee, the company plans to build a full scale facility this summer in Iowa.
Other methods of producing fuels at landfills, wastewater treatment facilities, breweries, distilleries and even dairy farms are being demonstrated and supplying energy. More about these projects can be found in the embedded Pinterest collection below.
Marine Pollution Solutions
As noted above, a cradle to cradle life cycle design process is considered the best way to rid the world of refuse. In order for this process to work effectively, products need to be collected. Sadly there is a giant mass of material that never makes it into the municipal waste stream and litters the landscape and pollutes our waterways.
Shining some star power on a plight of the sea, plastic pollution, Virginia Beach native Pharrell Williams is launching a new clothing line made from floating debris. RAW for the Oceans is joint venture between Williams' company Bionic Yarn and G-Star.  The clothing line will feature fabric made from organic cotton and plastic fibers and will be available on store shelves in August.
Meanwhile some savvy designers are working on a system to remove pollution from the Baltimore Harbor. Clearwater Mills LLC designed a conveyor belt trash interceptor that successfully operated and removed debris from the harbor (pictured below). Inadequately sized to capture the huge volume of floating debris, it was decommissioned a couple of years ago. As reported by Popular Science, Clearwater Mills is currently working on a new model powered by the sun and currents which should be operational shortly. Check out their progress on Facebook.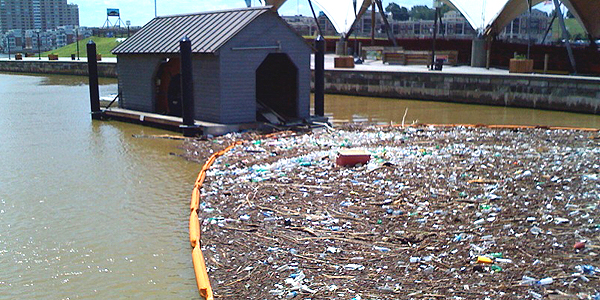 Image: HealthyHarborBaltimore.org
Derelict fishing gear is another nuisance. Lost in the ocean, the equipment wreaks havoc on marine species. Local and regional efforts to round up abandoned gear have been coordinated around the world. There is so much of it that campaigns to recycle it have been organized. Partnering with the Zoological Society of London, Interface Carpet is working with impoverished communities in the Philippines to recycle abandoned nets which are being converted into carpet tile. The process involves a productive partnership where the communities benefit by earning income and improve their environment. Check out this youtube of the Net-Works program. The Healthy Seas Initiative is likewise undertaking a similar effort. Pilot projects are planned in the North Sea, the Adriatic Sea and the Mediterranean.
Transforming Retired Landfills and Hazardous Sites
There are over 10,000 inactive municipal landfills in the United States and even more hazardous wastes sites. Traditionally this land has not been considered fit for any sort of development, but that is beginning to change. A landfill at the Salem, Virginia Veteran's Administration is now home to a utility scale solar array and there are several examples of this kind of use across the country. Recognizing the potential of deploying solar at landfill sites, the EPA issued a guide for this purpose. Just last winter the first installation of a solar system above a remediated superfund site was completed. Using lightweight thin film photovoltaics, DuPont completed a 548 kW installation on company property in Newport, DE.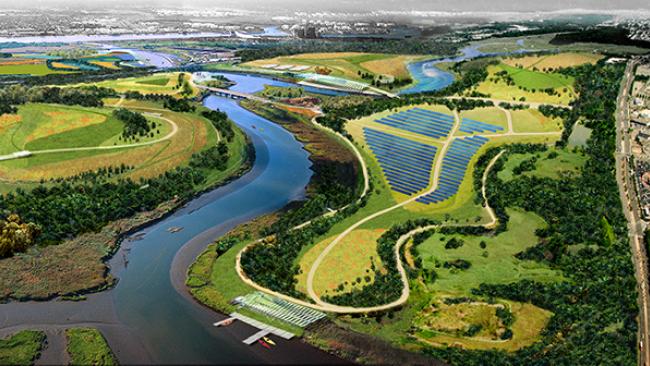 A rendering of the planned 47-acre 10 MW solar installation at Freshkills Park on Staten Island. - Image: City of New York
For more information on the innovative uses of waste, check out this Flipboard collection as well as the Pinterest collection below.
Check the Archive for Previous Posts
All Rights Reserved. Disclaimer.