Transmitting news and infomation about sustainable endeavors in Coastal Virginia and beyond. Updated Weekly.
Brighten Your Day with a Solar Tour this Fall
Solar events abound this time of year. The American Solar Energy Society hosts a National Solar Tour with local programs planned across the country. Meanwhile, the Department of Energy kicks off the Solar Decathlon, a highly innovative collegiate solar home competition in October.  For more information about these events and a DIY solar vintners tour, read on.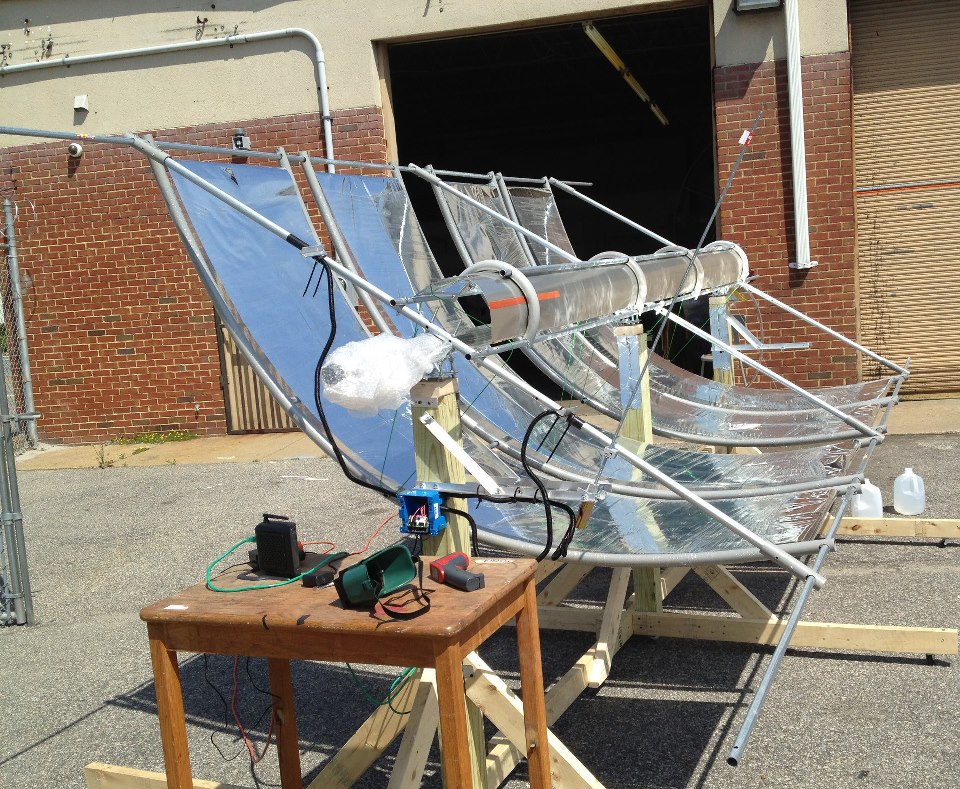 Tour host Zenman Energy of Norfolk. The non-profit is developing an affordable and scalable solar concentrating steam generator to provide low cost electricity.
The Hampton Roads Solar Tour
Saturday, October 5, 2013
Residents and business owners across the region are opening their doors to the public to highlight the benefits of solar energy.  The American Solar Energy Society has coordinated this National event the first week of October for close to two decades.  The October 5th Tour marks the fifth event organized in the area by the Solar Group of the Hampton Roads Green Building Council. 
As in the past, this year's tour does not solely focus on solar.  A host of sustainable technologies are showcased.  Applications of geothermal and rain water collection systems as well as a vegetated roofs and on demand hot water can be explored. A detailed description of all the sites featured on the tour can be found at HRSolarTour.com.
A seminal solar project included in this year's tour was slated for display next month at a ground-breaking international design competition: DOE's Solar Decathlon. The CanopyHouse sited on the grounds of Hampton University is the product of a two year joint effort byHampton and Old Dominion University students. The home is a model of efficient design and supports state of the art technology. More information about the project is included in the following post.
Education programs and tours are also being offered at the LEED Gold certified Grandy Village Community Center in Norfolk.   Visitors of this energy efficient building can learn more about solar thermal panels, geothermal heat pumps, permeable pavement and wetland reclamation efforts. The recently installed 42 kW rooftop PV array at the Virginia Living Museum in Newport News will be on display along with the model green home which includes a variety of recycled products, a vegetated roof, and in-floor solar thermal radiant heat.  In addition to numerous noteworthy sites on the Southside and the Peninsula, this year's tour has grown and includes 2 homes on the Eastern Shore.
The tour is free and open to the public. Registration, however, is required. Go to HRSolarTour.com to register.  In addition to the October 5th event, the Solar Group of the Hampton Roads Green Building Council is coordinating a tour of the 2.1 MW array at the Norfolk Naval Station on October 22. See Flyer.
Info about green building in the region and past tour participants can be found in the linked posts to the right. 
Posted 9.16.13 - By Carol Brighton
---
Ground-breaking Solar Home Competition Heats Up in a New Locale
DOE's Solar Decathlon is Going to California   

Team West Virginia's Entry includes a solar charging station/carport.
After 5 biennial events in Washington DC, the Department of Energy selected Irvine, CA as the host city for this year's Solar Decathlon:  An international sustainable design competition where university teams endeavor to outshine their competitors. Collegiate teams, haling from schools around the nation and the globe are following the sun to the West Coast to compete in October.  The contestants are challenged to design, develop and display solar powered homes that utilize the latest and greatest in innovative, resource efficient technologies at an affordable price. While all the homes are small, less than 1,000 sq. feet, a host of space efficient and transformable design elements are incorporated to create the feeling of a larger space.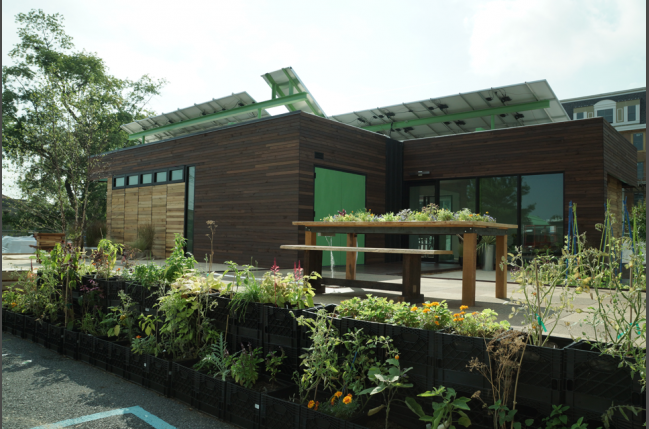 Team DC's Harvest Home clad in reclaimed wood boasts rainwater capture, grey water recycling, outdoor space & gardens.
The Solar Decathlon site is open for public touring October 3-13. If a visit to Irvine, CA is out of the question, you can take a virtual tour of all the homes on display.
While Team Tidewater was among the elite group selected to participate in this prestigious event, the team was forced to withdraw their entry. The Canopy House is the culmination of a 2 year collaboration between students and faculty from Hampton and Old Dominion Universities. Suffering a budget shortfall, the team could not afford to transport their shining example of sustainibility to the West Coast for display. A silver lining in this disappointing circumstance is that the project will be included in the Hampton Roads Solar Tour on October 5th.
Despite the local casualty resulting from the change in venue, the variety of impressive features and technologies incorporated into these collegiate projects are worthy of exploration. Several themes are prevalent in this Fall's prospects.  Prominent among them is universal access.  Submissions from Team DC and the Stevens Institute of Hoboken NJ were designed specifically for wounded warriors and will be donated to organizations that support veteran rehabilitation.  Several others, including the planned submission from Team Tidewater, created wheel chair accessible layouts to accommodate an aging population.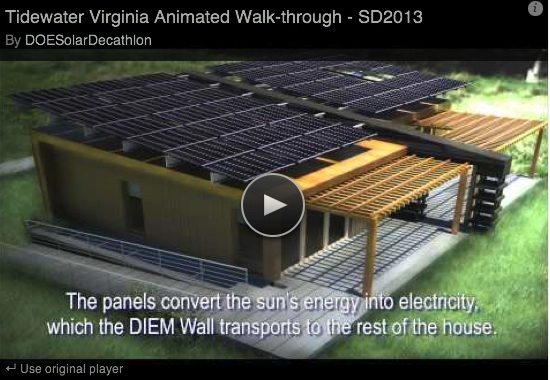 The Canopy House contains a ductless energy efficient mini-split HVAC sytem. The rooftop solar canopy (described in more detail below) is supported by a unique central structural wall that houses indoor mechanical elements as well as an outdoor vertical garden. Solartubes and expansive bifolding glass doors let the sunshine in.
Many of the homes contain a central core and are designed for prefabrication and quick construction.  In addition to creating a tight, well sealed, energy efficient structure powered solely by the sun, teams conserve other natural resources in a variety of ways. Rainwater capture and grey water recycling is common and the preponderance of materials used are non toxic, locally sourced, renewable, reclaimed or recycled.   Wood and bamboo are used extensively.  The Czech entry is made entirely of wood, while bamboo is used in a variety of ways in a number of projects.  The Santa Clara team used it in a unique way:  The raw unrefined material is the basis of the structural wall and joist system.  
Yet another dominant theme among entries is the integration of the outdoors into the living space with large exterior openings to porches and gardens.  Many of these gardens are vertical and provide ecological services as well as produce.  A few homes include a living roof.
Passive ventilation is incorporated into most homes.  The Middlebury and West Virginia Teams include a solar chimney, while the USC team makes the most of the cooling feature. The Flux home sports a large central retractable skylight in the main living area that provides plenty of natural lighting while letting hot air escape and  pulling in cooler air from below.  A second retractable skylight is located in the bathroom creating an open air shower.
There is a diverse assortment of heating and cooling systems.  Likewise solar panels and mounting structures also vary considerably.  Mini-splits are used in some units, while a number of teams chose diverse in floor and ceiling radiant systems. Team ASU NM's entry has a chiller that freezes water and runs cold water through the ceiling.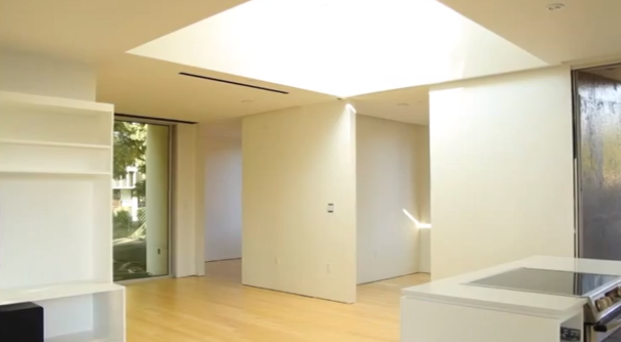 Retractable skylight/solar chimney in the USC Flux House.
The ASU NM home also sports a movable solar panel system. Similar systems are included in two other homes, providing sun and rain screening for outdoor spaces.   Dow solar shingles are installed on the Stevens House while the Norwich University home is fitted with flexible thin film PV and Missouri is using mirrors to concentrate solar energy. 
While no longer a competitor, Team Tidewater, supports an unusual technology:  An integrated hybrid thermal/PV array.  In the SunDrum system water is used to cool the panels increasing their efficiency while collecting heat for hot water.  Heated water is pumped to a primary tank.  When the desired temperature is reached, the water is then pumped to a secondary tank protected by phase changing materials for long-term storage. 
Stevens mounted phase changing materials in their walls.  The material stores heat and release it as temps drop.  Meanwhile, UNC Charlotte developed a completely new radiant wall panel technology (discussed more below).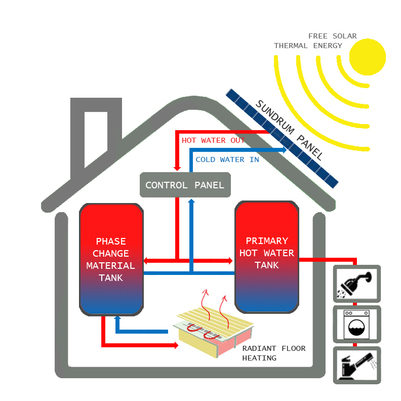 Team Tidewater's Sun Drum System.
With so many impressive attributes and the inclusion of innovative technologies, it's impossible to pick a favorite, but among the top of any must see list are 3 very different homes featured below.
Team Kentuckiana - University of Louisville, Ball State University, and University of Kentucky
The Phoenix house was designed for rapid deployment in the aftermath of a disaster, specifically a tornado.  This home contains an inner core with a safe room that doubles as a bathroom.  Inhabitants can seek refuge in this highly protective space in the event of threatening weather conditions.   Designed with readily attainable off the shelf products, this his prefab home can be constructed in a week and accommodates six residents.  High ceilings maximize space, creating an expansive feel. Vertical and patio gardens provide privacy, shade and water treatment in addition to food.
Team SCI-Arc CalTech - Southern California Institute of Architecture and California Institute of Technology
DALE, pictured right, is constructed of moveable modules. Each highly adaptive section sits on rails that slide apart to extend living space to the outdoors.  Even the interior walls and furnishings are easily reconfigurable.  Given the modular nature of the home, it can easily be expanded to meet the needs of a growing family. And space can be easily converted to meet changing needs. DALE also sports PV modules that slide on tracks for covered outdoor space.
Team UNC Charlotte
Last but certainly not least is UNC Charlotte's Urban Eden. Like DALE, PV panels slide on a track allowing for winter heating and summer shading.  While this is a particularly attractive feature, the real advancement in this house is the concrete structural panels developed at UNC Charlotte. This potentially transformative technology replaces Co2 emitting Portland cement with eco-friendly geopolymers made from fly ash.  A tubing system encased in the panels enables radiant heating and cooling.  Cooling is achieved as heat is transferred to the rooftop by pumping water through the panels . A great choice for an urban environment, the panels serve as a highly effective sound barrier. The vertical garden provides privacy and a pivoting TV wall allows for outdoor viewing and hides a Murphy bed.
UNC Urban Eden's Geopolymer Panels.
Posted 9.16.13 - By C. Brighton
Please feel free to share your thoughts on the Solar Decathlon. Constructive comments shared via email will be posted below.
---
Click on the image to go to google maps.

DIY Solar Vintner Tour

Vintners, who rely on sunshine to bring fruit to the vine, are also exploiting its power to energize their indoor operations.  Currently four vineyards and a major wine distributor have installed solar PV systems in the Commonwealth. 

Get into the Spirit of this Solar Season and partake in a solar winery tour.

In addition to solar systems, many of the vintners have embraced various eco-friendly technologies.  Just follow the hyperlinks for more information on the Vintners listed below.

Happy Touring!

38295 Fremont Overlook Lane, Purcellville Virginia


Net Zero Energy facility.  35 kW system installed on the roofs of the case storage and tasting rooms.

16031 Hillsboro Road, Purcellville, VA 20132

LEED Gold certified, Net Zero tasting room with 22 kW solar integrated roofing system.


13372 Shannon Hill Road
Louisa, Virginia 23093


LEED Platinum Tasting Room with 5.8 kW ground mounted array.

40 Gibson Hollow Lane
Etlan (Madison County), VA 22719

3.78 kW rooftop system supplies electricity to the tasting room. 

100 KW rooftop array helps to power a 30,000 sq. ft. warehouse.

Posted 9.16.13 - by Carol Brighton
Check the Archive for Previous Posts
All Rights Reserved. Disclaimer.