Tidewater Current | Summer 2013
Transmitting news and infomation about sustainable endeavors in Coastal Virginia and beyond. Updated Weekly.
Features:
Will the Green Reality of Hemp Tempt Domestic Production?
Resources & Apps for Enjoying Nature in the Bay Watershed
by Carol Brighton
The newly delineated paddle trail spans some 800 miles along the Coast of 4 states. The route connects Virginia from the Lynnhaven River near the mouth of the Chesapeake Bay to the Cumberland National Seashore of Georgia and the Florida border. 
Paddlers can navigate through remote and urban wetland waterways from north to south or vice versa or tour any segment in between.  The journey broken down into 15 – 40 mile legs meanders by numerous national wildlife refuges, national seashores, state parks and reserves. 
The route also intersects with an existing network of paddle trails, including the Captain John Smith Chesapeake National Historic Trail at the Northern Terminus through the Chesapeake Bay to Delaware and at the Southern limit:  Florida's Circumnavigation Saltwater Paddling Trail.  An interactive map provides alternative and spur routes.  Details for each state are offered on the official waterway website.
This paddling network is the culmination of coordinated efforts by various state and federal agencies to collect data and develop maps.  In Virginia, the Hampton Roads Planning District Commission  and the Department of Conservation and Recreation contributed to this noteworthy endeavor.
See a listing of all the partners.
Click the image to go to the interactive map.
---
Will the Green Reality of Hemp Tempt Domestic Production?
Posted 7.3.13 by Carol Brighton
As a nontoxic, renewable and biodegradable material, industrial hemp is supplying a growing demand for a wide variety of carbon neutral and cradle to cradle products.  There has long been a niche market for oils, seeds and fiber in the highly valued food and nutrition supplement sector.  And with endorsement from the likes of Dr. Oz among other health gurus, sales continue to grow.  
A Booming Retail Market for Hemp
The thriving marketplace for this versatile product now supports a $500 million dollar retail industry in the United States. Hemp has a myriad of uses. It is replacing plastic composites in cars and can be found in luxury models, like the Lotus, BMW and Mercedes Benz as well the more economically priced models of Ford, GM and Chrylser. The Kestrel, a concept electric car was made from the material in Canada.  The fibers are weaved into a variety of materials for high fashion and have been included in the lines of Giorgio Armani and Calvin Klein.  Enviro Textiles is now marketing the fabric for medical use as it stops the spread of staph bacteria.
Hempcrete used to construct the walls of this Asheville, NC home sequesters carbon when it is grown and in its finished form. The material is non-toxic and highly insulating.Click on the image to view a youtube video during construction.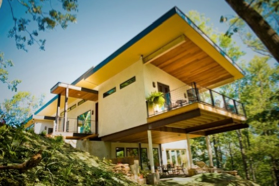 One of the largest potential growth sectors for the product is the construction industry. Goods including, fire and termite resistant, mold and mildew free panels, shingles, bricks, insulation, and a poured lightweight masonry material called hempcrete are being incorporated into upscale green homes like the one pictured to the right. Hempcrete is a breathable material with superior thermal qualities, so heating and cooling requirements are minimal. Crops can be grown for dual purposes. While the woody core and fiber can

literally be used to build and finish a home (highlighted below), biodiesel can also be produced from the seeds.  Henry Ford grew the crop for fuel and over a decade ago a Hampton, VA couple traveled over 13,000 miles powering their Mercedes Wagon with hemp biodiesel. The cross country expedition raised awareness and garnered support for industrial hemp and was even replicated by another group in Japan.
Hemp is Grown in a Sustainable Manner
As a crop, hemp is a highly productive resource that will grow on marginal land and is drought tolerant. Chemical inputs are not absolutely necessary, so the crop lends itself to organic production.  It's an ideal rotation crop as it crowds out weeds, fixes nutrients into the soil and can be used for bioremediation to remove chemical residue or other toxins.  While specialty markets have been developed for the crop, literally thousands of uses for hemp have been identified.
Because of the vast market opportunities, American farmers would like to cash in on the crop.  Federal legislation, however, does not permit it.  And as a result, the US is the world's largest importer of hemp.  30 industrialized countries, including our neighbor Canada produce the crop, much of which is exported to the United States.   And it should come as no surprise that China is our largest supplier. 
How did this historically significant staple crop grown by colonists in Jamestown and our founding fathers fall out of favor??? 
Some credit the protection of cotton, oil, paper and plastic industries with its demise.  A tax levied on the crop in the 1930s resulted in a major decline in production, which ceased in about 1958. To seal the deal, the 1970 Controlled Substances Act included all the cultivars of Cannabis Sativa, even those with negligible levels of THC.  While hemp does resemble marijuana in appearance, a March 2013 Congressional Research Service Report notes that the two cultivars are indeed different.  The author sets out by stating that "hemp is genetically different and distinguished by its use and chemical makeup." THC levels are so miniscule in hemp that it does not possess psychoactive properties.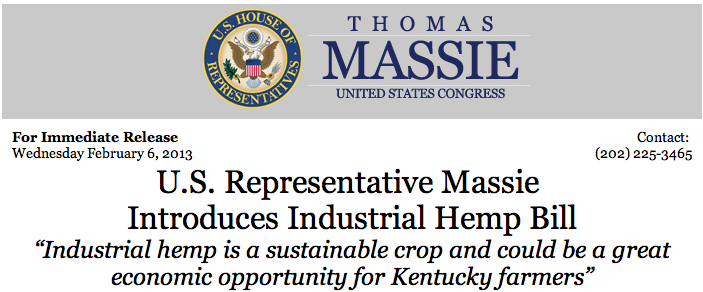 The Proliferation of Pro Hemp Legislation
Given the potential of hemp, there is a growing groundswell of support to allow its production.  In June the House of Representatives passed an amendment to the Farm Bill with bipartisan support that would allow test plots of industrial hemp for research purposes conducted by universities.  Unfortunately, that version of Farm Bill for unrelated reasons did not succeed.  The Industrial Hemp Farming Act, also introduced this session of Congress (H.R. 525 and S. 359) also has bipartisan support and would redefine marijuana under the Controlled Substances Act, excluding industrial hemp with minute concentrations of THC from control. But the bills were referred to committees and will never likely be voted on.
Thousands of agricultural and manufacturing jobs could be created in Virginia if hemp production were legalized. Jim Politi,s the Montgomery County Supervisor, interviewed below, is working to garner grass roots support change federal law.
At least 31 states have introduced pro-hemp legislation, which passed in 19 states, including Virginia. The following nine states have removed barriers to its production: Colorado, Kentucky, Maine, Montana, North Dakota, Oregon, Vermont, Washington and West Virginia.  Colorado has also instituted a licensing system for production and the Denver Post reports that for the first time in 60 years, a potential trendsetter is defying federal law and is growing the first commercial hemp crop in the US.   More info on state and federal activities, visit the vote hemp website.
In Virginia there has also been a rise of support for industrial hemp.  Jim Politis, a hemp advocate in the western part of the State has been on a crusade to spur economic development with hemp production.  He has personally addressed numerous civic and municipal groups, touting the green benefits of industrial hemp production.  Through his work, multiple government and economic organizations have come out in support of industrial hemp production.
Resolutions of support have been received by Albemarle County, Blacksburg Town Council, Buckingham County, Charlottesville, Floyd, Giles, Pulaski and Mathews counties, Montgomery County Chamber of Commerce, Montgomery County's economic development board of directors, Montgomery County Board of Supervisors, Montgomery County Farm Bureau, New River Valley Economic Development Alliance, New River Valley Planning District Commission and Wythe County.
Bringing it Home
A New Documentary produced in North Carolina explores the history of hemp and purports its economic and environmental benefits. "Bringing it Home" was featured at a number of venues across the country in celebration of Hemp Week in June.  The film makers travel the world to explore hemp production and uses. They cover its sustainable production, non-toxic and carbon negative attributes, which are not only essential for human health, but planetary health. The importance of breathable hemp homes and products is a focus in the production as one Asheville, NC family copes with the chemical sensitivity of their autistic child.
A local viewing of the documentary may be arranged.  Visit the contact page for the email address to send a message of interest.
Hemp will likely help meet the skyrocketimg need for green building techniques and products demanded by a host of "sustainable" certification programs being utilized by more and more companies. The product could be locally sourced and help local farmers and economies.
To learn more about this amazingly versatile natural resource, view the links below or visit Carol's Hemp Pinterest collection for timely news updates.
More Info about Hemp:
From the Virginia Industrial Hemp Coalition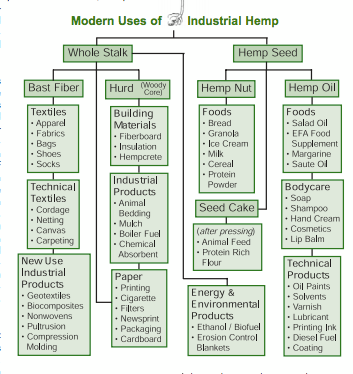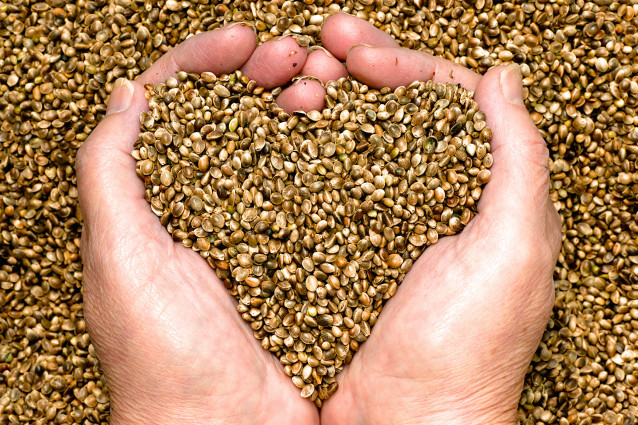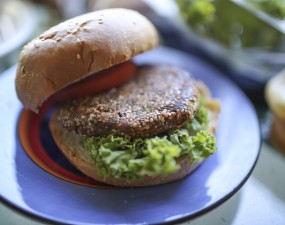 Almost everything in this South African home is made from Hemp - All the hemp needed to construct the house was grown on just a few acres in just a few months. Hemp can be grown on marginal land and requires no chemical inputs. Its fire and mold resistant and releases no toxins into indoor air.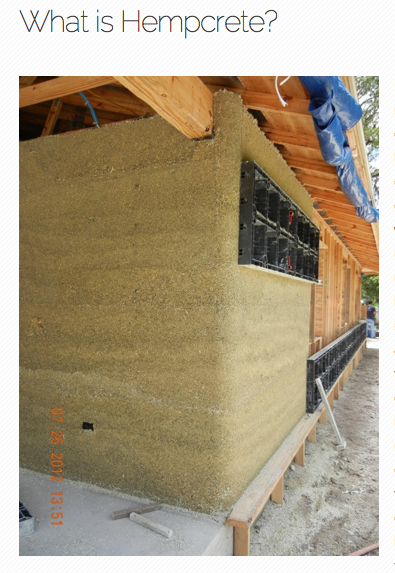 Load Bearing Bricks and more products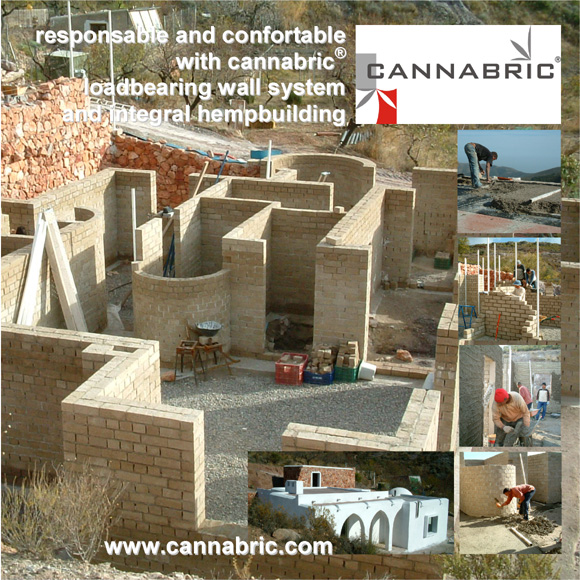 ---
Resources & Apps for Enjoying Nature in the Bay Watershed
Posted 7.3.13 by Carol Brighton
In the Tidewater region there a so many opportunities to get out and enjoy nature. Whether you are planning a trip or simply want to visit your local beach, the resources below provide information on recreational opportunities as well as environmental data such as water quality.
Beach Water Quality Monitoring
The Virginia Department of Health tests beach water quality. Click on the map to go the agency's interactive website. The image portrays conditions as of July 3, 2013 which shows swimming advisories at some Chesapeakea Bay beaches. Water quality is monitored once a week during summer months. In Virginia Beach testing is generally conducted on Tuesdays. Lab results from the tests are not available for 24 hours however. So beaches remain open when conditions are not favorable. By going to the VDH website, you can check if an advisory has been issued at a particular beach and review the history of advisories. For more timely results, the City of Virginia Beach is in the process of investigating a rapid response test.
If you're traveling outside of Virginia, the Natural Resources Defense Council, maintains a interactive map and database of all US beaches. The organization is currently campaigning for stricter water quality monitoring standards while the EPA is looking to ease the standards which have been in place for over 30 years. The group is also concerned that federal funding which supports water quality testing may be suspended as early as next year. You can learn more at the NRDC website and if inclined, take action.
The National Park Service's Chesapeake Bay Explorer App
This FREE app provides detailed information to help visitors and residents alike experience the region's natural resources and history. From biking, hiking and kayaking trails to campgrounds, bird watching and heritage sites, the app can help you identify destinations to explore. In addition to directions, pertinent information like hours of operation and fees are provided. More than 400 parks and historic sites are included in the app.
Download the App: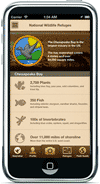 FREE Chesapeake Bay National Wildlife Refuges App
11 refuges are located in and around the Chesapeake Bay region and if you want to know more about them, there's an app for that. "The app provides a new interactive experience by encouraging refuge visitors to become modern explorers. By using their smart phones like digital butterfly nets to capture photos of the animals and plants they discover, they chronicle and share their experiences at the refuges, adding their photos to a growing global database used by citizen scientists across the globe." Click on the image to download the app.
Chesapeake Bay "smart buoys" give real-time wind and weather information
Bay boaters and beach goers have a new a tool available to determine local and up to date bay conditions:  A network of 10 interpretive buoys located throughout the Bay. Each of the 14 foot buoys in NOAA's  Chesapeake Bay Interpretive Buoy System (CBIBS), provides data on the following:


Meteorology (air and water temperature, wind direction, speed, and gust, barometric pressure, relative humidity); Currents (direction and velocity); Waves, (significant height and period, maximum height, mean wave direction, wave direction spread) and Water Quality (chlorophyll-a, dissolved oxygen, water conductivity, water salinity and turbidity).  Heat and jellyfish indexes were recently added  to the list of data parameters tracked. The Susquehanna buoy also had a nitrate sensor added and phosphate, water level, and acoustic fish tag tracking could be
potentially implemented in the future. 

In addition, the system provides voice narration for sites on the Captain John Smith Chesapeake National Historic Trail, the first water-based national trail in this country.  You can connect to the site toll free at 877-BUOY-BAY, visit the NOAA website, or download the smart phone app (iphone, Android)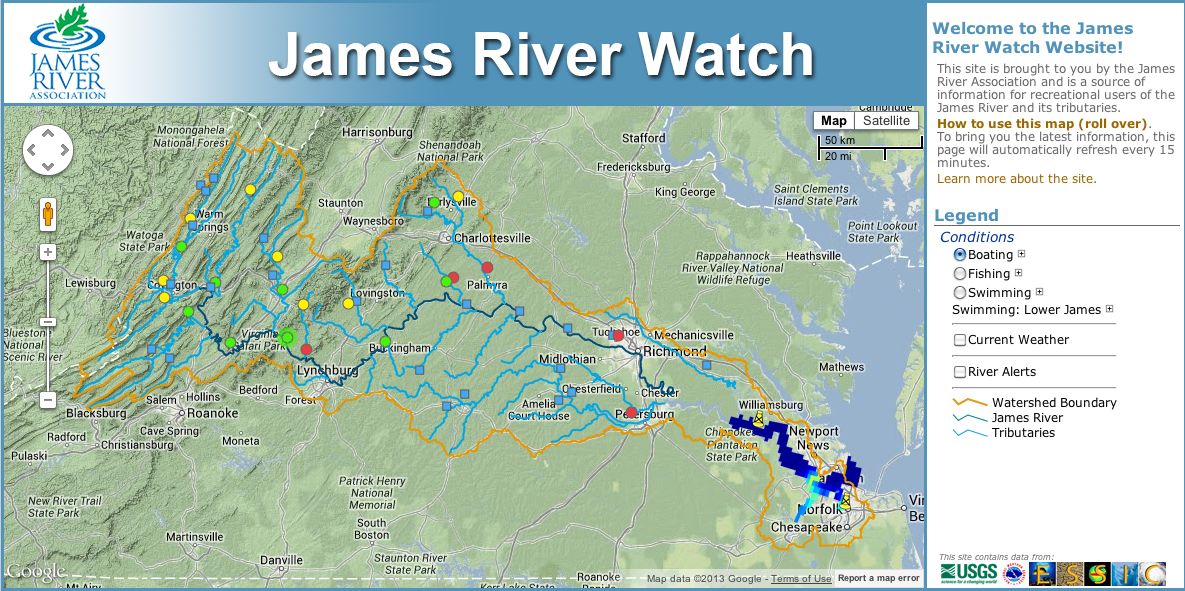 New Website Reports Conditions along the James River.
The James River Watch site provides info from numerous stations along the James River. Each circle on the map represents a station. James River Rats volunteer collect data at the various stations every week through the summer. Collected data is uploaded to the James River Watch website where users can view fishing, swimming and boating conditions. Click on the image to go to the website, then simplyclick on a station for detailed condition reports and messages .

As crab stocks in the Bay began to plummet in the first decade of this century, restrictions were imposed on the fishery. Concerned about the livelihoods of Bay watermen, the Maryland Watermen's Association along with the National Park Service initiated a program to certify watermen to lead heritage tours.
Land and water based tours are offered at the locations indicated on the map. Just click on the map to go to the interactive website where you can learn more about each specific tour. Participants have the opportunity to get hands on experience oyster, crab and fish harvesting. Opportunities also include visiting oyster breeding and seed operations and softshell harvesting facilities, sailing on a skipjack and kayaking local waters while learning about the unique character, history and natural resources of the area.
At the end of the day, many of the tour operators send you home with some of the Bay's bounty.

Click the Image to go to an online journal of Tidewater Paddling Tours - Maps and Beautiful Images Included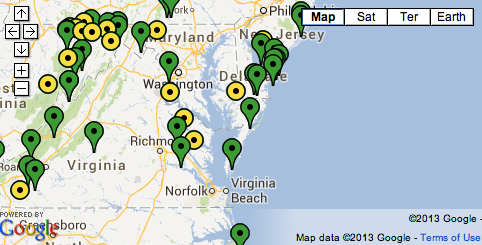 Nature Conservancy Preserves
The Nature Conservancy has over 340,000 acres of protected land in the Commonwealth. Many of the Preserves are open to the public. Click the map to the left to go directly to the Conservancy's website that includes an interactive map, with info about the Preserves and directions. The North Landing River Preserve in Virginia Beach is not yet highlighted on the map, but there is a link to it under the "Places You Can Visit" section.
Virginia State Parks and Natural Area Preserves
Click on a map to go to the Department of Conservation and Recreation's, interactive website, or download the park and preserve guides.
---
---
The Tour des Trees
Posted 7.11.13 - by Carol Brighton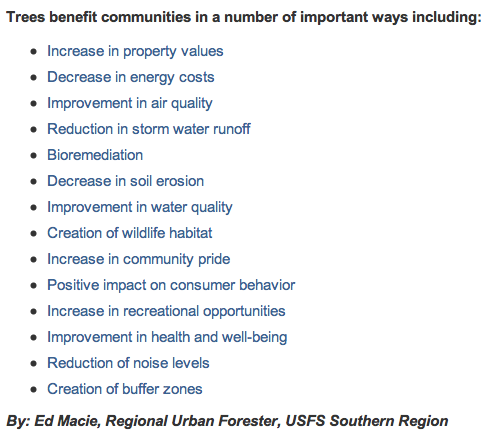 The true value of trees is difficult to calculate, but in addition to sequestering carbon, passively cooling the environment and the host of benefits listed in the box to the right, trees have also been found to reduce crime and are now being employed in urban orchards from Philadelphia to Seattle to provide food. Unfortunately the survival rate for city trees is only 10 years.  To finance education and research efforts, a group of arborists formed the Tree Research Education and Endowment Fund (TREE Fund) and over 20 years ago began regional cycling tours in different parts of the country to garner support.  In 2009, Stihl Inc., which has its US headquarters in Virginia Beach became a major sponsor of the event.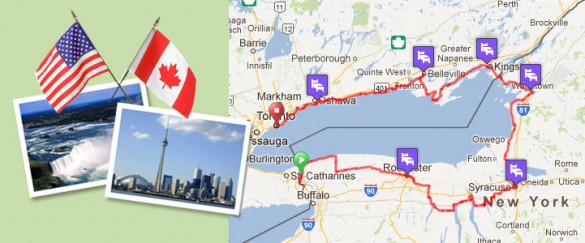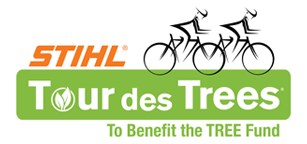 Cyclers are seeking to each individually raise $3,500 to contribute to the cause and will also participate in educational events focusing on urban trees and their care as well as tree plantings in the areas they traverse. Two years ago, a Virginia tour was organized, originating in Virginia Beach, traveling through central Virginia and the Blue Ridge Mountain and finishing in Washington DC.  This year's 585 mile tour will come close to circling Lake Ontario.  Beginning in Niagara Falls on July 28th, riders from all over the world including Stihl employees, will travel through New York State and Canada arriving in Toronto on August 3rd. To lean more about the event, click on the Stihl logo. Local riders are still seeking support.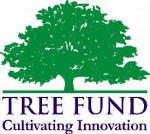 The TREE Fund's mission is to support sustainable communities and environmental stewardship by funding research, scholarships and education programs essential to the discovery and dissemination of new knowledge in the fields of arboriculture and urban forestry. The TREE Fund has supported research that has led to important developments in improving utility line clearing practices; Understanding air pollution reduction and carbon sequestration by trees; Determining the costs and benefits of urban trees ; Improving conditions for tree growth in difficult sites; and Strategies to manage diseases and pests that affect urban trees .
An online resource developed by Virginia Cooperative Extension agents on tree care and siting is available through the Cooperative Extension System. For news clips highlighting some of the many benefits of trees, see the embedded pdf below. By right-clicking, you can open the pdf in its own page and activate the links (or visit Carol's pinterest collection).
Check the Archive for Previous Posts
All Rights Reserved. Disclaimer.