Tidewater Current | Spring 2013
Transmitting news and infomation about sustainable endeavors in Coastal Virginia and beyond. Updated Weekly.
Features:
Converting to Electric Transport
Posted 3.27.2013 - by Carol Brighton
While dependence on foreign oil has declined somewhat in recent years, the American economy still relies heavily on imports.  Since 70% of oil is consumed in the transport sector, with personal vehicles accounting for 65% of that, shifting to alternatively fueled vehicles would make a major contribution to a sustainable future. When powered with renewable energy, electric vehicles are one of the cleanest alternative technologies available. Although there has been public interest in electric autos, large-scale adaptation has been held up by consumer concerns regarding range and cost.
With a typical EV costing about $10,000 over its gas-fueled counterpart, sales have not met expectations.  Here in Tidewater, a Gloucester Middle School science teacher has found a more reasonable route to electric transport.  Tim Lingenfelser makes his daily commute to and from Peasely Middle School in a VW Beetle he converted into an electric vehicle.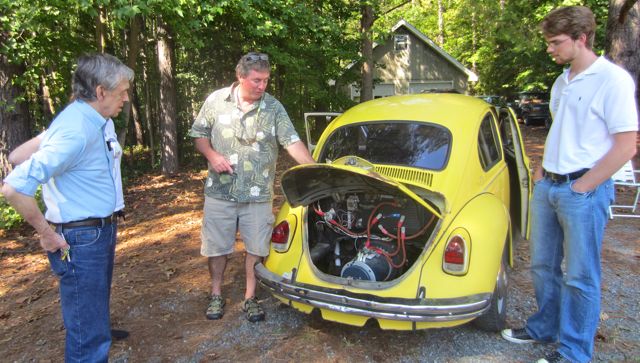 Tim pictured with his vehicle above, explains the retrofit process to a couple of Hampton Roads Solar tour participants last Fall. Learning as he went, the process took about a year to complete, but he suspects he could now do it again in about a week.
The bug has a 3 phase AC motor and a 96 volt Lithium ion Phosphate battery providing a range of 30 miles with a maximum speed of 60 mph.  It takes about 4 hours to fully charge using a household outlet estimated to cost about $0.25 per charge.  If you calculate the expense of a 30 mile commute for a gas powered vehicle achieving 30 mpg over 50 weeks per year ($875) versus the $1.25/wk  plug in vehicle ($72.50/year), the annual savings potential is about $800.  This Spring Tim is installing a solar PV system that he will use to power the vehicle.  
If he ties to the grid, selling excess power and renewable energy credits, charging should be free. Tim, who truly enjoys his daily electric commute and looks forward to helping his son convert a Mustang in the near future, shares his EV enthusiasm with a large community of supporters.  On line there are a host of sites dedicated to EV conversions.  The Electric Vehicle Discussion List is a particularly valuable resource.  It is an established organization with with hundreds of documented projects to explore from members all over the world.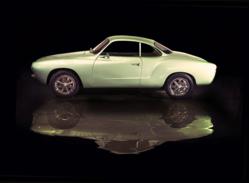 There are also some noteworthy education related programs. MinDDrive a non-profit based in Kansas City, Missouri engages at risk youth in an alternative education program retrofitting combustion vehicles to EVs.   The group aims to build one car a month and in the process kids are mentored in math, science and technology so that they develop an understanding of what's needed to pursue either a higher education or career path.  The cars produced will be offered for sale to the public.   Earlier this month, the group participated in the Kansas City International Auto Show providing 3 vehicles for display.  Their electric Karmann Ghia pictured received rave reviews. 
At Middle Tennessee State a $3,000 electric assist retrofit kit is being developed.  Students added electric motors to the rear wheels of a 1994 Honda Accord wagon and installed a lithium ion battery in the cargo bay to power the motors.   The team is looking to commercialize and sell the kit, which they claim increases fuel efficiency from 50 to 100%.
Retrofitting is a great way to go for those so inclined.  And for those who are not, there is good news:  prices for new electric vehicles are expected to continue to decline. Because there are economic, national security and environmental risks associated with gas combustion, strategies to reduce EV cost and range issues and encourage EV acceptance are being promoted.   Tax and other incentives are available to alternatively fueled vehicles.   The federal government offers a $7,500 credit on EVs.  And EV drivers can often commute in HOV lanes and are offered preferential parking.  The Energy Security Trust program announced last week at Argonne Labs, which has led battery research, would commit $2 billion over the next decade to cutting edge research in breakthrough propulsion related technologies.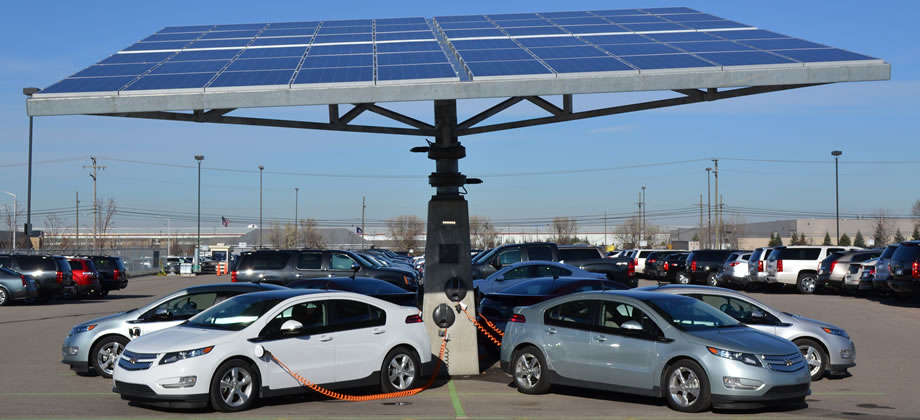 While weary of EV technology, consumers are interested in it.  A recent report by Pike Research indicates that over a third of Americans are very interested in electric vehicles.  With advances in technology, interest and demand will climb and as demand increases, prices will be decline further.  Recently introduced programs and innovative technologies that will aid in the advancement and adaptation of EVs such as wireless and renewable powered charging can be explored more in the TidewaterCurrent Pinterest collection. Cleantechnica also now has a page devoted to EV news.
Image: Envision Solar - Later this year, Envision plans to build 2,300 Solar Trees in South Carolina that are projected to be able to generate 35 megawatts of electricity.
---
Copyright © 2013 SOLAR IMPULSE All rights reserved - Aircraft powered soley by the sun flies day and night. The US tour in May has stops planned in Phoenix. Dallas, St. Louis, Atlanta, Washington, D.C. and New York City. In 2015 a world tour is planned. Go to the Solar Impulse website to follow flight progress. CBS New Story.
Solar Powered Journeys Across America
Posted 4.29.13 - by Carol Brighton
In San Francisco as aviators prep for their upcoming ground breaking cross country trip aboard the Solar Impulse (pictured), miles away in Petaluma, another team embarked today on a significant solar powered transcontinental mission.  The ground based team, led by Yorktown, Virginia based Coast Guard Chief Electrician's Mate Ray Rehberg is comprised of off duty and retired Coasties who will travel 200 miles per day at 25 mph in an electric golf cart charged in part through roof top mounted solar panels.  While this will be the first ever solar/electric powered golf cart transcontinental tour, the goal for this team is not so much to demonstrate solar technology, but to raise awareness and funding for another important cause:  wounded warriors.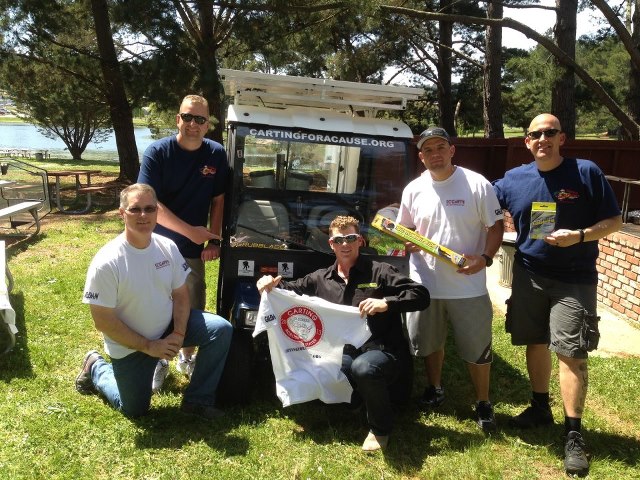 Carting for a Cause Team in Petaluma, CA
The goal of the Carting for a Cause Tour is to raise $50,000 for wounded warriors. All in all the team will cover some 3,900 miles over the next month.  They hope to meet with as many veterans as possible in the 13 states they'll visit with stops planned at Coast Guard Stations, VFWs, VA hospitals, DAV chapters, American Legion Posts, and other military points.

Carting for a Cause Route - Click on the image to view stops.
To make this tour possible the team has received a lot of help.  Active duty participants are taking leave to contribute and countless others have been involved in making Rehberg's dream a reality.  Club Car donated the cart while U.S. Battery supplied six sets of batteries that will be recharged using multiple QuiQ™ industrial battery chargers donated by Delta-Q Technologies.  Tysinger Auto donated a Smart Car to serve as the official Chase Car for the tour.
For more information, visit the Carting for a Cause web or facebook page. Donations can be made out and sent to the non-profit "Go Carts" at PO Box 6533
USCG Training Center Yorktown 
Yorktown, VA 23690. A secure donation can also be made through their website .
---
Avoiding a Collision Course among Ocean Giants
Posted April 23, 2013 - By Carol Brighton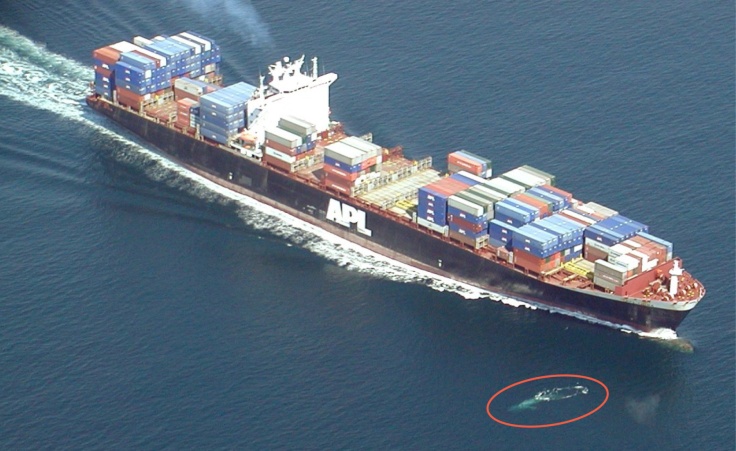 Image: NOAA
Historically considered the giants of the sea, whales are literally dwarfed in size and number by a growing fleet of supersized vessels.   No match for fast moving mechanical behemoths, a whale is likely to pay with its life if the two collide.  To alleviate the threat posed by collisions, research is being conducted and protective measures afforded by the now 40 year old Marine Mammal Protection Act are being developed and adopted.  
Many populations decimated by whaling are struggling to recover and strandings are evidence that there is cause for concern.  A Humpback discovered earlier this month in Virginia Beach appears to have suffered trauma consistent with a ship strike, as did a fin whale off the coat of Washington State last week.  And just days ago another Humpback washed ashore in New York.  Between 2006-2010 NOAA reports 58 ship strikes of large whales along the East and Gulf Coasts resulting in 28 confirmed deaths.  And these numbers may by no means accurately reflect actual incidents.  Scientists suspect that ship strikes occur far more frequently than reported.  Many events likely go undetected, while there are numerous mortalities documented where the cause of death cannot be definitively determined.
Mitigation Measures Employed on the East Coast
In the Atlantic, numerous large whale species migrate along heavily trafficked shipping lanes, including the critically endangered Right Whale.  As filter feeders, Right Whales spend a lot of time close to the surface near their food source and are particularly vulnerable to ship strikes.  Consisting of only 350-500 individuals, their future survival is at risk. 
Speed & Route Modification
To help this population recover, tactics designed to reduce collision have been implemented.  Mandatory speed reduction zones have been designated near migratory, feeding and calving areas around port approaches including the mouth of the Chesapeake Bay.  The Ship Strike Rule which expires this year, limits ships to 10 knots in the zones identified.
The largest population of Right Whales congregate in the Gulf of Maine just outside the busy Boston Harbor. Through surveys, scientists mapped concentrations of whales in the Massachusetts Bay and identified a less hazardous shipping lane. The route shift, supported by the Port and shipping industry has resulted in a decline in whale strikes.
Acoustic Monitoring
Cornell Lab for Ornithology, Woods Hole Oceanographic Institution and the Center for Coastal and Ocean Mapping deployed a string of acoustic buoys along the approach to the Boston Harbor that record sounds in the area (pictured).  When a transmission is picked up matching that of a Right Whale, scientist are notified and confirmation is sought.  Once authenticated, an alert can be sent to ships in the area.  Visit the ListenforWhales website for more info.  A free downloadable app is available that includes advisories issued from the buoys as well as other seasonal and dynamic management areas, including preferred routes.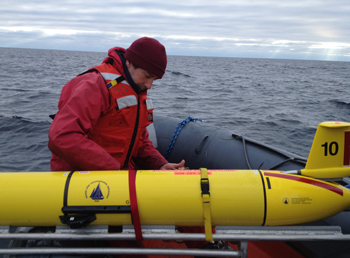 Image: Nadine Lysiak WHOI
Underwater Gliders Being Deployed to Collect Data
Using autonomous underwater gliders scientists at Woods Hole Oceanographic Institute are expanding their acoustic monitoring.  These silent vehicles have the same capability to record ocean sounds as the anchored system, but with their mobility, they can be used in place of more expensive ship based surveys.  Like the anchored buoys, they relay pertinent data to land based labs. 
Early Warning System in the Southeast
Right Whales also converge along the Georgia and Northern Florida Coasts in Winter months. The southeast extent of the their range serves as a calving ground. Right Whales are even more vulnerable to a ship strike when traveling with a juvenile. To alleviate the threat of collision, the Sea to Shore Alliance conducts daily aerial surveys of the northern portion of the calving grounds from December through March. Sighting information is relayed to ships operating in the area.
This June video in Virginia Beach shows that whales aren't just in the area during winter.
Virginia and the Mid Atlantic
Whales sightings are also fairly common in the Mid Atlantic as Sei, Humpback, Right and Fin transit coastal waters. And although the area is not recognized as high use whale habitat, there are a surprising number of ship strikes.  According to authors of a recent assessment of mitigation strategies 1 , "Vessel-strike mortality continues to be highest in the mid-Atlantic coast." And with intense maritime activity associated with major ports serviced through the Chesapeake Bay, Virginia stranding experts are all too familiar with whale strikes.
In addition to this month's stranding in Virginia Beach, a Humpback discovered on Virginia's Eastern shore in September was euthanized, likely suffering from complications of an apparent ship strike.  Collision trauma was also evident in two Sei whales that washed up in Sandbridge and Norfolk in the last two years.   The Virginia Aquarium located in Virginia Beach is home to the Commonwealth's Stranding Response Program. On average the Center responds to 1-2 large whale stranding per year. Between 2001 and 2011, Gwen Lockhart a GIS Specialist at the the Aquarium reports that "23 large whale carcasses have been documented in the area, 10 of these were attributed to ship collisions, and 3 of the 10 were Right Whales.2, 3"  It is likely that even more strikes occurred in Virginia waters.  In an Aquarium study3 on traffic in the Ocean approach to the Chesapeake Bay, the authors note that "these records do not include numerous whale strandings from northeastern NC where carcasses, from whales killed by ships in VA, may drift." 
Already with a high level of cargo, fishing and military traffic, marine activity is expected to increase in the coming years. In addition to aircraft sized post panamax deep draft ships that will be arriving in the near future, exploration for oil and gas and wind energy development on the Outer Continental Shelf will produce more traffic. Observance of the seasonal management area speed limits off the coast has been haphazard.  Research conducted by the Virginia Aquarium3 indicates that ships tend to slow approaching the Bay entrance but often exceed the 10 knot limit upon departure. According to Lockhart, the Coast Guard has been undertaking enforcement efforts, but sovereign and fishing vessels are not required to comply.
As human activity begins to crowd the marine environment, spatial planning is essential to protect marine species off Virginia's shores. Experts at the Virginia Aquarium are participating in much needed research. With little known about large whale habits in the region and an interest in developing wind farms on the Outer Continental Shelf, the Aquarium acquired NOAA research funding through the VA Coastal Zone Management Program.  Lockhart notes the Aquarium is "conducting large whale boat and aerial surveys."  Starting in October 2011 data was collected on 11 boat-based surveys.  Naturalists have also been trained to collect data on regularly scheduled whale watch trips operating through the winter. Using photo identification techniques, the whale data is cataloged. Lockhart et al4 report a minimum of 50 humpback whales and five fin whales in near-shore Virginia ocean waters last year. One individual was observed in the area over a period lasting 69 days. Aerial surveys began this winter and will be completed this month.  The survey area over 20 to 50 miles offshore covered blocks slated for wind energy development.  When finalized, marine mammal data will be posted to the OBIS SEAMAP web portal.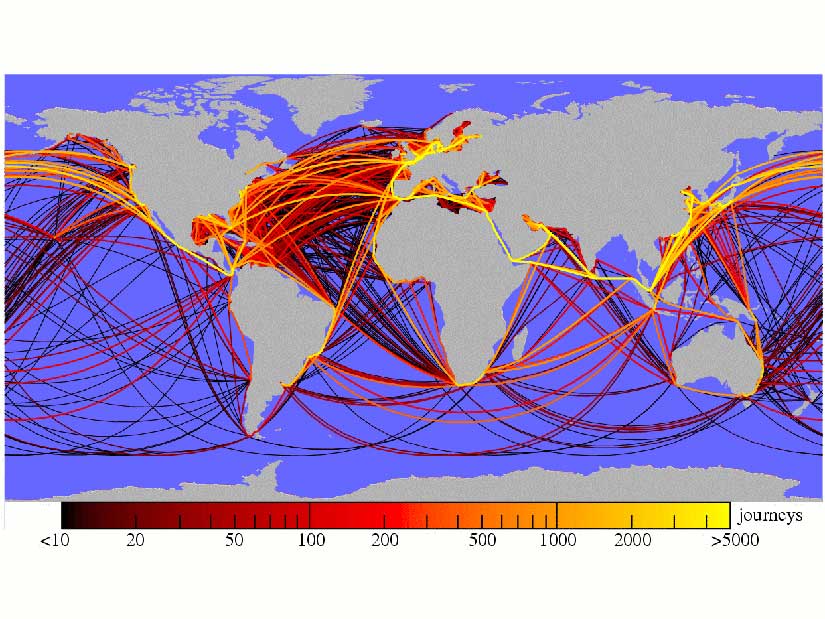 Cargo Traffic. Over 50,000 vessels move 90% of trade, while the total number of merchant vessels exceeds 100,000.  By following annual growth in trade over the last 150 years, one expert projects that tonnage moved will grow close to 200% over the next 50 years.
West Coast Action: Forecasting, Observation and Shipping Lane Shifts
In comparison, overall whale strikes tend to occur less frequently on the West Coast than in the East.  Given the density of traffic depicted in the map, that's expected. But a recent increase in incidents in Southern California highlights the need for a comprehensive and coordinated marine spatial planning effort.  To reduce air pollution, California implemented regulations requiring ships to burn cleaner (more expensive) fuels near shore.  As a result, ships have tended take an off shore approach and it has been suggested that recent whale strikes may be an unintended consequence of the regulation.   NOAA has been working with stakeholders and safer routes have been identified and approved by the International Maritime Organization (IMO).   
WhaleWatch, a satellite based initiative under investigation by NOAA, Oregon State and the University of Maryland could establish a foraging forecast system.  Satellite sensors already record atmospheric and ocean circulation patters.  Using this data in conjunction with known whale routes, scientists expect they can predict where whales will be based on where krill masses are likely to form.  By monitoring readily available data and identifying where favorable conditions exist for filter feeding, scientist can potentially steer vessels clear of whales.

North in San Francisco, a spike in ship strikes likewise prompted action. The IMO has also approved new sea routes.  And Officials there are looking to pioneer a new observation program to provide real-time whale data. A key component to the pilot project involves training ship personnel to monitor the sea for whales and share identification and location data.  With successful results, the platform could go global. Info.
Deploying Drones
Aerial surveying with drones is another technology being explored by West Coast researchers.   NOAA biologist Wayne Perryman just completed an expedition to New Zealand where the drone was tested.
The Future
Considering the success of protective measures undertaken in New England, whales on the West Coast should be safer once the new routes and programs are implemented. Unfortunately, ship strikes are not the only the threat to large whales.  Whales are also commonly subjected to entanglement in marine debris. Hindering movement and feeding, whales have have suffered prolonged injury and all too often death. Noise also poses substantial risk.  Seismic air gun blasts proposed for use in the Atlantic could likewise impede species recovery.  Visit Oceana for more information.
Sunset for the Ship Strike Rule
The Ship Strike rule that mandates seasonal speed reductions is set to expire this year.  With evidence there is a strong correlation between ship speed with strike risk and mortality among the North Atlantic Right Whales, it should be renewed. For more information on the reauthorization of the Ship Strike rule contact:  Gregory Silber, PhD, or Shannon Bettridge, PhD, Fishery Biologists, Office of Protected Resources, NMFS, at (301) 713–2322
More Info:
The Ocean Frontiers documentary embedded below takes a tour of "seaports and watersheds across the country" and highlights the historyof the monitoring and protection programs implemented around the shipping lanes of Boston Harbor. View just the segment on shipping and whale protection developments in the Gulf of Maine. Recent news posts are also highlighted below. For the most up to date news, visit the Pinterest Collection.


Virginia Aquarium Research Cited:
1) VAN DER HOOP, J. M., MOORE, M. J., BARCO, S. G., COLE, T. V.N., DAOUST, P.-Y., HENRY, A. G., MCALPINE, D. F., MCLELLAN, W. A., WIMMER, T. and SOLOW, A. R. (2013), Assessment of Management to Mitigate Anthropogenic Effects on Large Whales. Conservation Biology, 27: 121–133. doi: 10.1111/j.1523-1739.2012.01934.x
2 ) Swingle, W.M., Trapani, C.M., D'Eri, L.R., Lynott, M.C., 2012. Marine Mammal and Sea Turtle Stranding Response 2011 Grant Report. Final Report to the Virginia Coastal Zone Management Program, NOAA CZM Grant #NA10NOS4190205, Task 49. VAQF Scientific Report 2012-02. Virginia Beach, VA. 35 pp. - Link
3) Barco, S.G. G.G. Lockhart, K. M. Lageuex, A. R. Knowlton and W.M. Swingle. 2009. Characterizing Large Vessel Traffic in the Chesapeake Bay Ocean Approach using AIS and RADAR. Final Report for NFWF Award#2006-0093-009 and VDGIF Contract #2007-10280. VAQF Scientific Report 2009-05. Virginia Beach, VA. 47pp.
4) Lockhart, G.G., W.M. Swingle, J. E. Bort, M.C. Lynott, S.G. Barco. 2012. A Crowded Ocean: Including Biological Monitoring Results in Marine Spatial Planning Efforts. Proceedings paper presented at Oceans '12 Marine Technology Society Conference, October 14-19, Virginia Beach, VA.
---

FREE Chesapeake Bay National Wildlife Refuges App
Posted 3.24.13 - by Carol Brighton
The National Wildlife Refuge system is celebrating its 110th birthday this month.  The first refuge established by President Teddy Roosevelt in 1903 is now part of a system that represents the largest collection of conserved habitat in the world.  Managed by the US Fish and Wildlife Service, some 560 refuges consisting of 150 million acres of land and water are protected for wildlife.  11 refuges are located in and around the Chesapeake Bay region and if you want to know more about them, there's an app for that.
The Chesapeake Bay app was developed by the Chesapeake Conservancy and the National Geographic Society with the assistance of the US Fish and Wildlife Service. In addition to basic information about the refuges, such as hours of operation, the user can see what others have shared and documented at refuges. According to Charles Regan of National Geographic Maps, "The app provides a new interactive experience by encouraging refuge visitors to become modern explorers. By using their smartphones like digital butterfly nets to capture photos of the animals and plants they discover, they chronicle and share their experiences at the refuges, adding their photos to a growing global database used by citizen scientists across the globe."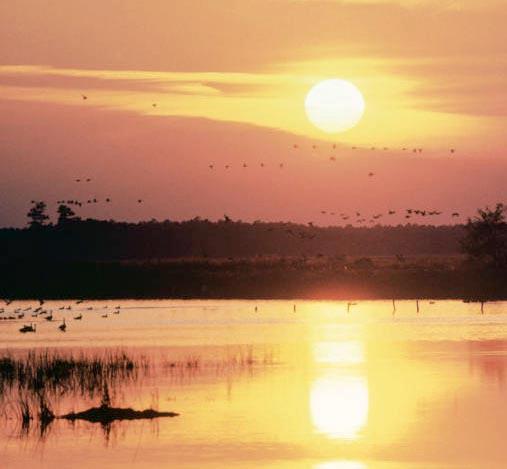 Blackwater National Wildlife Refuge in Maryland - USFWS
Presquile NWR is featured in a post below highlighting the James River Ecology School's green building project.
For more information about natural resources in the region and conservation efforts, visit the TidewaterCurrent Facebook page.
---
Extreme Green Design Edging into the Mainstream
Posted 3.26.13 - by Carol Brighton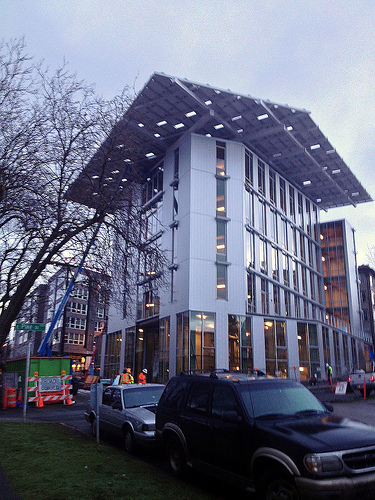 Image: Bullitt Center by JoeInSouthernCA -
Constructed with sustainibly sourced timber framing and a carbon cutting concrete mix made with fly ash, the Bullitt Center will function as a net zero building.  While Seattle is known for its rainfall, not its sunshine, the building is adorned with a 226 panel solar crown which will supply all the building's electrical needs.  There's also system to capture and treat rainwater for all the building's needs.  The day lit structure has a natural ventilation system and geothermal wells to maintain comfortable temperatures, while the stairway with a prominent view is meant to lure building visitors and employees alike to climb to their destination instead of using the elevator.
With Projects like the Bullitt Center, a multistory "living building" project in Seattle touted as the greenest building in the world,  the Pacific Northwest is recognized as an important breeding ground for sustainable design.  The preponderance of press focusing on this region is perhaps perpetuating a mistaken impression that the area dominates in the green building sector.  And it may surprise some to learn that the East Coast, including the Chesapeake Bay region, is likewise a green building hub.   
There is a history of architectural advances around the Bay watershed.  One only has to visit Thomas Jefferson's Monticello to witness early innovations that inspired efficient design and planning also applied in the nation's capital.  And there are several renowned architectural schools in the region.  Recently, standards developed in Washington and adopted by the government have had an impact on transforming efficiencies in the built environment.  Criteria developed by the US Green Building Council, a private non-profit, are among a myriad of green building platforms.  Of all the standards developed though, LEED is the most accepted in the United States and it has been a major force supporting the nation's green building movement.
Last month the USGBC reported that DC had the highest amount of LEED sq. footage per capita. With a lower ratio in comparison, Virginia leads the state rankings while Maryland holds the 6th position.  There are several levels of LEED certification, with the highest being Platinum.  As indicated in the below interactive map, Washington again tops the list.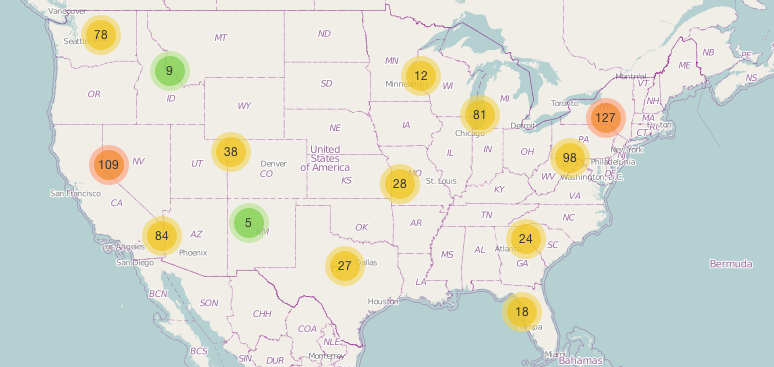 Image: GreenWorkExperience.com. Leed Platinum Certified Projects. Click on the image to link to the interactive site.
Plans for a SW eco district are moving forward in Washington and the Mayor recently announced an impressive plan to become the most sustainable city in America, if not the world. Among the many environmental imperatives set forth, The Sustainable DC Initiative mandates net zero energy for all new buildings by 2032.  In addition to new construction, existing commercial and multifamily are subject to the requirement. The City has also announced the intention to pursue a Living Building project, although no project has been identified yet.   
The Living Building Challenge (LBC) intentionally sets the bar incredibly high for efficient and sustainable use of resources during building, construction and occupancy.   At the minimum, projects should have a net zero operating impact and ideally, they should go beyond that to ecologically restore a site. Brownfield site redevelopment is encouraged, and material selection should be clean (emission free) locally and sustainibly sourced.   The demands are not only ambitious but occasionally tricky.  For example, the Bullitt Center located where there is an abundance of rainfall has the capacity to capture and treat all water needed.  Doing so however, would be illegal.   So until the issue can be sorted, water for potable needs will be piped in.  Lastly, the LBC standard is only achieved after 12 months of occupancy indicate that the building performs to the prescribed benchmarks.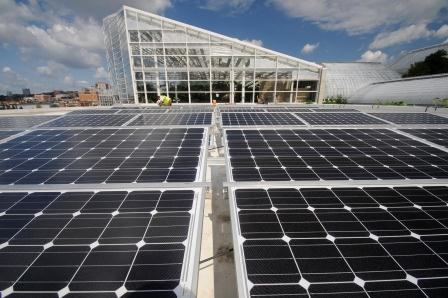 Image: Phipps Conservatory, Pittsburgh, PA- More Info
Clad with locally salvaged barn wood, the passively designed building is oriented to take advantage of daylight, winter heating and natural ventilation.  A green living roof reduces storm runoff and provides habitat, food, and insulation, while a large interior vegetated green wall enhances indoor air quality. Rainwater is collected for use in the building and grounds and wastewater is treated using biological processes in a constructed wetland.  The net zero energy design integrates solar PV, a bird friendly vertical axis wind turbine, geothermal wells for heating and cooling and phase changing materials in the walls that hold and release heat to maintain more constant temperatures.  A desiccant dehumidifier also controls indoor air comfort with minimal energy inputs.
Since it's inception in 2006, only three projects have received the LBC designation, including the Tyson Center in Missouri, the Hawaii Preparatory Lab and the Omega Center in NY. The comparatively large Sustainable Living Center at Phipps Conservatory in Pittsburg was recently completed and has entered into in the 12-month occupancy phase of the LBC.  While not quite on the same size scale of the Bullitt Center, the education, research and office facility, is chalk full of eco features. so there's no question, that if this were a horse race, the Phipps building would give the Bullitt Center a run for the money.
By pushing the envelope to achieve deep green status, innovative approaches and technologies are being explored that will eventually trickle into the mainstream.  Despite the rigor associated with the Living Building Challenge, some 140 LBC projects worldwide are in various phases of design, construction or occupancy.  In a post below 2 of the projects in the Bay Watershed are discussed.   Many of the LBC projects also continue to seek the LEED Platinum rating. 
In the northern part of the Bay Watershed, LEED Platinum is becoming a fairly common distinction, but with only few projects in the Hampton Roads area, certification is still newsworthy. The Lynnhaven River home pictured below is one of three LEED Platinum certified homes in the region. NASA Langley and Virginia Beach City School projects have also achieved the rating. 


Images: Patrick Farley/Watershed Architects- Net Zero - LEED Platinum home in Virginia Beach. This modern and ecologically sound alternative to the inefficient and aging dwelling that it replaced incorporates many unique features.  Structurally insulated panels create a very tight seal so heating and cooling needs are minimized.  The 12 kW solar array with battery back up and potable rainwater collection and treatment system reduces reliance on the grid and provides peace of mind in power outages.  Permeable pavers, an expansive vegetated roof and rain gardens limit runoff.  Among many more sustainable features, an indoor bamboo garden and a high efficiency heat radiating soap stone fireplace compliment the interior space.
Regional Living Building Challenge and other deep green educational projects are discussed in the next post. There are a growing number of sustainable structures in Hampton Roads, including an eco community in Poquoson.  For more information about some of these projects, visit the TidewaterCurrent Pinterest Collection and the Hampton Roads Solar Tour site where homes and buildings that have participated on the tour are featured. Many of these project have different certifications from those discussed here or none at all. Click on the icons below to link to the supporting organization to learn more about them.
At this time, the Government Services Administration (GSA) is collecting comments on whether to extend their support of LEED for federal projects or another certification system used with less frequency in the US, Green Globes. If you have an opinion, let the GSA know. Comments are being taken until April 6. More info including a link to submit can be found at the GSA gov portal.
---
Educational Endeavors Promote Eco Friendly Building
Posted 3.29.13 - by Carol Brighton
Government support has certainly helped diffuse sustainable building principles, but credit must also be given to educational programs, particularly those that support environmental stewardship. Around the Bay Watershed, there are a number of non profits and learning institutions that are pioneering new territory in the field of green design.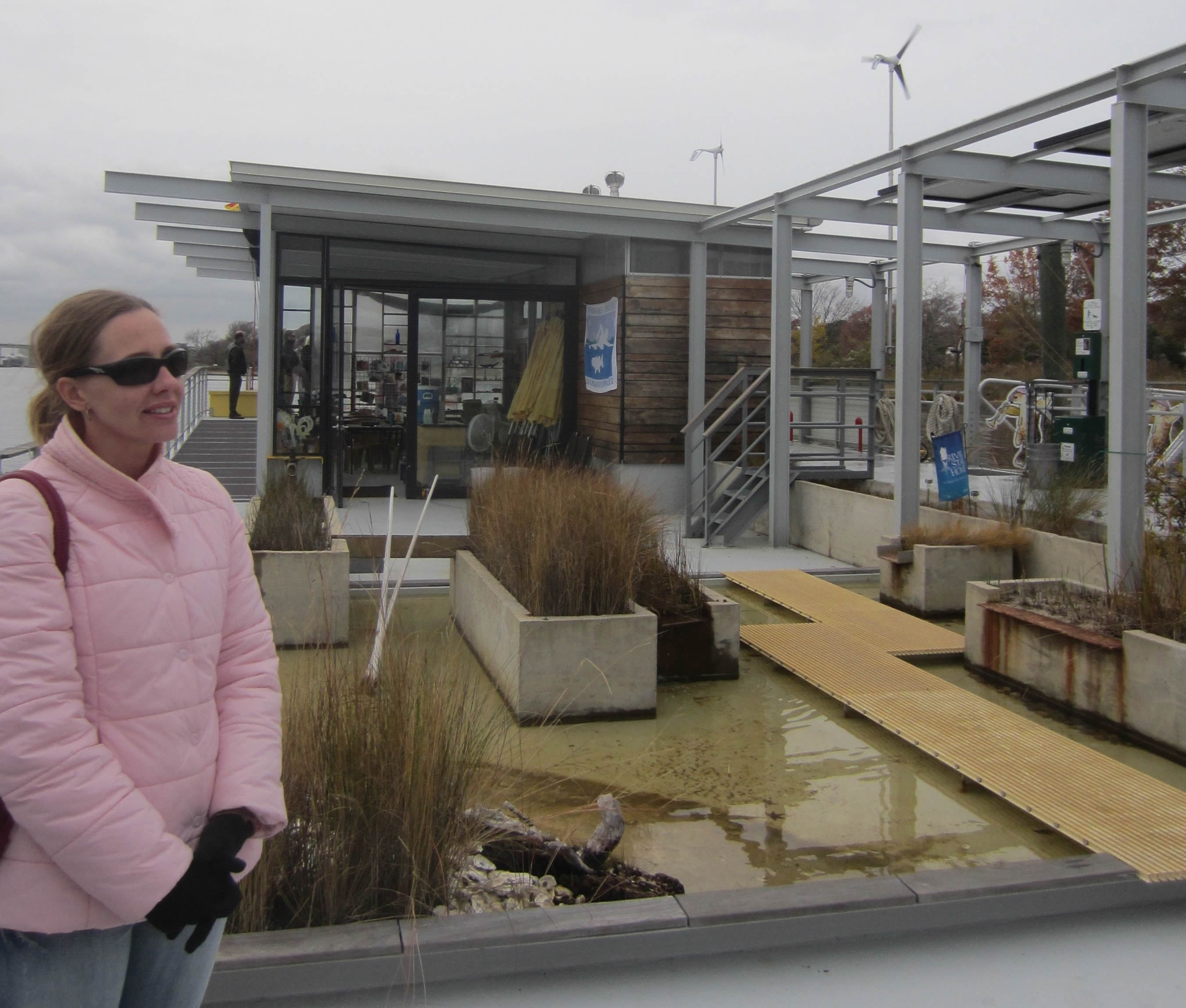 Image: Elizabeth River Project
Offering a unique coastal ecology learning experience to some 17,000 students since 2009, the facility is the first of its kind. Transported to sites all along the river, the barge is home to a recreated tidal environment where students can explore and investigate various stations to learn about water quality, wetland plants, oyster reefs and renewable energy. The floating off the grid classroom developed by students at the University of Virginia is powered solely by the sun and wind.  Rainwater is collected for use on site, a solar thermal collector provides classroom heat when needed through hydronic under floor radiant piping and the barge is equipped with 2 composting toilets. Through outreach and stewardship endeavors, the Elizabeth River Project has engaged the community to make real headway in restoration efforts.  More information about community projects can be found in the
2013 River Stars report
.
Developing the first LEED Platinum Project in the world at their headquarters in Maryland, the Chesapeake Bay Foundation is once again striving to reach to the summit in sustainable standards at it s new facility in Virginia Beach: the Living Building Challenge (LBC).  While the environmental education and community center will not be the first of its kind, it will be the first LBC project in the Commonwealth.  The CBF along with other non-profits and local citizens joined together to lobby for the preservation of one of the last undeveloped large tracts of Bay tributary frontage in the City.  CBF's financial and community commitment was instrumental in securing the preservation of 100+ acres along the Lynnhaven River. Now through their endeavors, school groups and the general public will have the opportunity to learn about and participate in bay ecology and stewardship initiatives at a state of the art sustainable facility that complements their mission.  For net zero energy consumption, rooftop solar PV panels and 2 wind turbines will  power to the 9,000 sq. ft.  structure.  Rainwater will be harvested for non potable purposes and grey water treated naturally on site, Read more here: 
Trim Tab
Another unique property is likewise being developed in a sustainable manner to inspire and educate.   The James River Association's New Ecology School at the Presquile National Wildlife Refuge expects to host 2000 kids annually, many of them inner city youth with few opportunities to experience nature.  The island site accessible by ferry is home to a recently completed Discovery Center and a LEED designed bunkhouse that can sleep 34 is under construction.  With 2 solar PV arrays, power production is expected to exceed that which is needed.   A rainwater collection system, a bicycle powered water pump, solar thermal panels for water heating and a garden to filter grey water will reduce environmental impact at the site.  A grand opening event is planned for April 13. Explore or go on a guided tour of the site and facilities. Information about programs will be available and The US Fish and Wildlife Service will showcase live animals.
Reservations are required.
More Info
.
With a mission to promote hands on education concentrating on the natural heritage found within the Commonwealth, most of the exhibits feature wildlife ecosystems.  One exhibit however focuses on the manufactured habitat that humans occupy.  The Goodson Greenhouse was created as the first full model display in the state demonstrating green building technologies. The living vegetated roof is brought down to a level that can be studied and a rotating solar powered fountain demonstrates how solar orientation affects the power generated by the level of water propelled. Along with the grid tied PV there is a solar thermal unit warms water for in floor radiant heating. The exterior is clad with recycled paper siding and decking is made with recycled plastics. Windows provide the opportunity to examine the interior structure including views of different types of wall and insulation systems.
In another demonstration of the non-profit's commitment to sustainability, a rooftop installation of 165 solar PV panels has just been completed on the main builidng and is scheduled for unveiling on Earth Day, April 20.
Representing the culmination of a planning process that began in 2006, work is also underway at the Alice Ferguson Center's Hard Bargain Farm.  The working farm has served the community as an environmental education and outreach center for almost sixty years and to provide an even richer experience for its visitors the facilities are being upgraded and will include overnight accommodation.   Sited directly across the Potomac River from Mt. Vernon, crews are breaking ground on another Living Building project:  The Potomac Watershed Study Center.  Designed to have zero environmental impact, the carbon neutral complex will capture rainwater and produce all power needed through rooftop PV panels. The highly efficient well sealed buildings constructed from local materials including timber harvested on the farm, will also utilize natural ventilation and geothermal technologies for climate control. The Center promotes trash reduction programs in the region and aims to produce zero waste.
The first Passive House public school certified project in the United States and the highest scoring LEED Platinum certified facility in Virginia are one in the same.  The Center for Energy Efficient Design (CEED) in Franklin, Virginia is learning facility and demonstration lab. Passive house principles focus on orientation, ventilation and day lighting coupled with an extremely well sealed envelope to maintain a comfortable temperature that ideally does not requires any active assistance to maintain.  A geothermal system aids in heating and cooling. Wind and solar provide all the electricity.  Windows are a key design element and to achieve the desired insulation capacity are often shipped from Europe, but architect Adam Cohen the architect worked with a local company to manufacturer a closely comparable product.
More info.
Higher Education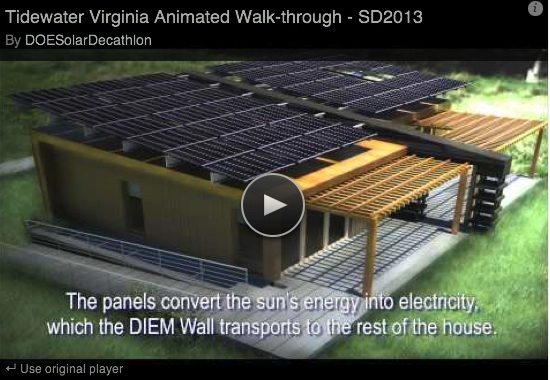 Higher education institutions have also made considerable contributions to the green movement.  Many of the universities in the region have LEED certified buildings on their campuses.  Already with several LEED buildings, a team at William and Mary is also looking to develop an eco Village.  Frostburg State in Maryland took its Sustainable Energy Research Facility off the grid last fall. 
Several regional schools have also survived  fierce competitions to win bids to participate in Biannual Solar Decathlon Events.  The DOE solar home competition challenges student creativity and engineering skills in the design and construction of affordable homes that are resource efficient and supplied solely by solar energy.  The University of Maryland, Virginia Tech, University of Virginia and Team Tidewater (Old Dominion/Hampton Universities) have all represented their schools well in previous competitions. With a home specificallydesigned for the climate and conditions of the Chesapeake Bay area, the University of Maryland's 2011 entry stores and filters rain and grey water with vegetation and constructed wetlands. Aptly named "WaterShed," the home received first place in the competition and to maintain it as an education resource PEPCO, the area utility, purchased it. Take a virtual tour. Virginia Tech won Europe' version of the event in 2009.  Team Tidewater is also  participating in this year's event in the Fall which has changed venue, moving from DC to California. Click on the image for a virtual tour and visit the Solar Decathlon Site for more information.
Check the Archive for Previous Posts
All Rights Reserved. Disclaimer.