Tidewater Current | Winter 2013
Transmitting news and infomation about sustainable endeavors in Coastal Virginia and beyond. Updated Weekly.
Food Safety & Sustainable Production:
For the most recent and more illustrated news clips, visit Carol's Pinterest Collection. For prior posts, check the Archive in the menu bar above or download illustrated clips from 2012 in the links to the right.
Drink your way to a Cleaner Bay: Craft Brewers Contribute to Restoration Efforts - Tidewater Current | Fall 2012 - Striped Bass Pale Ale, Pearl Necklace and Rosie Parks Oyster Stout are all relatively new brews. And the proceeds from sales will be used for restoration efforts along the Chesapeake Bay.
New Earth Farm Cooking Classes- Virginia Beach - Various Sundays through May Easy & Healthy Garden Recipes - Click the image for more info.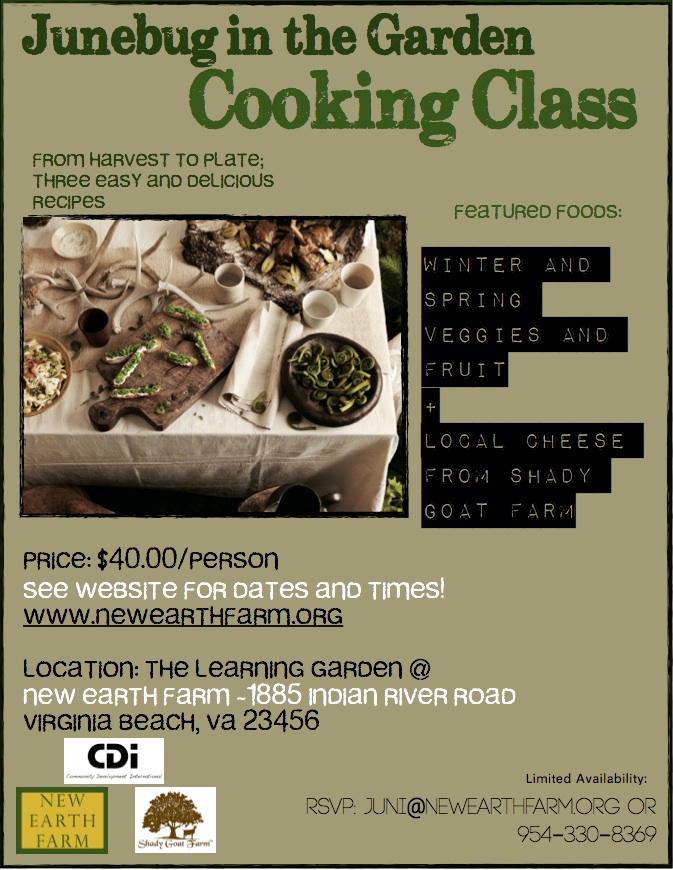 4.2013 - How To Turn a Vacant Building into an Urban Farm - chicagomag.com. In Chicago a vacant shoe factory has been transformed into a food factory. The Mycelia project is an aquaponic farm with a mission to educate. Low and high level students are taught about how fish and vegetables are produced in a sustainable manner.
3.12.13 - Solar Greenhouses Rise From Fukushima's Ashes - earthtechling.com. It's unsafe to cultivate in the soil around Fukushima. So a former nuclear utility executive helped create a uniquely designed hydroponic vegetable factory: The Minamisoma Solar Agri Park. The "greenhouse domes have a unique layout like a wheel, with rotating "pockets" that accommodate the crops radiating out of the center at regular intervals, This means that farmers ... can work from the "hub" of each wheel"
3.11.13 - Congressional Bill Introduced to Combat Seafood Fraud - triplepundit.com. "The SAFE Seafood Act would require that the data collected by U.S. fishermen on the species, production method, geographic catch area and weight or number of fish stay with the seafood through processing, distribution, and sale. It would require equivalent data to accompany imported seafood, which is important since over 91 percent of the seafood consumed in the U.S. is imported.
3.8.13 - Whole Foods to require labels on genetically modified products - latimes.com. Bold Move that will no doubt be successful - "The upscale chain will make labeling mandatory by 2018. Industry observers expect other retailers to join the movement....Some see Whole Foods' pledge as evidence of retailers' growing power to force policy changes when voters and regulators can't." This is so clearly what the public wants and has been asking for, the company's action is no brainer - but very much appreciated.
3.8.13 - Nation's Biggest Honey Packer Admits 'Laundering' Chinese Honey - npr. Do all foods need certification labels now? Fraud has been documented n the fish industry recently here in the US and in the meat industry in Europe. No wonder the local food movement is taking off.
3.8.13 - Greening the Desert: First Crops for the Sahara Forest Project - designbuildsource.au. "The Sahara Forest Project (SFP) pilot in Qatar.is ..breaking new ground because it grows food using sustainable levels of energy and water, making use of solar energy and sea water. An international collaboration between a number of designers and technologists, with engineering provided by UK firm Max Fordham, the SFP Pilot Plant has harvested its first test crop."
3.8.13 - Self-sustaining "farmscrapers" proposed for Shenzhen - gizmag.com. The food producing buildings will also produce more energy than consumed with "plenty of photovoltaic and photothermal solar cells, along with axial wind turbines spread along the top of each section"
3.7.13 - A guide to the oyster regions of Virginia - nbc12.com. Decimated in the 20th century, oysters, thanks to great restoration efforts, are making a comeback in the Chesapeake Bay and once again are enjoyed by connoisseurs.
3.4.13 - Build It Green!'s New Composting Program Lets People Scrap Food Right at Subway Station | Inhabitat - "New York City Queens residents can now help in the effort to reduce food waste with nonprofit program Build It Green! NYC's new program, BIG!Compost. This initiative has introduced a new compost station outside of the Broadway N and Q train station in Astoria, Queens where commuters can conveniently drop off their scrap food on their way to work."
3.2.13 - Of course we don't want to eat bugs. But can we afford not to? guardian.co.uk. "By the middle of the century as much as half the planet could be "water insecure"; letting cows and sheep drink what's left will seem obscene. Many experts believe that, to deal with the environmental impact of livestock, we will have to cut our fresh meat consumption by half. And yet a hunger for animal protein will remain, which is where the insects come in."
3.1.13 - Vancouver seeks stewards for fruit trees - Vancouver Sun. Great urban orchard plan. The City will see 150,000 trees planted by 2020, many of which will be fruit or nut bearing and is looking to train citizens to care for the newly planted as well as existing trees.
3.1.13 - Wild Bees Are Good For Crops, But Crops Are Bad For Bees - npr.org. - The Journal Nature reports "even when beekeepers installed plenty of hives in a field, yields usually got a boost when wild, native insects, such as bumblebees or carpenter bees, also showed up....Unfortunately, a second study, also released in Science this week, makes it clear that wild bees aren't having an easy time of it....one of the biggest problems for wild bees is...huge fields of just one crop."
2.28.13 - Sleek hydroponic unit lets you grow a garden in your kitchen - treehugger.com.
2.25.13 - Seafood Watch Releases New and Updated Recommendations. Link to printable pocket guide, website and smart phone app.
2.23.13 - Genetically modified foods: Who has to tell? - latimes.com. Worthwhile read about the law governing labeling. "Experts say there's no guarantee that labels identifying genetically engineered foods would ever appear on packages, even if it became a requirement. ...People are usually surprised to learn that there is no legal right to know," said Michael Rodemeyer, an expert on biotechnology policy at the University of Virginia in Charlottesville."
2.23.13 - Grub's up: Insects are packed with protein, calcium and minerals, but can you imagine ordering a mealworm burger?- mailonline.com. "BBC documentary, Can Eating Insects Save The World? – to be broadcast next month"
2.22.13 - U.S. farmers may stop planting GMOs after horrific crop yields - axisoflogic.com. "It's all about cost benefit analysis," economist Dan Basse, president of AgResource, an American agricultural research firm, said. Farmers are paying extra for the technology but have seen yields which are no better than 10 years ago," he told the Weekly. "They're starting to wonder why they're spending extra money on the technology."
2.20.13 - Smaller But Better? Organic Tomatoes May Pack More Nutritional Punch - npr. "A new study published in the journal PLOS ONE finds that tomatoes grown on organic farms were about 40 percent smaller than conventionally grown tomatoes. The upside? They pack more of a nutritional punch. The researchers found the organic tomatoes had significantly higher levels of vitamin C, sugar and lycopene."
2.20.13 - Pasona HQ is an Urban Farm That Grows Food For Its Employees in Tokyo - inhabitat.com. "the Pasona HQ office building in Tokyo ... could be the first farm-to-desk project of its kind, the rehabilitated building designed by Kono Designs grows most of its own food -- from rice to broccoli, squash, tomatoes and much more. The living green skin on the exterior is more than just a pretty facade; it's also part of the elaborate urban farming scheme and it also helps reduce energy use, too."
2.20.13 - Floating ship crane converted into urban garden in Antwerp - treehugger.com. "innovative garden project ... is one great example of how neglected city spaces can unexpectedly become green and productive" The floating garden also sports a hen house and is being used as an educational resource.
2.17.13. - Shipping container greenhouse - urban farm unit by damien chivialle - designboom.com. "open-source model in the form of 'urban farm units' (UFU), which seek to supply urbanites with organic provisions, while minimizing their transport in response to these factors. designed as a shared garden 'aboveground', the module consists of a shipping container with a greenhouse extension on its roof which may be moved and placed anywhere there is space."
2.17.13 - Next-Generation Fish-Farming Techniques Aim For Sustainability - ibtimes.com. To increase sustainability, fish farmers have been turning to diets that consist of more and more plant products" However plant based diets tend to produce fish that "are less oily and nutritious. Microbes like yeast are an alternative that could provide the needed nutrients. Bacteria, algae and flylarvae are also being studied.
Saturday, Feb 16
9 a.m.- Noon
2.15.13 - GMO fail: Monsanto foiled by feds, Supreme Court, and science - grist.org. "The FDA has reportedly bowed to public pressure to extend the comment period on its approval of genetically engineered salmon, and Illinois and Maryland are the latest states to buck GMOs by introducing labeling bills into state legislature.Even the Supreme Court has an opportunity to take Monsanto down a peg. On Feb. 19, the court will hear arguments in a patent infringement case between an Indiana farmer and Monsanto "
2.11.13 - Is Sustainable-Labeled Seafood Really Sustainable? - npr.org. Good read on seafood labels and what they mean. Some "critics say that the MSC system has been certifying some fisheries despite evidence that the target fish are in trouble, or that the fishing industry is harming the environment. And critics say the MSC system has certified other fisheries as sustainable even though there is not enough evidence to know how they are affecting the environment."
2.11.13 - Bhutan set to plough lone furrow as world's first wholly organic country - guardian.co.uk. "By shunning all but organic farming techniques, the Himalayan state will cement its status as a paradigm of sustainability...Agriculture minister Gyamtsho remains optimistic. "Hopefully we can provide solutions. What is at stake is the future. We need governments who can make bold decisions now rather than later."

Ben & Jerry's is proud to stand with the growing consumer movement for transparency and the right to know what's in our food supply by supporting mandatory GMO labeling legislation. Find out the steps we are taking to transition and label our products and take action here: benjerry.com
2.8.13 - The Meat Industry Now Consumes Four-Fifths of All Antibiotics - motherjones.com. "While the FDA dithers with voluntary approaches to regulation, the meat industry is feasting on antibiotics and sending out product tainted with antibiotic-resistant bugs." MD legislators are considering requiring labeling of antibiotics used.
2.7.13 - Eliminating the Use of Gestation Crates - triplepundit.com. "restaurant chains, like McDonald's, Burger King and Wendy's, have enacted policies demanding that their pork suppliers phase out gestation crates. Many ... grocery store chains like Costco, Kroger and Safeway followed suit." Kraft is requiring suppliers to end their use of the crates while Sysco, the major food distribuor as well as major service companies have also announced that they too are working with suppliers to end the practice.
2.6.13 - US meat ban in Russia extends to turkey - foodnavigator-usa.com. "Russia has extended its ban on US pork and beef imports to include turkey, in connection with the continued dispute over product contamination by the growth chemical ractopamine."
2.6.13 - Organic Education - greenbuilder.com. Universities are ramping up their agricultrual programs to reach more students who are interested in the kind of growth that feeds local communities....Among the schools that offer hands-on and theoretical studies in food production are UC Davis, Oregon State University, Washington State University, Oberlin University and the University of Vermont, along with Cornell University in upstate New York."
2.1.13 - EU Prepares to Ban Three Pesticides Harmful to Bees - ens-newswire.com. "three chemicals – clothianidin, imidacloprid and thiamethoxam - known as neonicotinoids, are among the most widely used insecticides in the world. They would be banned for use on corn, oil seed rape, sunflowers and other crops across the European Union for at least two years" beginning in July.
1.31.13 - Campaign to label frankenfoods goes viral - grist.org. bills that would require labels for genetically modified food are rolling in Oregon and Washington, and similar initiatives are picking up steam in Minnesota, Missouri, and New Mexico, as well as in Connecticut and Vermont, where GMO-labeling legislation failed to pass last year amid threats of legal action from Monsanto. New Mexico could be the first state to pass such a law
1.29.13 - Restaurants recycle oyster shells to bring bivalve back to Bay - chesapeakebay.net. MD - "Shell is a vital ingredient in oyster restoration," said Stephan Abel, executive director of the Oyster Recovery Partnership...it has become such a valuable resource that a bill has been proposed that would give individuals and businesses a 1 dollar tax credit for each bushel of shell recycled. The Bay, restoration and oysters—it's all one story, Abel said. And without oyster shells, the story would be incomplete."
1.28.13 - Snakehead dinner scares up proceeds for oyster recovery - wtop.com. The Oyster Recovery Partnership benefits from Georgetown fundraising dinner serving invasive species like the Snakehead pictured.
1.28.13 - Urban Farming Flourishes In Philadelphia - inquisitr.com. "new urban farming zoning codes in Philly reportedly both protect and promote gardening, market farming, and animal husbandry...Design Philadelphia's "Not a Vacant Lot" program and the Redevelopment Authority are credited with spurring the greening of dilapidated lots throughout the city."
1.25.13 - Are Walmart and Big Food pushing for GMO labeling? - grist.org. A group of companies reportedly went to the FDA earlier this month to lobby for GMO labeling. As the author notes: "GMO-labeling advocates may have succeeded in beginning to drive a wedge between biotechnology seed companies, like Monsanto and Syngenta, and the food companies that have to sell what's produced with their wares."
1.24.13 - Fabien Cousteau: aquaculture is the solution - thecoast.ca. "what works in the long-term, both in an environmental and economic level, as well as a popularity level, is very simple: It's land-based, closed system, polyculture that is based around animals that are fast-growing and most likely vegetarian, and preferably an organic vegetarian diet, which means that they're not ingesting the kind of pollutants we don't want in our own bodies, and of course go to market locally as well."
1.23.13 - Stonyfield's Gary Hirshberg: The Next 20 Years of Organics - triplepundit.com. "The organic industry grew by nine percent in 2011, adding new jobs at four times the national average. Organic is a growth engine for the economy.What's driving this continued growth? The simple answer is: the public. Every day more people are deciding they want to take control of their health by taking control of their diet. Hardly a day goes by without another story breaking about a food supply scare."
1.22.13 - Restoring the jewel of the river -Virginia - tidewaterreview.com. "Anderson's Neck Oyster Company in King and Queen County stands to become largest Aquaculture venture in Virginia." The site of an oyster farm in the early 1900s, Michael and Laura Hild recently purchased the property and are reviving the industry in the York River.
1.21.13 - Aquaculture: helping blue turn green - phys.org. WV fresh water institute provides advice to Mediterranean sustainable aquaculture study. Integrated multi-trophic aquaculture could reduce pollution from fish farms. Incorporating shellfish and algae farms alongside fish cultivation would limit pollution but even better are closed water recirculation systems. The risk of disease and need for antibiotic use are slashed and pollution is negligent.
1.18.13 - The Agricultural Fulcrum: Better Food, Better Climate - theatlantic.com. "industrial agriculture ..."essentially insures that your food is marinated in crude oil before you eat it." This is because at every step, from the production of fertilizers and pesticides to the harvesting, processing, packaging, and transporting of materials, the industrial food system depends on climate-changing fossil fuels. Indeed, in a new report on climate change and food systems, the agriculture research organization CGIAR concluded that our global food system is responsible for nearly a third of all greenhouse gas emissions.But we can tip the scale in the other direction toward sustainable agriculture...Not only do agro-ecological, organic and other sustainable farming methods emit significantly less greenhouse gas (GHG) overall, they can also sequester or store excess carbon"
1.18.13 - Virginia Man Creates Elaborate System To Reduce Food Waste - wamu.org. Arlington's Main Event Catering houses an aquaponic farm. Fish and produce live in a symbiotic system. Fish produce waste which are used as a plant fertilizer. The fish likewise benefit from the waste removal. Audio link included.
1.18.13 - Natural Wine Can Learn from Natural Food - huffingtonpost.com. Good read on wine. Wine is sold as a natural product, but produced using lots of pesticides and many many allowed additives, you might want to look to organic which only represents a very small part of the market. Great links on organic wine.
1.17.13 - Sacramento News & Review - Backyard reapers - Group harvests fruit that would otherwise go unused and donates it to local shelters "Most Village Harvest collections are held in people's backyards, with just a few trees and a handful of volunteers." Homeowners can claim a tax deduction based on the volume of fruit collected.
1.16.13 - Prawn farmer turning wastewater into profit - abcnet.au. "Alistair Dick farms prawns near Ayr in north Queensland, where he's developed an algae pond to treat waste water. He's now using the ponds to cultivate a type of seaweed that's in demand in Japan"
1.15.13 - New level of sustainable food blooms at The Plant - Chicago Sun-Times - "Every business in the building uses the waste products from another business in the building, creating a closed-cycle that maximizes efficiency, eliminates waste and, Edel hopes, will provide a model for others." Brewing waste is used to feed fish grown on site, which eliminate fertilizer for the produce also grown in the factory. Any excess waste is converted into fuel to power the building.
1.12.13 - Guilt-free gourmet - theage.com.au. Vancouver - "The city's This Fish initiative serial codes individual animals - 339,901 at the time of writing - on the premise that people need to know the origin of their food. Customers can trace their plate or buy back to the specific boats, pinpointing the exact time and location of a catch. Vancouver is also the birthplace of the Ocean Wise program. A collaboration between Vancouver Aquarium and more than 450 suppliers, restaurants and markets, its aim is to promote sustainability by colour-grading seafood according to population health. The program has become so ubiquitous in the city that savvy diners all but expect it in their choices."
1.11.13 - Oregon Industry Wants GM Salmon Labeled - ecotrope.opb.org - "Nancy Fitzpatrick, administrator of the Oregon Salmon Commission, said her industry-funded agency has opposed the genetically modified salmon and has asked the FDA not to approve it."
1.10.13 - Urban Farm Gotham Greens Gives Us Brooklyn Lettuce - businessweek. 15,000 sq. ft. rooftop farms yields the same amount of produce as a conventional 6 acre farm and the food produced is served up within a 15 mile range. With a thriving business, the owners are expanding and opening two more greenhouse farms in the area.
1.7.13 - Marine agriculture offers a new solution to the problem of water scarcity - guardian.co.uk. "Costa Rican academics are pioneering the growth of crops on freshwater lakes as a way of addressing food shortages....The size of the rafts can vary, going up to six square metres, and can be made simply and cheaply, from plastic bottles, for example. Where the water is polluted by horticulture, an option is to grow flowers. One advantage of growing crops on water is that they are not as vulnerable to insects as they would be on land."
1.4.13 - L.A.'s First Public Fruit Park is Set to Open - laist.com. "Del Aire Fruit Par "includes an orchard with 27 fruit trees, ranging from peach to plum, 8 native grapevines and edible herbs — all of which will be harvested freely by the community."
1.4.13 - GMO labeling initiative gets rolling in Washington state - grist.com. "The initiative would require special labels on any raw or processed food sold in Washington with any genetically modified ingredients. That would include fruits and vegetables, processed foods and even some seafood like genetically modified salmon,"
1.3.13 - Starbucks unveils $1 reusable plastic cups Thursday - nydailynews.com. "the new cups will be cleaned with boiling water each time customers bring them in."
1.2.13 - The three best non-GMO health food brands available in 2013: An independent review - naturalnews.com. Late July, Nature's Path, Amy's Kitchen.
1.1.13 - Farm of the future: Fish fertilize plants in thriving Maplewood aquaculture center - twincities.com. Dave Roeser's Garden Fresh Farms in Minnesota. "In his unique farm-in-a-bubble system, the fish exhale what the plants inhale, excrete what the plants eat, and swim in water cleaned by plants. It's a finely tuned animal-plant balance that produces 40,000 fish and 460,000 edible plants a year, in an area the size of four semi-trucks."
12.28.12 - Knowing Your Farmer – And Your Fisherman - ecotrope.opb.org. Story on the start up of a Community Supported Fishery. "Port Orford Sustainable Seafoods, invites customers to sign up for regular deliveries of sustainably caught fish. Just like a CSA, but for seafood. Through direct marketing, the model delivers more of the profits from seafood sales directly to fishermen. So, ideally, they can make a living catching fewer fish."
12.26.12 - Chicken farmers replace antibiotics with oregano oil - grist.org. " Oregano oil may be a natural solution to protecting chickens from germs without antibiotics...Belle and Evans Farms in Pennsylvania has been using oregano oil to keep its chickens healthy for about three years now...The stuff seems to work, not just on Sechler's farm but in at least one clinical trial. In 1999, Bayer did a study comparing oregano oil's effectiveness to Bayer's products for controlling E. coli in piglets. Oregano oil outperformed the Bayer products in all four test groups. "
12.26.12 - Nursing homes serving local, sustainable food - washingtonpost.com. Maryland - "FutureCare Cherrywood is one of nine Maryland health care facilities that is regularly purchasing and serving local, sustainable beef and poultry to its patients, while reducing its food budget.
Costs at the nursing home went down, and so did complaints about the food."
12.21.12 - FDA: Genetically engineered fish would not harm nature - usatoday. An FDA environmental assessment of the genetically engineered salmon was just released and concludes no significant harm is posed to humans or the environment. "If FDA regulators clear the salmon, as expected, it would be the first scientifically altered animal approved for food anywhere in the world." The Center for Food Safetyhas an online petition you can sign here.
12.21,12 - Meet the weeds that Monsanto can't beat - guardian.co.uk. "When Monsanto revolutionised agriculture with a line of genetically engineered seeds, the promise was that the technology would lower herbicide use – because farmers would have to spray less. In fact, as Washington State University researcher Chuch Benbrook has shown, just the opposite happened."
12.20.12 - Court Lets Perdue Off the Hook for Devastating Pollution of Chesapeake Bay by Its Contract Grower - foodandwaterwatch.org. "big poultry companies – the Perdues, Tysons, Mountaires, and others – have been ignoring the dire impacts their meat production systems have been having on the Chesapeake Bay and many more of our waterways across the country. They've been allowed to walk away from the mountains of manure produced by their birds while burdening overwhelmed and underpaid contract growers who don't have the means to properly dispose of this waste. A ruling in Plaintiffs favor would have helped shift some of that waste disposal burden where it belongs, with the big companies that reap the greatest profits."
12.20,12 - This old prison in Illinois may be transformed into a farming paradise - grist.org. Great plan for a shuttered facility in Illinois. Not only will it grow fresh produce, it will be a hub for distribution of diverse local food crops in a landscape dominated by monoculture.
12.17.12 - Could Scottish salmon farming be transformed by moving to dry land? - guardian.co.uk. Fishfrom will open a large landbased facility. "Fish are already being farmed in other "closed containment" facilities in Spain, Denmark, the Netherlands, Ireland, north America and China. They produce sea bass, catfish, and Atlantic salmon. There is a 1,000-tonne salmon farm recently opened in Denmark, and two more of a similar size being built in China. But nothing, say Fishfrom, on this scale."
12.15.12 - Old Beach Farmers Market - 19th & Cypress at the Oceanfront- Info
12.11.12 - Seafood Sleuthing Reveals Pervasive Fish Fraud In New York Cit : NPR - "A bill introduced to Congress in July is intended to address seafood fraud. Fish suppliers, restaurants, and stores would have to provide more information to their customers about the seafood they sell. In addition, the bill would require more coordination between the FDA and the National Oceanic and Atmospheric Administration — the two government agencies responsible for food and fisheries regulation.
12.10.12 - Big Beef: Drug overuse in cattle imperils human health | National | Bradenton Herald - Good story on antibiotics used in the cattle industry. Some 29 million pounds of antibiotics are used every year in the cattle, pork and poultry industry. The FDA has not released the specific amounts for each industry, which they are now being sued over. But more importantly, bacteria develop resistance to antibiotics as a result of this overuse and are transferred the soil via manure, which likely has caused untreatable infections. "Despite decades of warnings, the federal government has failed to pass meaningful regulation of animal drug use, failed to adequately monitor the harmful residues they leave behind, and failed to stop the consumption of meat contaminated with such substances."
12.9.12 - Op-ed: Sustainable fishing creates jobs - seattletimes.com. "The U.S. seafood industry has made great strides over the past decade in demonstrating its sustainability to the world. Today, approximately 50 percent of the total volume of commercial fishery landings in the United States is certified sustainable or is in assessment to the MSC standard. Certification has played an important part in keeping U.S. fisheries competitive in the global seafood marketplace.The good news is that by doing what's right to protect the world's oceans, the seafood industry is protecting a vital source of jobs for generations to come."
12.7.12- The Green Bronx Machine Transforms Kids' Lives With Vegetables- fastcoexist.com. Great story about urban farming! Through the efforts one teacher, over 100 school gardens were established in the Bronx, and more importantly the lives of children were changed through the program.
12.7.12 - Detroit's urban agriculture plans move forward - freep.com. "Detroit, like many other cities, already is known for its numerous community gardens and local farmstands and farmers markets as urban agriculture has grown in popularity. The new zoning ordinance allows the city to begin dealing with proposals for larger farms and reusing vacant buildings for fish farming and similar efforts.
12.6.12 - Boston, MA - Chef makes the most of trash fish - nrn.com. "By paying $2 or $3 per pound for so-called "trash fish" that otherwise might be regarded as worthless, Garcia and other chefs help fishermen earn a decent living. "At the same time, we're letting the cod and haddock stocks hopefully rebuild," he said."
12.6.12 - Should EnvironmentalistsJust Say No to Eating Meat? (Maybe not.)- e360.yale.edu. "WWF this year helped launch the Global Roundtable for Sustainable Beef, an association of businesses and environmental groups WWF is accepting financing from the National Cattlemen's Association and JBS, the world's largest beef producer. that has begun to "facilitate a global dialogue on beef production that is environmentally sound, socially responsible, and economically viable." The roundtable plans to identify the best practices for raising beef, and spread them widely using the leverage of retailers like Wal-Mart and brands like McDonald's to do so. Someday your burger may come with fries, a Coke, and a "green" seal of approval."
American Meat Screenings in Virginia - December - Several events scheduled around the state - none in Tidewater or Hampton Roads - "American Meat is kicking off a nationwide screening tour called the Young Farmer Screening Series. This tour will take place at universities, colleges, agricultural high-schools and FFA chapters aimed at stimulating dialogue about the meat industry, framing the conventional/organic debate from farmers' perspectives, and inspiring young people to pursue careers in agriculture and food. The 10 states on the tour include: Missouri, Washington, Virginia, California, Texas, Colorado, Minnesota, Ohio, New York and Pennsylvania."
12.6.12 - Hybrid Fruit: Mixing Plums, Apricots, and Their Names - nationalgeographic.org. Organically grown pluot - "What's a pluot, much of the country might ask? An innovative hybrid of a plum (60 percent) and apricot (40 percent). They started popping up in the 1980s, and then fruit breeding innovation really took off. Now we have apriums (the same hybrid, but dominant apricot), picatums (peach, apricot, plum), mango-peach hybrids, and nectaplums."
Check the Archive for Previous Posts
All Rights Reserved. Disclaimer.