Tidewater Current | Winter 2013
Transmitting news and infomation about sustainable endeavors in Coastal Virginia and beyond. Updated Weekly.
Building and Infrastructure:
For more illustrated news, visit Carol's Pinterest collection. For older posts, visit the archive or check out the the 2012 News Archive in the Links to the right.
LOCAL & REGIONAL NEWS (scroll down to see more news):
Solar Decathlon 2013 - Team Tidewater's Canopy House Video Tour

2.20.13 - DC issues ambitious plan to become "the healthiest, greenest, and most livable city in the United States" | Kaid Benfield's Blog | Switchboard, from NRDC - " If successful, the 20-year program contemplated by Sustainable DC will bring the benefits of green living to traditionally underserved neighborhoods, cut obesity, substantially increase the presence of nature in the city, grow jobs, dramatically cut energy use and carbon emissions, and much more."
---
2.14.13 -VT Student Project Wins 2012 Building of the Year - TidewaterCurrent.com.
Brownfield transformed into a community out door theater in Clifton, Forge Virginia.
---
A Collaborative Summit: Protecting Water Quality through Actions on Urban-Suburban Properties- Center for Coastal Resources Management
Date & Time: Wednesday, February 13 - 2013 - 9:00 am - 6:30 pm & Thursday, February 14, 2013 - 9 am - 2:45 pm
Location: Williamsburg Woodlands Hotel & Suites
105 Visitor Center Dr.
Williamsburg, VA 23185
Hosted by: Wetlands Watch, Alliance for the Chesapeake Bay, VIMS Center for Coastal Resources Management, and UVA Institute for Environmental Negotiation. More Info and Registration.
---

Brock Environmental Center, the Chesapeake Bay Foundation's planned Educational Facility at Pleasure House Point on the Lynnhaven River is featured in the current issue of Trim Tab, a production of the Cascadia Green Building Council.
---
1.23.13 - Virginia is top LEED certified state in 2012 (Second only to the District of Columbia) - mnn.com. Rankings: District of Columbia – 36.97 per-capita square footage; Virginia – 3.71; Colorado – 2.10; Massachusetts – 2.05; Illinois – 1.94; Maryland – 1.90; New York – 1.77; Washington – 1.56; California – 1.46; Texas – 1.43; Nevada – 1.39.
---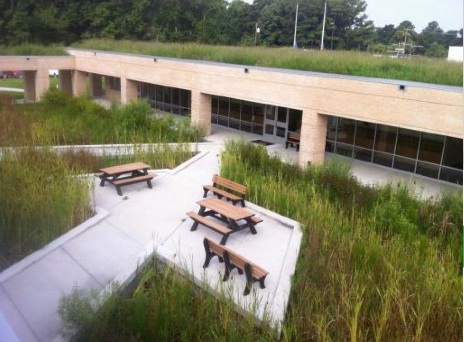 1.22.13 -USGBC Recognizes Virginia Beach as the Best School District - TidewaterCurrent.com. "the School System is setting an important example to students and residents alike through its green building program. And in doing so, they have won national recognition from the United States Green Building Council."
---
1.18.13 - Outer Banks institute goes deep for clean energy - hamptonroads. UNC satellite campus building designed to be sustainable will house research to limit human impact on the environment. "Researchers are studying ways to store compressed air under the sea and to harness power from the jet stream off the coast" while a unique paddle device is being used to create electricity from waves to power to the building.
1.11.13 - Climate Progress: Virginia, Maryland and Delaware Investigate Sea Level Rise Solutions - Tidewater Current | Winter 2013 - Mid- Atlantic states are beginning to address the threat of rising seas and recurrent inundation episodes. Info also provided on VIMS workshop to explore how Virginia should respond to coastal flooding.
1.10.13 - Meadows Emerge as Growing Landscape Trend: Pollinators in Peril to Benefit - Tidewater Current | Winter 2013 - With the success of landmark landscape projects, like the NYC High Line, place making green design concepts are taking off on a global scale. Ecological services, such as storm water filtration and management, are being utilized by cities across the country, including Virginia.
---
12.24.12 - Beltway Business Park | Smart Slope - Living Retaining Walls.
---
12.23.12- Virginia Co. Purveys Wines with a Double Dose of Sunshine - Tidewater Current | Winter 2013 - Solar derived fruit of the vine stored in sun run warehouse.
12.16.12 - City of Portsmouth Wins 2012 National Award for Smart Growth - Tidewater Current | Winter 2013 - "Destination Portsmouth" program, which culminated in a full rewrite of the City's land use ordinances will promote the pictured "multimodal thoroughfare with mixed-use buildings, light rail, and an inviting streetscape"
12.12.12 - Cape Charles Wave - capecharleswave.com. LEED Platinum Cape Charles home designed by Janet Harrison, consultant CBF's Merrill Center.
---
2013 Team Tidewater Solar Decathlon Entry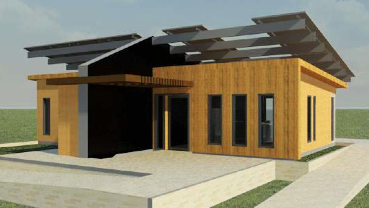 Students and faculty from Old Dominion and Hampton Universities were once again selected to compete in the Solar Decathlon, an international solar home design competition. Follow the group on Facebook.
---
12.4.12 - Empowerhouse: New Model for Green, Affordable Housing, Now Open - dexigner.com. First passive house in Washington was designed by students for the Solar Decathlon and built with assistance from Habitat for Humanity and the DC government.
Adapting the Built Environment for Sea Level Rise - Tidewater Current | Fall 2012 - Amphibious and floating homes could become more widespread in the future.
Dominion Supports W & M Eco Village Project - Tidewater Current | Fall 2012 - A $45,000 grant from the utility and foundation will support student and faculty projects to assess eco village plans.
---
MORE NEWS: For additional noteworthy and current( illustrated) clips, please visit Carol Brighton's Pinterest Page. Prior posts can be viewd in the Archive. 2012 illustrated posts can be viewed here.
The Unfolding Home - mauimagazine.net. Nice article about Blu Homes and their foray into the Hawaiian market. The prefab homes are folded like origami so "steel framing unfolds to reveal rooms up to twenty-five feet wide, with ceilings as high as sixteen feet, and entire glass walls. ...On the mainland, prices start at $130,000 for the basic Origin model, which includes everything from design to appliances to delivery and installation."
JRA Green Building looks to achieve passive and living building certification - jrgbc.com.
3.12.13 - Porous Recycled Glass Pavers from FilterPave - ecobuildingpulse.com.
3.8.13 - Self-sustaining "farmscrapers" proposed for Shenzhen - gizmag.com. The food producing buildings will also house businesses and residential unitswhile producing more energy than consumed with "plenty of photovoltaic and photothermal solar cells, along with axial wind turbines spread along the top of each section"
3.8.13 - 'Active House' Built In St. Louis Area Is Nation's First - bbb.org. New standard for green building similar to LEED. In addition to energy efficiency, the home has a solar car charging station in the garage and solar hot water. The difference between the Active standard and LEED is an affordability approach and no documentation is required. Yet despite the lack of documentation required, this home will be monitored the University of Missouri Center for Sustainable Energy.
3.7.13 - Los Angeles school gets a giant solar wall - gizmag.com. "new public school for 500 students is characterized by a large south facing façade covered with 650 solar panels, which not only help shield the building from the sun but also capture an estimated 75 percent of the energy needed to power the school."
3.7.13 - Walgreens plans first net-zero retail store in U.S. - smartplanet.com. The store near Chicago "will have 800 rooftop solar panels, two wind turbines, and will... tap into geothermal energy. The store also aims to reduce its overall energy use by using LED lighting and daylight harvesting, in addition to using energy efficient building materials and carbon dioxide refrigerant. The building is estimated to use 200,000 kilowatt hours of electricity each year but produce 256,000 kilowatt hours"
3.6.13 - Energy-Efficient Modern Home is Built Inside a Cave in Missouri - jetsongreen.com. LISTED FOR SALE for 300,000.
3.4.13 - World's First Algae Bioreactor Facade Nears Completion - archdaily.com. Germany - "zero-carbon apartment complex will sport a bright green facade-cum-algae farm"
3.1.13 - Seaweed under the roof - fraunhofer.com. "For many coastal dwellers, seaweed washed up on the shore is nothing but a nuisance. But this raw material has proven itself capable of keeping buildings well insulated. Together with industry partners, researchers have succeeded in turning it into insulation." Insulation made from seaweed is also free from chemical additive and non allergenic.
2.25.13 - Stamp House / Charles Wright Architects - archdaily.com. Cyclone proof - off the grid home in Australia- sustainable features incude: "250,000 ltr water harvesting, recycling & reticulation, renewable solar energy generation with solar backup non-reliant on fossil fuel backup generation, On-site Advanced Tertiary Sewerage treatment plant, grey water recycling & irrigation, Shaded & Insulated Thermal mass engineering, 'green' cooling & energy conservation controlled via building automation system"
2.24.13 - Starbucks Opens Drive-Thru Made from Recycled Shipping Containers in Northglenn, CO - Inhabitat.com. "it's so small, there is no indoor seating — it's only intended for drive-thru and walk-up customers. The diminutive building is made from two shipping containers that are clad in local snow fencing, which conceals the modular structure and gives the shop a warm tone."
2.21.13 - WFH House / Arcgency - archdaily.com. Prefabricated shipping container home in China.
2.20.13 - A Kickstart for Green Infrastructure | Philadelphia Water Department - Green infrastructure project is crowd sourcing funding through Kickstarter.
2.19.13 - Striking Solar Equinox Passive House Aligns With the Sun in Bulgaria - inhabitat.com."The home is built into the hillside and oriented due south to make the most of the sun ... A green roof ... adds additional lawn space as well as insulation. A super tight and insulated envelope minimizes energy loss...The front wall of triple-paned glass is inverted to match the angle of the sun on the solstice at that location. ... no sun at all gets into the house in the middle of the summer"
2.19.13 - In search of the greenest building in Canada - troymedia.com. "The waste treatment centre is a key architectural feature of the building. It's on the main floor, encased in glass and visible to everyone who walks by. ... Some buildings feature fountains or fancy landscaping – the CIRS building puts sewage treatment on display." Many more sustainable features are incorporated into the design of this LEED Platinum/Living Building including rainwater harvesting and treatment for potable uses.
2.18.13 - Sens. McConnell, Paul join forces to legalize hemp | The Daily Caller - In colonial times, land holders were required to grow hemp as it was used to produce variety of important products. Now t turns out a concrete like material known as hempcrete is a very sustainable product for building construction... so hopefully builders who want to use the product will be able to source it locally instead of importing it
2.15.13 - Twenty-eight containers transform orphanage in South Africa - gizmag.com. The New Jerusalem Orphanage in South Africa demonstrates great repurposing and recycling initiative. Cargotecture would be very appropriate at Pleasure House Point. Please let send a messae if you are aware of any shipping container architecture in the area.
2.12.13 - A Guide to Phytoremediation: A Symbiotic Relationship with Plants, Water & Living Architecture - greenroofs.com. History and examples of systems developed to remove particular pollutants with specific plants.
2.12.13 - Solar-Powered House Under Construction At UNC-Charlotte | WFAE - Urban Eden, an affordable house designed for the Solar Decathlon competition is 100% solar powered and made from a special concrete that reduces carbon emissions by 90%. A system in the concrete delivers and removes heat from the house and vertical gardens can be watered by a grey water recycling system. Nice video link included.
2.11.13 - Architecture professor draws inspiration from biology - The Tartan Online - Carnegie Melon Architecture professor is working with Google to develop revolutionary new materials for a building they are designing. Ideas include using phase changing materials in new ways, like glass tiles, to regulate building temperature without mechanical systems or fiber optic stalks for filtering sunlight throughout the building.
2.11.13 - Cantilevered residential heliostat takes shape in Sydney - gizmag.com. One Central Park being planned with the highest environmental standards in Australia sports vertical gardens, solar and water recycling technologies. "The frame will be the base of an outdoor sky garden, and the heliostat will use an assemblage of motorized mirrors to capture sunlight and direct rays down onto the Central Park gardens all year round." A Trigeneration will supply energy, heat, hot water and air conditioning
2.8.13 - Clean Water Services highlights progress and plans for Fernhill Wetlands in Forest Grove - oregonlive.com. 12 million dollar Oregon project "looks like a park, featuring a garden and trails alongside bridges and bubbling water features....but it's not. It's a carefully engineered, innovative approach to wastewater treatment." While expensive, the natural approach to water treatment is saving some 9 million dollars compared to the 21 million dollar price tag associated with a conventional treatment facility.
2.8.13 - Bercy Chen Studio's Earth-Bermed Edgeland House Transforms a Former Brownfield Site in Texas - inhabitat.com. "the high-tech home features hydronic heating and cooling, geothermal heat exchange, and phase‐change thermal heat storage...In order to build the house, the architects excavated 7 feet of soil from the site, and they installed a lush green roof. The home also features a "smart pool," which provides additional thermal mass that ties into the geothermal heating and cooling system."
2.8.13 - What's red-brick, but green all over? - ft.com. "A British new-build home with a host of energy-efficient features" - Constructed with hemp walls, the roofing includes tiles that look like slate made from recycled plastic and solar tiles and waste water will be treated in a constructed wetland and recycled for non potable uses. More images included.
2.6.13 - GSA Wants More Input Before Deciding on LEED Use - ecobuildingpulse.com. "The GSA is currently evaluating LEED 2009, Green Globes, and the Living Building Challenge for use in federal buildings as part of a mandated review."
2.5.13 - 87% of Seattle's Large Buildings Now Tracking & Reporting Energy Use to City - greenbuildingelements.com. Seattle is one of a growing list of cities with energy benchmarking and reporting requirements. Other major cities ...include New York City, San Francisco, Austin, Washington, D.C. and Philadelphia. ...Seattle's does not require public disclosure of building energy information. However, Seattle's law requires that owners make energy information available to tenants, buyers or financial institutions.
2.1.13 - North Carolina Company to focus on shipping container architecture - earthtechling.com. Permanent market planned using refurbished containers from Boxman Studios.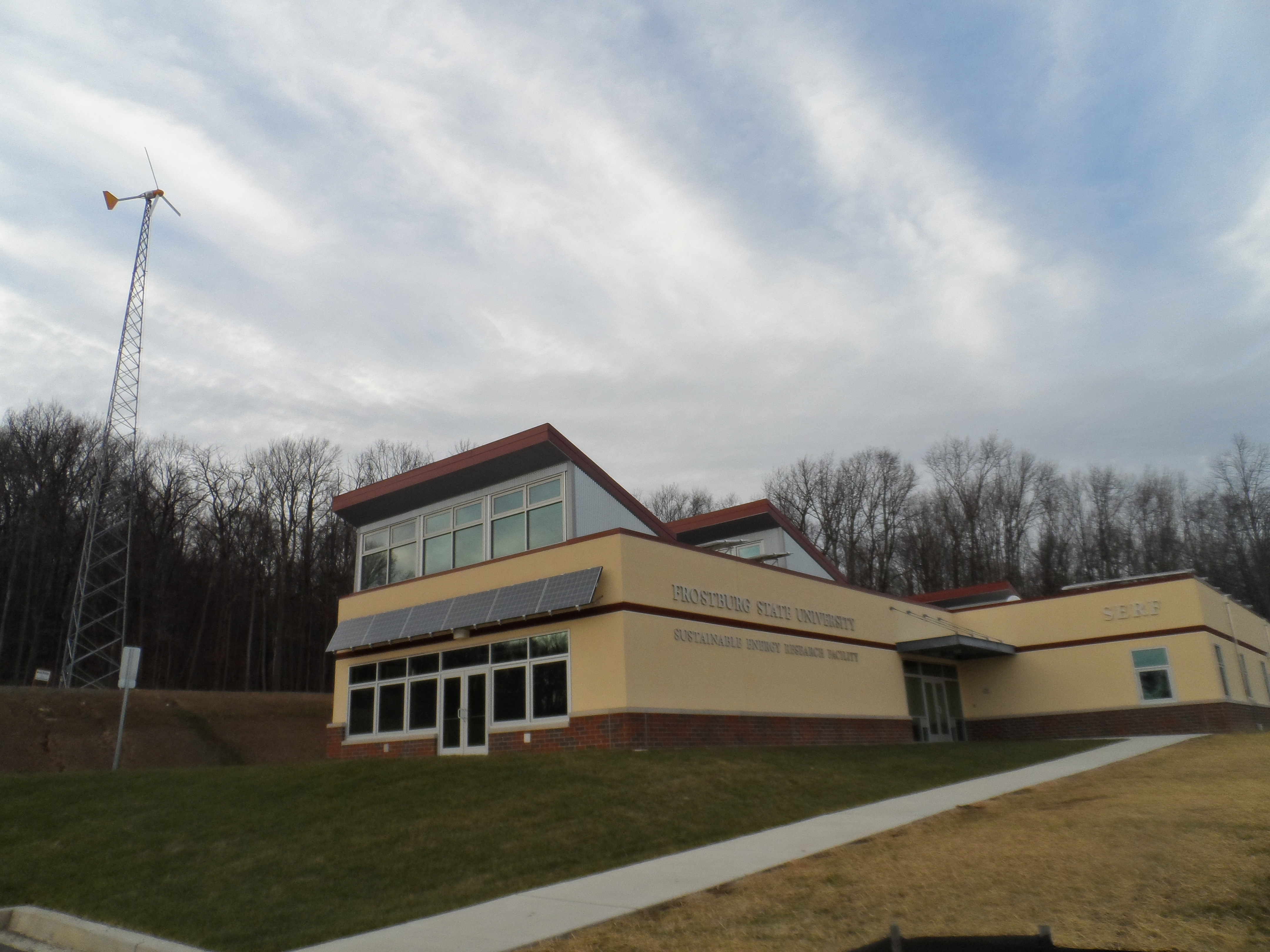 Maryland - The Sustainable Energy Research Facility at Frostburg State is almost complete. "The 6,300 square foot building is completely off the grid and self sustaining with a combination of solar, wind and hydrogen fuel cell power."
Info: frostburg.edu
1.30.13 - How green can you go? Seattle celebrates Deep Green building - kplu.org. Construction underway on New global headquarters for Brooks Sports, Stone34, which is aiming for a Deep Green designation by the City - something beyond LEED Platinum but not meeting Living Building standards
1.30.13 - Is There Such Thing as a Non-Toxic Home? - prweb.com. Endeavour Centre of Ontario takes on building Canda's Greenest Home of prefab biosip wall panels made from strawbale. PV, solar thermal and composting toilets were also included. All materials were thoroughly researched so that the least amount of toxics possible were used.
1.29.13 - Superbowl-Bound San Francisco 49ers: LEED, Net-Zero Energy - sustainablebusiness.com. The San Francisco 49ers' Planned Santa Clara Stadium will sport solar covered pathways and rooftop panels. "Other green building design elements include public transit access, bicycle parking, a walking path into the venue, water-conserving plumbing fixtures, and recycled materials used in construction."
1.28.13 - Carrier Dome to start harvesting rainwater in summer 2014 | The Daily Orange - Syracuse, NY - "Rainwater will be used to flush public toilets and urinals during games and other events, said Bruce Wanlass, principal engineer at C Companies, the Syracuse-based engineering consulting firm leading the project. The 1.35 million project will be made possible through a grant from the Environmental Facilities Corporation."
1.25.13 - EPA Study: Infill Represents 21% of New-Home Construction - ecobuildingpulse.com. The most popular and active infill markets were San Jose, Calif., New York, Los Angeles, and San Francisco, where infill makes up more than 50% of new housing construction.
1.22.13 - Seattle Architects Design First U.S. Office Building Without A Carbon Footprint, Break The Law While Doing So - archizer.com. "in the United States, you'll find yourself in violation of maybe two dozen regulations and laws ...In Washington, it's illegal to take what is arguably Seattle's most abundant renewable resource and filter it for drinking. The Bullitt Center will use its treated rainwater for graywater until that law changes" Then natural plant filtration and ultraviolet disinfection will be used.
1.17.13 - New Star Island: A Green Architectural Paradise - designbuildsource.comau. Residents of the Maldives are looking to reshape their future as climate refugees into that of climate innovators. A floating eco development is being planned. Dutch archtects came up with the design that will also be constructed by Dutch engineers.
1.15.13 - US Government Seeing Big Savings From Green Buildings - greeentechmedia.com. " The U.S. Treasury building has obtained a green environmental designation, probably the oldest federal building to earn one. It has reduced its operating costs by $3.5 million annually as a result....GSA's sustainably designed buildings use less energy and water, emit less CO2, cost less to maintain, and have occupants who are more satisfied than those working in typical buildings," the study said. "In short, the GSA's 12-year commitment to green building practices is paying off."
1.14.12 - An affordable housing enclave that fits in, strengthens a neighborhood, and protects the environment - nrdcswitchboard.com. Little Rock "pocket neighborhood" concept championed by architect Ross Chapin – reducing the footprint of a group of smaller, single-family homes by sharing gardens and amenities that would occupy more land if duplicated for each individual house" wins American Institute of Architects National Honor Award.
1.9.13 - NYC Fosters Green Buildings With Zone GreenAmong the many initiatives in NYC's sustainability plan - sustainablebusiness.com. "Among the many initiatives in NYC's sustainability plan, PlaNYC, is a requirement that every gallon of heating fuel be blended with biodiesel; 50 MW of utility-scale solar on decommissioned NYC landfills; stormwater management; requiring all buildings to measure and report on emissions; a cool roofs program; and a sweeping green buildings program. "
1.9.13 - MMSD ordered to provide 'green infrastructure' for storm water - jsonline.com. "More rooftops in the Milwaukee area will be enlisted to grow grasses, flowers and other plants now that the Milwaukee Metropolitan Sewerage District has been given the nation's first wastewater discharge permit mandating "green infrastructure" to collect and absorb storm water."
1.4.13 - WVU Solar Decathlon team ready to build solar-powered log home - statejournal.com. "The WVU house is the first log-style home accepted into the Decathlon. The structure will include solar panels and will rely on natural resources to control temperature. The students also are developing an app that will allow them to control temperature."
1 week ago |
1.3.13 - American Rivers | Much Ado About Flooding - Using Green Infrastructure to Reduce A Growing Problem - "Examples in Toledo and others across the country are making the case for green infrastructure's flood reduction advantages. As cities and towns deal with shifting precipitation patterns and a changing climate, green infrastructure can offer a cost-effective approach to protecting clean water and mitigating localized flooding that may become more common in certain areas."
1.2.13 - Rotterdam's Solar-Powered Floating Pavilion is an Experimental Climate-Proof Development - inhabitat.com. An initiative of Rotterdam Climate Proof (part of the Rotterdam Climate Initiative), the mixed-use pavilion was designed by Deltasync and PublicDomain Architects, and it sets an unprecedented example for innovative, sustainable and climate-proof architecture."
1.1.13 - Make Your Home Eco-Friendly in 2013 - greenerideal.com. "his is Catawba Valley Habitat for Humanity's Zero Energy House in the Ridgeview Neighborhood of Hickory, North Carolina. It is considered to be the first Zero Energy home in the entire state."
12.30.12 - Tampa couple embraces green lifestyle with home renovations - Tampa Bay Times - Good story about a Tampa couples efforts to renovate their home sustainably. "For the Fishers, the journey to green living was launched in Naples, Italy, where Dan was stationed as a U.S. Navy officer for two years. Recycling was mandatory and residents were encouraged to hang clothes outside instead of tossing them in the dryer."
12.28.12 - Living Art: The Rise Of The Vertical Gardens - designbuildsource.com.au. "vertical gardens make for great design features and are considered alternatives for wall art...Covering a building wall can keep the wall insulated, alleviate pollution and provides a shield to the building materials from elements like the sun....In New York, architect Laurence Tamaccio is proposing to cover the West Side Highway – the divider between Riverside Park South and the Hudson River – with a leafy vertical ivy garden and aligning waterfalls. He believes his Vine Line proposal will become a source of pride for the entire community and revamp the area aesthetically"
12.24.12 - Sprouting A Living Building From A Gas Station - ecotrope.opb.org. Great story about a group effort to create a living building on a tight budget.
12.23.12 - Halifax Seaport Farmers Market Renovation and expansion of shipping warehouse achieves LEED Platinum- sabmagazine.com. Renovation and expansion of shipping warehouse achieves LEED Platinum - This is some Farmer's Market. Solar, wind and geothermal technologies employed while green roof provides habitat and insulation. There's also a rainwater harvesting system.
12.22.12 - Net-zeroschool pays off - bgdailynews.com. Bowling Green, KY - Solar panels provide more energy than the school uses. "the first "net-zero" school in the nation: Richardsville Elementary School.... is still the only major school building in the United States that is not only net-zero, but that also actually earns money from its electricity generation."
12.21.12 - Hip Chasen Residence Boasts an Ultra Tight Envelope That Spares Energy in North Carolina - inhabitat.com. "Built for just $117 per square foot, the Chasen Residence is compact, affordable and decidedly contemporary...Standard interventions include passive solar orientation and insulation which mitigates undue thermal loss "

12.20.12 - Gardens grow as latest green home amenity - usatoday.com. "gardens are popping up not only in new single-family and luxury condo developments, where they aim to lure green buyers, but also in new and decades-old affordable housing projects, which aim to get residents outdoors."
12.17.12 - This Breathing Office Building Makes You Feel Like You're Outside - fastcoexist.com. PNC Building in Pittsburgh should be complete by 2015. "The building "breathes" with a double-skin facade: a natural ventilation system that has a glass outer weather and air barrier and an inner layer with automated air vents, a wood curtain wall, and manually operated sliding doors. A series of automatic sensors on both layers open up the building for air when the weather is nice....A solar chimney will draw exhaust and warm air up and out of the building, while the double-skin will pull air in--a technique that can dramatically cut down on energy use. A solar photovoltaic array will lie on top of the chimney. "
12.14.12 - Unity Prefab Assembled in Three Days - jetsongreen.com. Battleboro, VT home will use 50-75% less energy than a conventionally built home
12.12.12 - Houston developer creating carbon-neutral office building - blogchron.com. "This 13-story building, under construction in San Diego, will be the largest carbon-neutral office building ever built in the United States, according to Hines, the Houston-based firm developing the project with J.P. Morgan Asset Management."
12.10.12 - Air Purifying Art: Edmonton International Airports Living Wall - gizmag.com. The rigid waterproof panels are made from post consumer food grade plastic (such as milk cartons, plastic bags and bottles) and the plant root material is made from recycled fibers from the textile industry....Nine of the plant species chosen by designer Mike Weinmaster from Green over Grey have been identified by NASA as substantially improving indoor air quality. The studies conducted in space found 10 plant species that are more efficient than mechanical filters at purifying the air of toxins such as carbon dioxide, benzene, and volatile organic compounds (VOCs), with the additional benefit that the thousands of plants add oxygen and improve humidity levels in the terminal."
12.5.12 - City of Cincinnati Now Offers Green Roof Loans -- The Kansan - - "The Ohio Office of Environmental Protections has made $5,000,000 available for green roof loans."
12.4.12 - B.C. Home Certified By Living Building Challenge - earthtechling.com. Cob construction. "first residence ever to be certified under its Living Building Challenge program....The 2,500-square-foot building—which houses Ann and Gord Baird, their two children, and Ann's parents—employs non-flush composting toilets as well as systems for solar water heating, rainwater collection and grey-water filtration for reuse as irrigation. About 80 percent of the food consumed by the family is grown and processed on site."
12.2.12 - A Neat & Efficient House Design - efficient-life.com. Rotating home in Canberra Australia will follow the sun. "the rotation uses minimal energy – about 100 watts, which is about the same as a bright light bulb."
11.30.12 - Château Hemp? | News | News & Features | Wine Spectator - The new Maris winery is built almost entirely from large, sturdy "bricks" of organic hemp straw. Those bricks not only reduced carbon emissions from construction, they also continue to capture carbon dioxide from their surroundings.
Check the Archive for Previous Posts
All Rights Reserved. Disclaimer.