Tidewater Current | Winter 2013
Transmitting news and infomation about sustainable endeavors in Coastal Virginia and beyond. Updated Weekly.
Features:
VT Student Project Building of the Year | Climate Progress in the Mid-Atlantic | VA Solar Wine Purveyor | USGBC Recognizes VB as the Best School District | Solar Eclipses Navy Power Costs | Smart Growth in Portsmouth | Offshore Wind Plans
Meadows Emerge as Growing Landscape Trend: 
Pollinators in Peril to Benefit
Posted 10 January 2013 - By Carol Brighton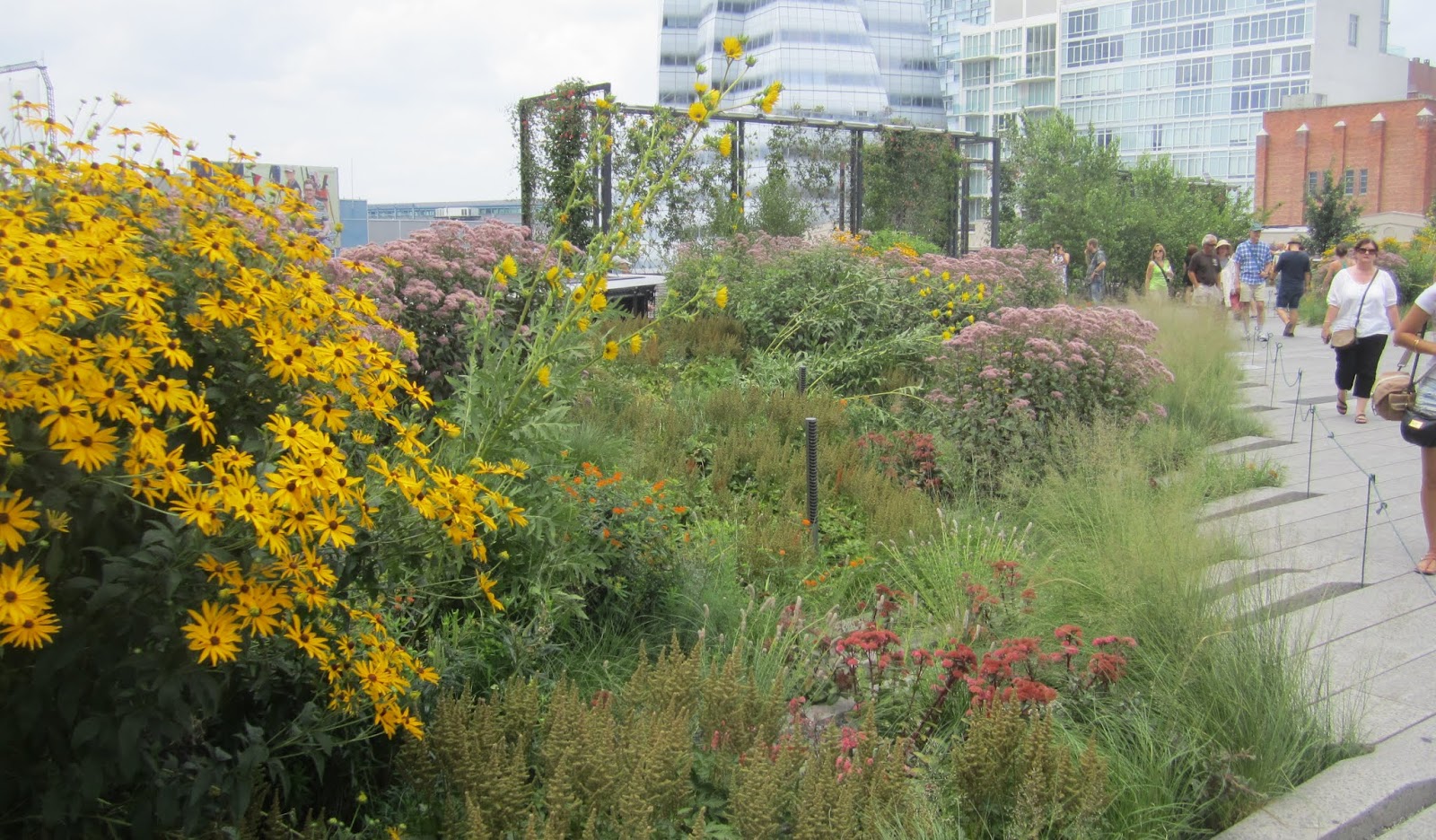 NYC High Line from princetonnaturenotes.blogspot.com
With the success of landmark landscape projects, like the NYC High Line, place making green design concepts are taking off on a global scale. 
Design competitions for similar projects in major cities like London and Sydney are taking place and as the public at large becomes more aware, the meadow movement is gaining ground and putting down roots. From urban rooftops to suburban front yards and rural farmscapes, meadows are beginning to transform the managed environment. Although the movement has momentum, in many communities, progress is still in an infancy stage.   Since these sustainable and beautiful landscapes provide important ecological services including wildlife habitat, the benefits extend well beyond aesthetic goals.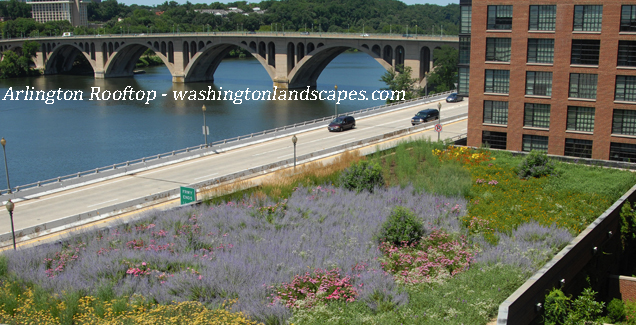 With little maintenance required once established, meadows are less expensive to maintain than lawns.  So for municipal, institutional, commercial and private property owners, meadows offer cost savings over turf.  Establishing a meadow does require some time and effort and the price tag associated with cultivation is comparable to creating a lawn.  Cost data from the US EPA "show that conventional installation of sodded turf grasses may exceed $12,000 per acre. Planting turf grass seeds may cost in the range of $4,000 to $8,000 per acre. This contrasts with installation costs of $2,000 to $4,000 per acre for seeding native prairie grasses and forbs. Planting plugs of native plants considerably increases installation costs but this may be preferred in selected locations where a "head start" is desired."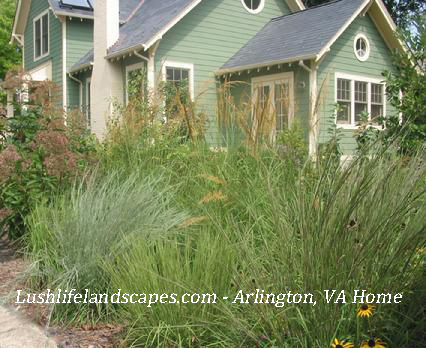 In addition to providing storm water management services and filtering water that would otherwise runoff into local waterways, native meadows provide food and habitat and thereby attract native pollinators and birds.  Pollination services are necessary for productive and healthy habitats and they are responsible for the vast majority of flowering plant fruit and seed production.
In Coastal Virginia, the City of Virginia Beach is practicing meadow management on well over 600 acres of municipal land.  According to City Open Space and Resource Manager Michael Moore, the initial motivation was to filter and contain storm water, but at the same time, wildlife habitat is being restored and the City is saving money.  Mr.Moore estimates that the City is saving  $144, 270.00 per year based on 2010 estimates.
The City of Virginia Beach is not alone. Cities across the country are developing green infrastructure schemes that utilize native plants for storm water management.  The Natural Resources Defense Council highlights several such initiatives.   Programs in Chicago and Washington DC are also offering incentives that encourage private planting of native species while Seattle residents have been working to create a pollinator pathway that connects major green spaces. 
Farm Programs
Due to development in suburban and urban areas, it's no revelation that wildlife, particularly birds and insect pollinators will benefit from meadow projects. What is somewhat surprising is that rural/agricultural landscapes would also reap tremendous rewards from the meadow movement.  Farmscapes have become so geared to intensely managed agriculture, particularly monoculture, that the diversity of life found on farmed land has also been severely degraded.   In a study conducted by an NPR researcher, one Iowa field was literally found to be home to only one species: corn.  As pollinators provide services responsible for 90% of American crops, their continued decline will impact food production. Colony Collapse disorder is destroying European Honey Bee hives in the US and around the globe.  Native bees could take on the pollinating services of Honey Bees as long as food and habitat resources are available throughout the growing season. Unlike the Honey Bee, most native bees are solitary and not subject to colony collapse disorder.  However, like Honey Bees their populations are also in decline. Habitat loss and pesticide exposure are the main culprits.  By integrating meadow landscapes onto marginal farmland and between fields, farmers can improve native pollination ratios.  At Full Belly Farm in California native pollinators do all the work. Read more here.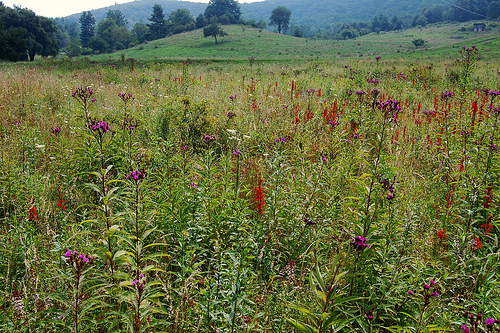 Flickr Photo from Floyd, VA - UGardener
The Virginia Department of Game and Inland Fisheries with the assistance of the Xerces Society is working to initiate an outreach campaign to increase meadows on managed lands in the Commonwealth.   In this endeavor, Master Naturalists from around the state have received training and materials to present to local groups on Meadow Habitat for Pollinators and other Wildlife.  In addition to aiding native bees, the DGIF also is actively promoting meadow establishment as part of its Quail Initiative. Technical and in some cases financial assistance for farmers and rural landholders interested in meadow creation is available through the local USDA Natural Resource Conservation Service.  General information and links are posted below. To schedule a group presentation in the Tidewater/Hampton Roads area, contact Carol Brighton through the contact link on the menu bar.
Informational Links and Resources:
Xerces Society Info on Pollinator Conservation | Info & Blog on Native Bees in Virginia - Our Native Bees
Creating a Meadow from the Meadow project | US Fish & Wildlife Service Native Plants for the Chesapeake Watershed
National Wildlife Federation Certified Wildlife Gardens | USDA Natural Resources Conservation Service Programs
Virginia Department of Game and Inland Fisheries Quail Initiative | More resources for Virginia from VA working landscapes
---
Virginia Tech Student Project Wins 2012 Building of the Year
Posted 2.14.13 - By Carol Brighotn
The Masonic Theatre project featured as one of American-Architects Buildings s of the Week recently received the most votes by readers, winning Best Building of the Year.  The 8-month design/buildLAB project focused on the redevelopment of an urban brownfield site and transformed it into a community center that will contribute to the revitalization of small town Clifton Forge.
Students from Virginia Tech's School of Architecture, working with instructors and design/build LAB founders Keith and Marie Zawistowkis, conferred with city representatives, collaborated on a design and built the project.   Regarding the real life value of the experience for the students, Keith Zawistowkis notes that "It removes the abstraction from education.  Instead of just proposing a concept, they have a means to tangibly test that concept and realize the work. They have real clients, and work with real consultants. They don't only have to conceive the building and imagine how it might go together, they actually have to test that concept by putting it together themselves."
While aesthetically pleasing, the outdoor stage was also developed in a sustainable manner. Materials salvaged from the dilapidated warehouse originally occupying the site were salvaged and used to build a Farmers Market in a nearby town.  Not everything was removed. A large concrete platform was left in place and now forms the base of the stage, saving demolition disposal and construction costs.   Local steambent lumber was used for the prefabricated project.  The students assembled the various segments at Virginia Tech's School of Architecture and then delivered them to the site for quick assembly.
The time lapsed video depicts the project step by step.
Masonic Amphitheatre Construction Time Lapse from Leo Naegele on Vimeo.
Image Credits: Wikpedia and The Masonic Theatre
---
Climate Progress: Virginia, Maryland and Delaware Investigate Sea Level Rise Solutions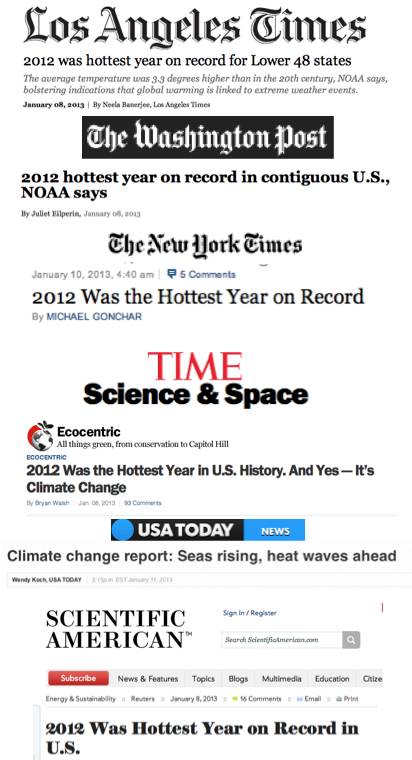 Amid a flood of recent press on global climate change and record-breaking temperatures, 3 Mid- Atlantic states are beginning to address the threat of rising seas and recurrent inundation episodes.  In a previous post, research on surging Mid-Atlantic sea levels was highlighted and in the wake of the devastation caused by Hurricane Sandy, efforts to deal with this issue could not he more timely. 
Last week Maryland Governor O'Malley issued an Executive Order directing the Department of Natural Resources to develop a plan to protect state land, structures and infrastructure from sea level rise.  The Virginia Institute of Marine Sciences with the assistance of a number of other State University groups and agencies just conducted an extensive review of the state's capability to analyze the threat of recurrent flooding issues and made recommendations to the General Assembly of Virginia on how to develop and coordinate a comprehensive statewide initiative to deal with it. Delaware has established a Sea Level Advisory Committee.  One policy they are considering is to implement rules that require that property sellers disclose potential flooding risk as a result of future sea level rise.  This and other proposals will be the subject of public hearing beginning in February.
In an expansive 135 page report, VIMS authors likewise make note of a property disclosure clause.  A number of management, adaptation and protection strategies are discussed including floating architecture, wetland preservation and living shoreline development.  The report also discusses the causes of relative sea level rise in the region.  Due to global warming, glaciers and sea ice are melting while seawater is thermally expanding and increasing in volume.  Processes that drive ocean currents are shifting and water flow tends to slow resulting in even higher sea levels off the East Coast.  The region also suffers from land subsidence caused by several factors, including ground water withdrawal. While acknowledging that sea level has already risen in Norfolk by over a foot in the last century and that it is expected to continue to do so at an even faster rate than in the past, the authors call on the legislature to act now to tackle important issues that will take time to implement. The graph below provided by Dr. Larry Atkinson of ODU demonstrates the accelerating rate of flood events on a Norfolk waterway.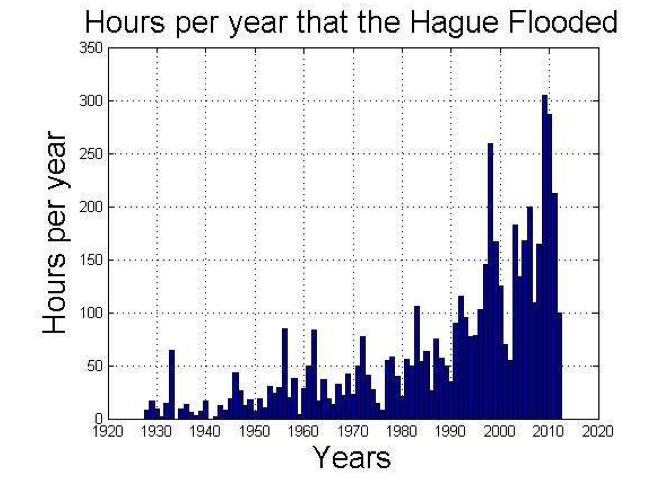 Addressing Climate Change

Given the evidence of increased inundation, the legislature should also consider taking action to reduce global warming.  Strategies to that end were not included in the VIMS report.  Whether or not greenhouse gases are contributing to global warming is not the issue.  Theoretically, green house gases will trap heat and cause warming.  That in it self is cause for action considering our current circumstance.  Simply treating the symptoms will not solve the underlying problem.  And to literally keep our heads above future water levels, measures that reduce or at least stabilize greenhouse gas emission need to be adopted. 
Posted 1.11.13 - By Carol Brighton
Graph: Dr. Larry Atkinson, ODU Climate Change and Sea Level Rise Initiative
View Local Climate related news, in the Tidewater Snip.it collection.
Learn more about coastal flooding:
Recurrent coastal flooding: How should VA respond?
Thursday, January 31st 2013
7pm
VIMS - Watermen's Hall, McHugh Auditorium
1375 Greate Road
Gloucester Point, VA 23062
---
USGBC Recognizes Virginia Beach as the Best School District
Posted 22 January 2013 - By Carol Brighton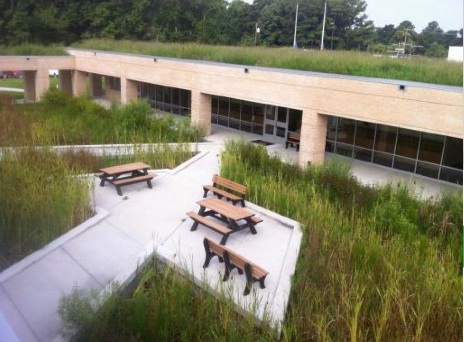 Vegetated Roof and Rain Gardens at the LEED Platinum rated Pupil Transportation and Maintenance Facility.
The City of Virginia Beach School System is not just talking the talk; they are walking the walk in the sustainibility department.  With an academic goal to "foster responsible development and protection of the world's natural environment and resources through individual and collective action," the School System is setting an important example to students and residents alike through its green building program. And in doing so, they have won national recognition from the United States Green Building Council.   
According to Rachel Gutter, Director o f the Center for Green Schools for the USGBC, "we created the Best of Green Schools list, to recognize the hard work being done across the country and to honor the heroes and shining examples of the green schools movement."  In the second year of honoring sustainable building initiatives in education, the USGBC announced last week that it is recognizing the City of Virginia Beach as Best School District in the Nation for 2012 in it's Best of the Green Schools List.
City of Virginia Beach School System LEED Projects: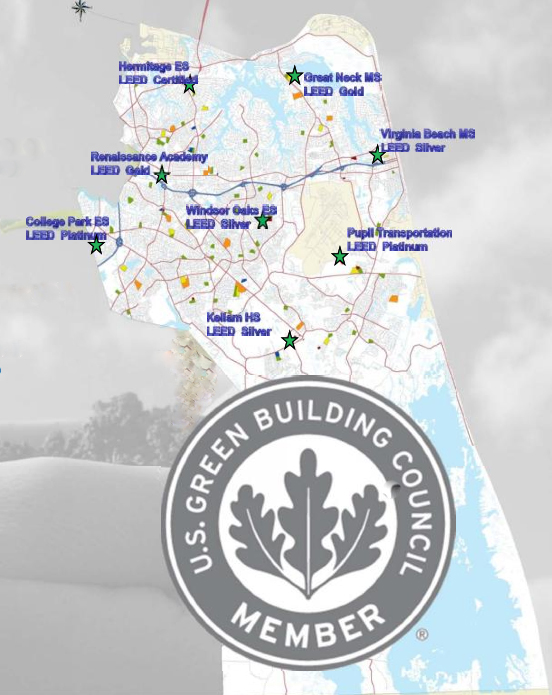 Some 23 schools are energy star certified while several have achieved a higher status:  LEED.  Leadership in Energy and Environmental Design is a green certification system developed by the USGBC.  Energy efficiency and sustainibility standards have been incorporated into new building that are not only eco-friendly, but they also reduce operation costs.  The rating system has various levels, with Platinum being the highest achievable certification.  Less than two dozen buildings in the Commonwealth have been awarded Platinum certification.  The only one on the Southside of Hampton Roads and in Virginia Beach is the school system's  Pupil Transportation and Maintenance  Facility.  College Park Elementary, already open to students was also built to the Platinum standard.  According to Tim Cole, who jump started the School System's green building initiative,  the City plans to submit the required material to USGBC for certification later this month. 
In the design of the facilities highlighted on the map, a variety of sustainable elements and technologies were incorporated to reduce the environmental impact of the structures and their operation as well as the site and infrastructure.   Permeable pavers, rain gardens and green vegetated roofs reduce runoff and pollution of adjacent waterways.  Rainwater is also collected for toilet flushing and other non-potable uses, reducing demand for treated municipal water and treatment thereof.  Reflective roof and ground surfaces reduce heat build up while renewable energy systems,  including geothermal wells, solar thermal, PV and wind turbines reduce electric utility demand and heating and cooling system loads.
With the environmental benefits of these design elements also comes energy savings.  As depicted in the graph below, in the last six years as new LEED certified building have opened, the school system has increased its square footage by 4% and reduced energy usage by 14%.  Water demand likewise declined at LEED schools, with data indicating that City water supplied per student was approximately halved. These results will likely continue to improve as more LEED schools are built. Kellam High School is under construction and planning is underway for a new Old Donation Center/Kemps Landing Magnet School replacement.
School System Electricity Demand Reduced while Square Footage has increased

For more information on the Best of Green Schools, visit USGBC's Center for Green Schools and the City of City of Virginia Beach Public Schools site for information on specific school projects.
Image Credits: Virginia Beach City Public Schools
---
Virginia Co. Purveys Wines with a Double Dose of Sunshine
Posted 12.23.12 - By Carol Brighton
The sun drives the wine industry, fueling the growth of grapes.  A Virginia wine distributor is taking the solar connection one step further by powering its 30,000 sq. ft. warehouse with the sun. 
Serving all corners of the Comonwealth as well as West Virginia and DC, the Roanoke Valley Wine Company invested in a 100 KW rooftop solar array that went online earlier this month.  To preserve product quality, the premier purveyor's climate controlled distribution center must maintain a 60-degree temperature year round.  The 420 American made PV panels from SolarWorld and installed by Astrum Solar are expected to supply 70% of the company's sizeable energy demand.
Before diving into solar power production, company owners Beth and Rob Crittendon did their research and even made a trip to visit the SolarWorld factory in Oregon (pictured left).  Beth notes that,  "Adding solar panels, and taking advantage of this green energy source, makes good sense financially, and, frankly, we believe it's right thing to do for our environment."
According to a report in the Roanoke Times, the expected pay back on the investment for the system is just 7 years.  No battery back up was installed due to cost but any excess energy produced will be fed directly into the grid.  Salem Electric offers net metering to its customers, so the company will receive credits to offset their energy bills.
On January 11 a noontime ribbon cutting is planned to commemorate the project.
Image Credits:  Roanoke Valley Wine Company
---
Solar Eclipses Navy Power Costs
Posted 12.16.12 - By Carol Brighton
In an October post, the installation of the largest solar PV array in Virginia at Norfolk Naval Station was highlighted. The 2 MW project with a $21 million price tag subsequently generated some critical media and public comment.  Yet at the same time, on the West Coast, another solar array, the largest at any Naval Facility was going on-line with ZERO upfront cost and significant power purchase savings.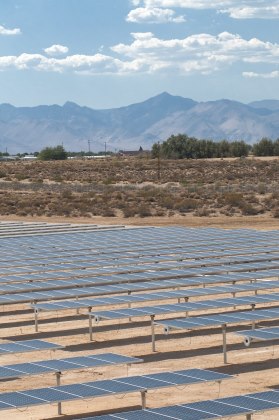 The sprawling 118 acre 13.8 MW array at China Lake was installed via a power purchase agreement (PPA) through SunPower.  SunPower developed the $100 million project on military property.  Energy generated will be purchased by the base at pricing lower than current electric rates and will save the base $13 million over 20 years. 
While the Norfolk facility costs are comparatively high, a couple of factors may help explain the price tag.  The contract was negotiated in 2009 when solar panels were far more expensive then they are today, especially American made panels.  In addition, as the Commonwealth has little solar development and therefore somewhat limited solar expertise, the local Newport News Company that is connecting the system received design and mounting assistance from a Florida contactor.
The China Lake deal, on the other hand, was expedited in a solar mecca, the competitive California renewable market, by a company with a lot of experience delivering solar systems at government sites and structuring Power Purchase Agreements.  PPAs are relatively recent financial agreements that are promoting the growth of renewables in close to half the country.  With zero upfront cost, predetermined electricity pricing, and energy security, the renewable energy PPA is a winning proposition for consumers (and taxpayers) and promotes economic growth while limiting damage to the environment.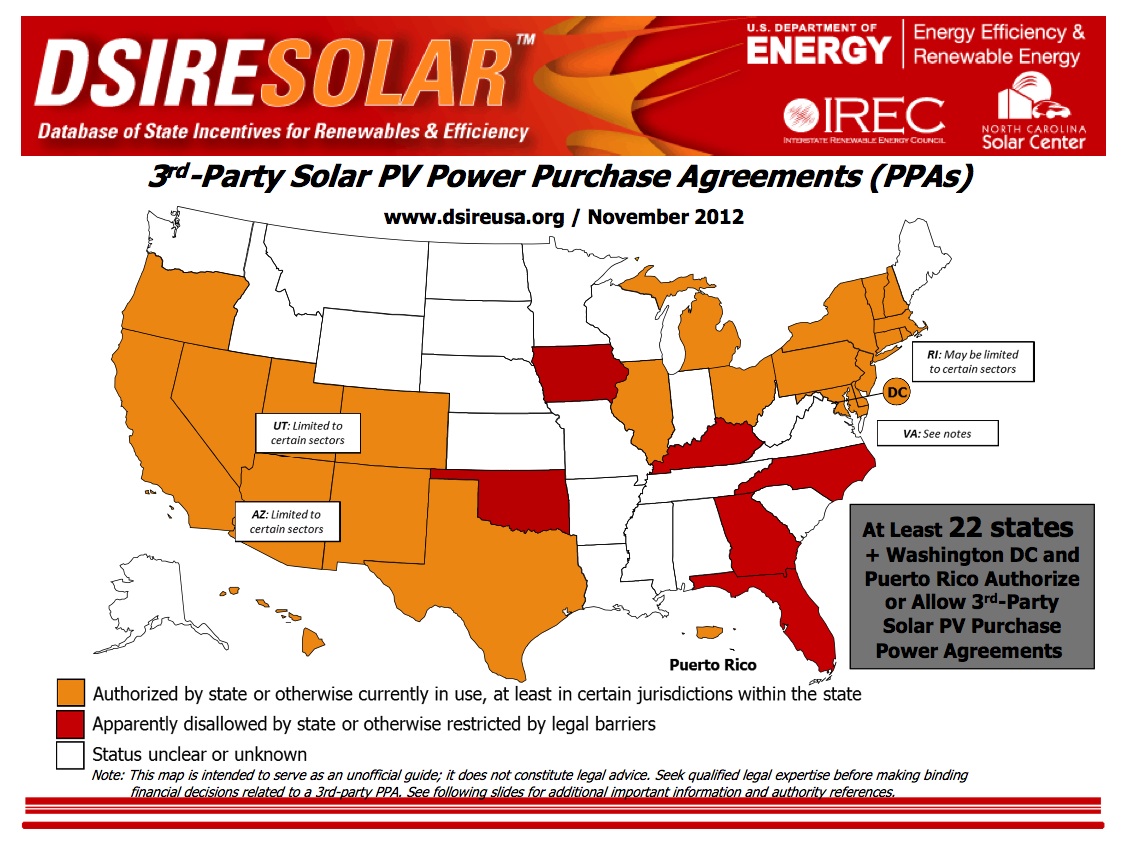 PPAs are beneficial for developers and owners as well.  The owner of a PPA can sell the renewable energy credits and generate income to offset their investment and thereby achieve economic viability.  PPAs would therefore appear to be the path to take.  But in Virginia that path is being blocked.  Dominion recently forced the renegotiation of a PPA structured deal for a solar installation at Washington & Lee University claiming a "utility monopoly." And with the threat of lawsuit, PPAs are not being pursued in the Commonwealth. 
Legislation to allow the PPA structure was introduced last year by Terry Kilgore in the Virginia General Assembly, which passed the House with a unanimous vote, but it was carried over by the Senate, and moving forward would require that it be reintroduced in 2013. According to a representative from Mr. Kilgore's office, he does not intend to reintroduce the Bill.
With the goal of energy independence and security, the Military has been a leader in renewable energy development.  It is likely that the savings offered through PPAs will facilitate the development of more projects on our bases.  A PPA structured project on a Virginia base might set a precedent that Dominion representatives would have to think long and hard about challenging. Although to date Dominion officials have been dragging their feet with regard to renewable energy, there are signs that they are beginning to see the light.  They are looking to initiate a community solar program that could bring up to 30MW of renewable enegy to the state and they are participating in the first phase of an exploratory DoE offshore wind program (highlighted in a post below). Images: China Lake SunPower Dedication taken October 19.
---
City of Portsmouth Wins 2012 National Award for Smart Growth
Posted 12.16.12 - By Carol Brighton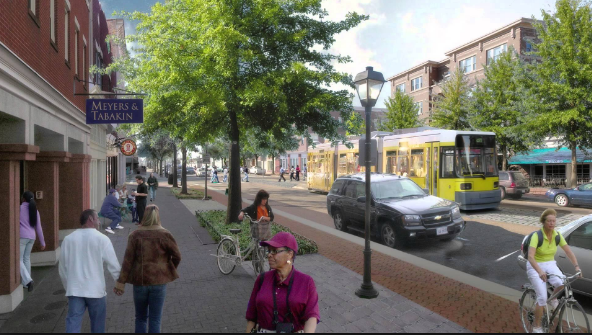 The EPA award recognizes exceptional and innovative community efforts that are sustainable with respect the environment, economic development and quality of life. The City of Portsmouth was acknowledged for its "Destination Portsmouth" program, which culminated in a full rewrite of the City's land use ordinances.   Facing a steep decline in residential population, despite a strong employment base, officials set out to create a community development plan that would attract residential and commercial development.  By developing flexible zoning ordinances, the city is looking to revitalize the City by creating mixed use development.  With green infrastructure that reduces pollution and provides access that is both pedestrian and bike friendly, the City expects to bring life back to downtown streets. Depicted in the rendering above, City plans include transforming High Street into a "multimodal thoroughfare with mixed-use buildings, light rail, and an inviting streetscape. For more info, including a Cityproduced video visit the EPA website.
---
Offshore Wind Projects Announced for Virginia and 6 More Coastal Locations
Posted 12.12.12 - By Carol Brighton
Today Steven Chu, US Energy Secretary, announced a six year initiative to support projects that will jump start the US offshore wind industry. 7 projects, highlighted below, will receive up to $4 million for permitting, engineering and design development. Up to 3 projects will then be selected to receive additional funding, as much as $47 million, to pave the way to a commercial operation. As noted in a new report prepared for DoE by Navigant, developing the offshore wind industry will spur economic growth and could support some 200,000 jobs by 2030. The projects are geographically and technologically diverse, covering all coasts and representing both floating and mounted structures. View the listing below or click the map image to go the DoE Interactive map. Click here for a larger image of the map below.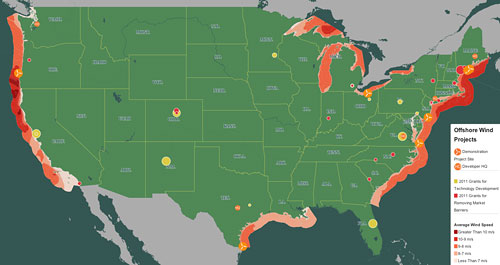 The seven projects selected for the first phase of this six-year initiative are:
Dominion Virginia Power of Richmond plans to design, develop, and install two 6-megawatt direct-drive turbines off the coast of Virginia Beach on innovative "twisted jacket" foundations that offer the strength of traditional jacket or space-frame structures but use substantially less steel.
Fishermen's Atlantic City Windfarm plans to install up to six direct-drive turbines in state waters three miles off the coast of Atlantic City, New Jersey. The project will result in an advanced bottom-mounted foundation design and innovative installation procedures to mitigate potential environmental impacts. The company expects this project to achieve commercial operation by 2015.
Statoil North America of Stamford, Connecticut plans to deploy four 3-megawatt wind turbines on floating spar buoy structures in the Gulf of Maine off Boothbay Harbor at a water depth of approximately 460 feet. These spar buoys will be assembled in harbor to reduce installation costs and then towed to the installation site to access the Gulf of Maine's extensive deep water offshore wind resources.
The University of Maine, based in Orono, plans to install a pilot floating offshore wind farm with two 6-megawatt direct-drive turbines on concrete semi-submersible foundations near Monhegan Island. These concrete foundations could result in improvements in commercial-scale production and provide offshore wind projects with a cost-effective alternative to traditional steel foundations.
Lake Erie Development Corporation, a regional public-private partnership based in Cleveland, Ohio, plans to install nine 3-megawatt direct-drive wind turbines on "ice breaker" monopile foundations designed to reduce ice loading. The project will be installed on Lake Erie, seven miles off the coast of Cleveland.
Baryonyx Corporation, based in Austin, Texas, plans to install three 6-megawatt direct-drive wind turbines in state waters near Port Isabel, Texas. The project will demonstrate an advanced jacket foundation design and integrate lessons learned from the oil and gas sector on hurricane-resistant facility design, installation procedures, and personnel safety.
Seattle, Washington-based Principle Power plans to install five semi-submersible floating foundations outfitted with 6-megawatt direct-drive offshore wind turbines. The project will be sited in deep water 10 to 15 miles from Coos Bay, Oregon. Principle Power's semi-submersible foundations will be assembled near the project site in Oregon, helping to reduce installation costs.
For more information on DOE offshore projects and l inks to resources and reports, vist DOE's EERE website.
Check the Archive for Previous Posts
All Rights Reserved. Disclaimer.