Transmitting news and infomation about sustainable endeavors in Coastal Virginia and beyond. Updated Weekly.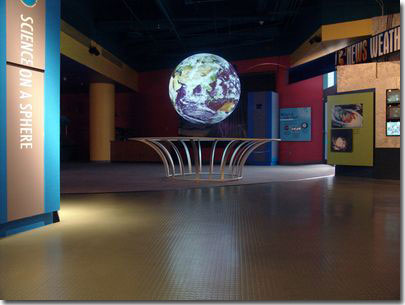 Science on a Sphere at Norfolk's Nauticus
The Water Cycle Poured Onto an Earthly Projection
Posted January 23, 2014 - By Carol Brighton
Follow the journey of water on a spherical screen at a showing of NASA's "Water Falls" premiering on January 31.  
Highlighting the value of the planetary water cycle and its effect on the natural world, imagery is displayed through an innovative medium: a large, six foot in diameter, hollow globe at the center of a theater.  A prominent theme of the film is a NASA initiative to collect data on fresh water through the launch the Global Precipitation Measurement satellite mission in February. To help scientists better understand weather patterns and climate, data will be transmitted every three hours from a network of US and international satellites on the exact amount and location of precipitation.
Where to See the Movie on a Sphere:
The Planetary displays are located at hundreds of sites around the world. Locally, Norfolk's Nauticus is host to a Science on a Sphere as is the NASA Wallops Island Visitor Center and the Science Museum of Virginia in Richmond. Follow the link to view a worldwide listing of Science On a Sphere Locations or click on the image to below to go to an interactive map showing all the sites.
See the trailer of the movie below, which features music from talented Shenandoah Valley Virginia musician, Bryan Elijah Smith.   
You can't enjoy the 3D spherical experience, but it's worth a visit just to hear "Pour on Me."  It is a fantastic song and more than fitting choice for musical background.  Perhaps this well deserved opportunity will help launch a stellar career.  Bryan plays all over central Virginia and is beginning to explore new territory and playing more venues.  Check out his website for more music and schedule of performances.
Check the Archive for Previous Posts
All Rights Reserved. Disclaimer.