Transmitting news and infomation about sustainable endeavors in Coastal Virginia and beyond. Updated Weekly.
Alternative Power Prospects Brighten in Virginia
Posted January 1, 2014 - By Carol Brighton
Following a trend well established in much of the country, renewable energy installations are beginning to pick up pace in the Old Dominion. Online in December, the Salem Veteran's Administration photovoltaic array, highlighted above, is the second Megawatt (MW) scale project operating in Virginia. Out-shined only by the 2.1 MW Norfolk Naval Station system, the facility adds significantly to the Commonwealth's sustainable power capacity.
Already ranked among the top producers for biomass energy, Virginia likewise has resources to vastly expand comparatively low solar and wind generation. With ample supplies of these resources and the adoption of policies and programs  that support renewable installations, Virginia's status in the clean energy arena is set to improve.  Click each map to view a larger version.
| | |
| --- | --- |
| | |
Energy goals announced in December stipulate that federal agencies endeavor to source 20% of their energy from renewable technologies by 2020.  The Department of the Navy has an even more stringent protocol in place, specifying that 50% of shore energy be produced by alternative sources by 2020. Given the large Federal and Naval presence in the Commonwealth, more projects are anticipated.  Meanwhile initiatives adopted by the State legislature and Dominion Power are also expected to stimulate over 80 MW of mainly solar energy in the near term.  And in the long term, both on and offshore wind projects could generate much much more.
New Solar Projects
In Tidewater, plans have been announced for two new large solar facilities under Dominion's recently established Solar Partnership program. According to Mike Gurganus who manages the program, rooftop projects at Norfolk's Old Dominion University and the Canon facility in Gloucester are scheduled to begin construction early this year.  Rated at 521 kW, the Canon installation will push the Woodbridge Ikea system out of the top spot for a roof mounted array.  These projects build upon a flurry of activity that began a few years ago initiated by Eastern Mennonite University. That project was followed by large installations at Virginia Tech, Washington and Lee and culminated with the latest noteworthy project to go online:  a 1.63 MW solar farm atop a capped landfill at the Salem Veterans Administration.
Installed by Mountain View Solar of West Virginia, the VA array makes excellent use of land that otherwise could not be developed. Mike Mckechnie, company president, reports that 6,084 panels were mounted on an innovative floating rack system. The grid buried in a bed of gravel supports the panels and conduit infrastructure without penetrating the hazardous site below. This array design creates a valuable use for brownfields. Considering the number of such sites in and around the Commonwealth, especially on federally owned land, this market niche represents substantial potential. For more information about these new projects and other noteworthy installations, view the virtual tour at the bottom of the page.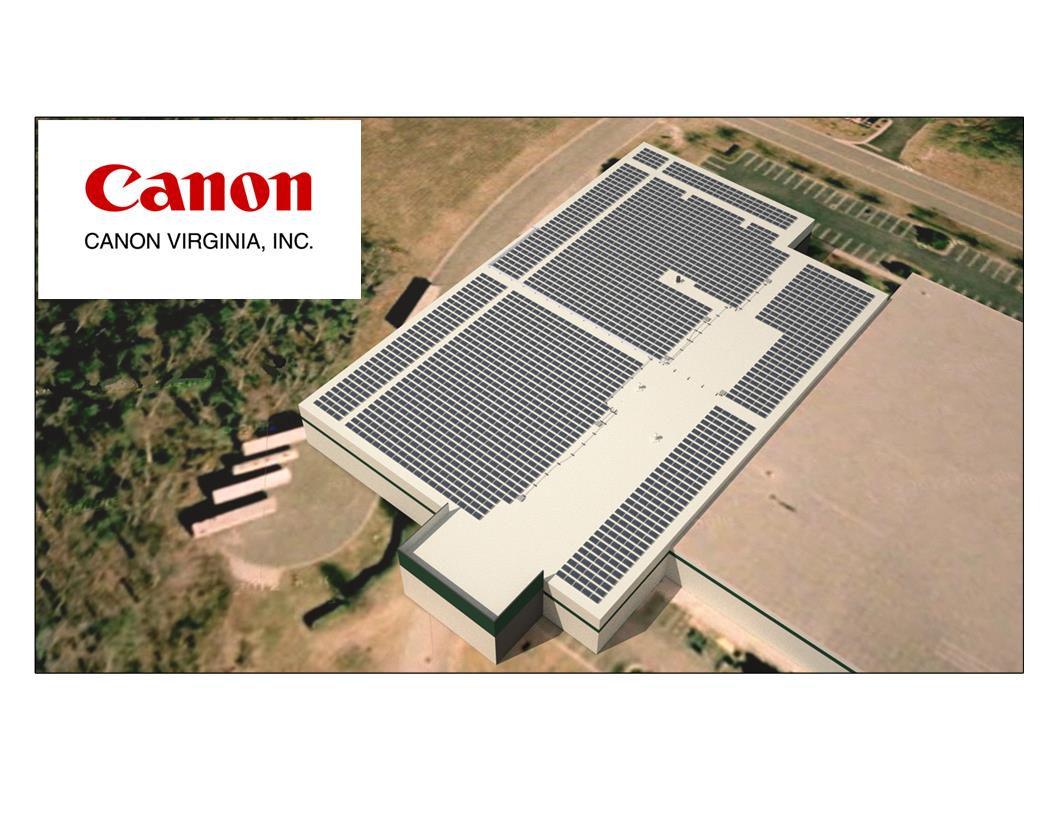 Conceptual Rendering of the Solar Partnership 521 kW Array, which will be the largest in Virginia. Image: Dominion Virginia Power - See the rendering for ODU posted below.
Renewable Programs 

Two new programs introduced by Dominion and well received by customers could put 33 MW of solar into generation. 
Solar Partnership Program - Dominion Looking to Rent Commercial Roof Space
The Solar Partnership program involves a long-term lease arrangement and is geared toward commercial, industrial and government customers. Dominion is looking to install a total of 30 MW of generating capacity that it will own and maintain. Capped at an individual system size of 2 MW, all the power produced at participating sites will flow directly to the grid. Dominions is not disclosing the compensation hosts receive. Candidates with secure space, preferably rooftops, close to existing Dominion infrastructure will be considered. Contracts are expected to run between 15-25 years, so only rooftops with the desired life expectancy are viable options. The leases are transferable, so sale of the property is an option during the contract term. The lease will stay with the property and transfer to the new owners.
Dominion's Solar Purchase Program
The Solar Purchase Program is a 5 year pilot program that is available to both residential and business customers. Participants of the program purchase and maintain their solar system while selling all energy produced as well as their renewable energy credits for a premium rate of $ 0.15/kWh. Residential systems are capped at 20 kW while commercial systems are limited to 50kW. The entire generating capacity under the program is capped at 3 MW.  Commercial capacity available under the program is fully subscribed. Of the 1.8 MW allotted to residential participation, 200 kW are reported available at the time of this writing.
Third Party Power Purchase Agreements
In June, enabling legislation for Third Party Power Purchase Agreements passed in the state legislature. It allows a developer to establish and operate a 50kW to 1 MW solar or wind energy facility on a host property. The minimum size is waived for tax exempt organizations, like churches, colleges and not for profits. Since tax exempt organization cannot take advantage of the 30% federal tax credit, the PPA structure provides an opportunity for these organization to realize the financial benefits of the tax credit through the project developer. Companies like Secure Futures of Staunton, VA, oversee the financing, design, construction and maintenance of the energy installation and negotiate a payment structure for the purchase of energy produced by the project. As the developer/owner of the project enjoys the benefit of the tax credit, they can pass those savings onto the host facility in reduced fees. This program is limited to a total of 50 MW of generating capacity. More information: SCC.virginia.gov
Net Metering Remains an Option for Wind and Solar generation
Net metering allows customers to receive a credit for excess energy contributed to the grid at a retail rate (the same rate they are charged for energy consumed). Credits are carried over through the course of a year, so grid energy consumption is offset by available credits. In order to receive compensation for any remaining credits at the end of the calendar year, a power purchase agreement must be negotiated with the utility. Since a producer may only be reimbursed at a rate of "avoided cost," overbuilding a system is not recommended. Capacity limits are also set for  individual projects: 20 KW for residential and 500 kW for commercial. Residential systems over 10 kW are now subject to a monthly standby charge.   More info at DSIRE.org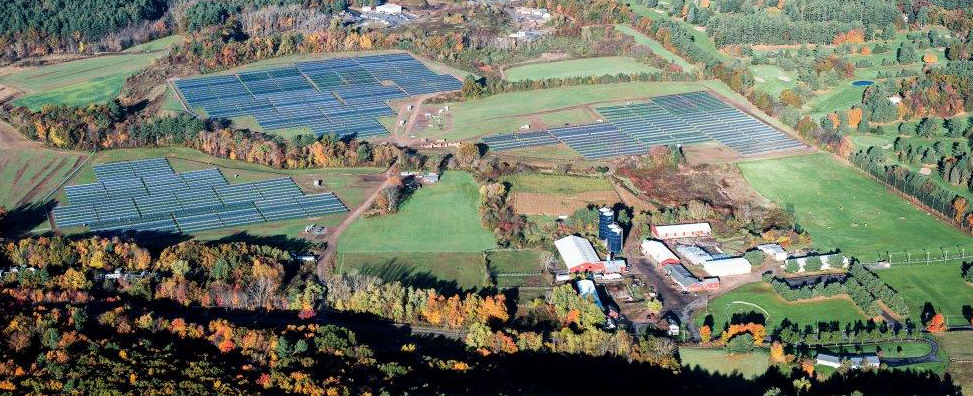 Dominion's Somers, CT 5 MW Facility - Image: Dominion
Bulk Purchase Programs 
By pooling together, a group can enjoy volume discounts on purchase and installation costs. Successful bulk purchase programs have been demonstrated all over the country. Some have been organized through local government, like the City of Boston, or community groups. Raleigh is currently organizing a program in North Carolina while the Community Power Network is coordinating a purchase for World Wildlife Fund workers, member and friends in Virginia, Maryland and DC. To make solar more affordable, CPN has developed resources and tools that are available for community groups to facilitate solarize programs elsewhere.
Developing More Utility Scale Solar
Dominion does not operate any utility scale solar in Virginia, but it has recently purchased projects in other states. This year the company closed on 28 MW of solar capacity outside of Indianapolis and two smaller but significant deals in Connecticut and Georgia. In December, Dominion NC agreed to purchase generation from a 20 MW farm just over the Virginia border in Roanoke Rapids. Geenex of Charlotte is developing the former 250 acre Halifax County airport site that will also host a solar training school. Plans are to have the farm operational this summer. More info.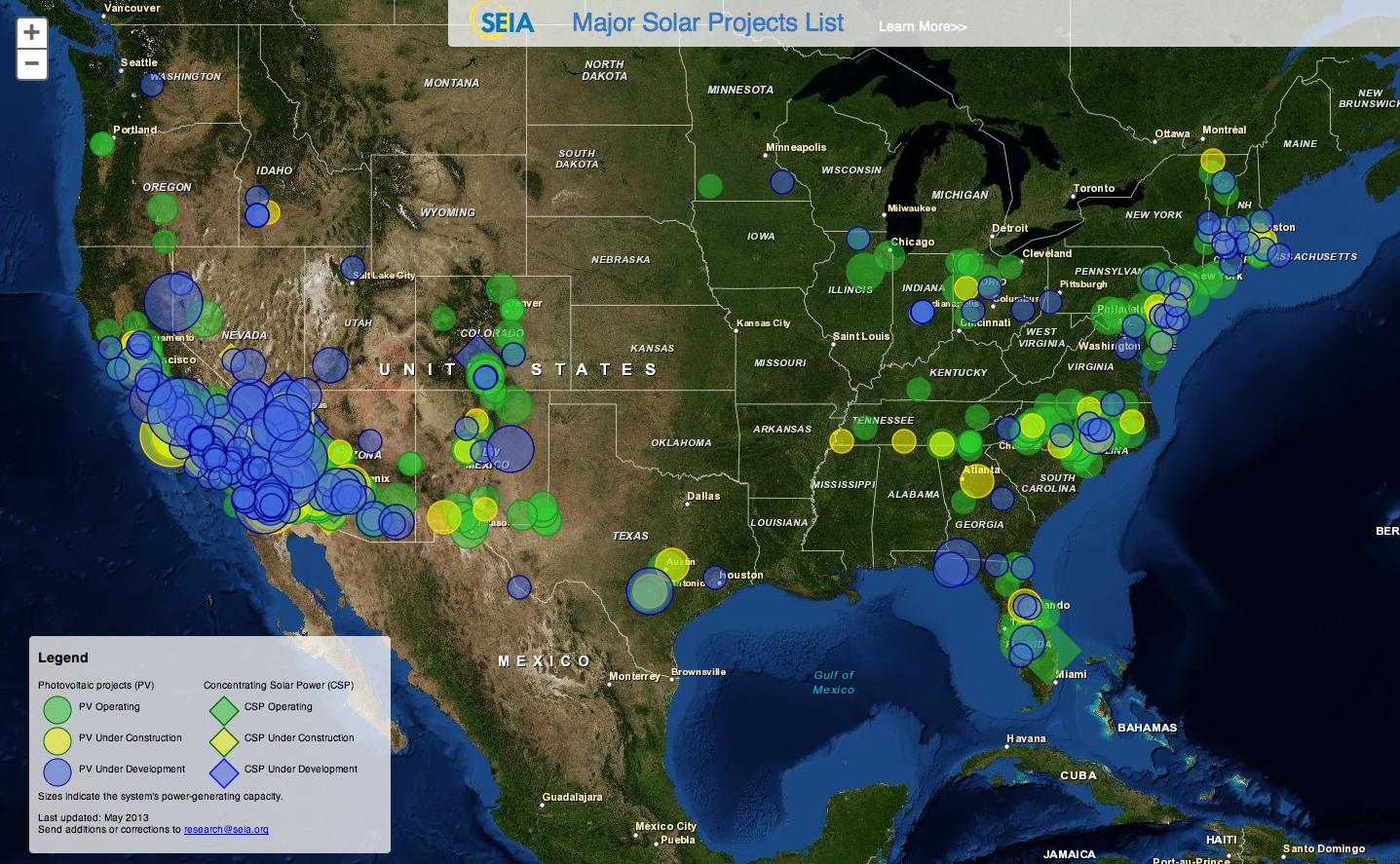 Major Solar Projects - Image: SEIA - Click the map for more information
Dominion's foray into utility solar elsewhere bodes well for Virginia prospects. As the company gains experience, the likelihood that it will facilitate large projects at home increases. Meanwhile, the 80+ MW of renewable likely to be generated through approved programs will dramatically increase the current estimated capacity of 15 MW (2013 data from the MDV-SEIA).
On the other hand, caps set on production, could severely limit growth. Compared to neighboring North Carolina, 80+ MW is but a drop in the bucket. SNL Financial of Charlottesville (VA) reports that NC now has 803 MW of utility scale production under construction or in advanced planning. The PPA legislation also limits third party projects to 1 MW, so large developers, even those based in Virginia, are likely to pursue more significant opportunities in surrounding states before investing in Virginia. Nevertheless, the market potential for smaller developers like Secure Futures which is based in Virginia and has an established record orchestrating projects for universities and non profits remains strong.
Customer Demand for Clean Energy
While government policy initiatives have been a driving force in alternative energy expansion, customer demand is now fueling skyrocketing growth. National polls find that US citizens overwhelmingly want green energy and based upon customer participation, Dominion won an EPA award for its' green energy program.
Data center growth is also creating a tremendous market applications for clean energy.  Big users of data like Google, Facebook, Microsoft and Apple are turning to renewables to power their data centers and these companies are not just powering facilities with free inexhaustible power, they are investing in it.  Likewise, chain stores like Walmart, Kohls, Costco, Walgreens and Ikea are turning to solar and wind to supplement power usage. 
Wind Energy
Despite favorable wind conditions in the mountains and along the coast, no utility scale wind projects are operating in the Commonwealth. A number of small scale turbines dot the landscape but amount to very little in overall generation. The Wind for Schools program based at James Madison University supports projects across the state including 4 turbines installed at the City of Virginia Beach's Pupil Transportation Facility.
The JMU Wind for Schools program is assisting Grassfield High School with a turbine installation. The program supplies anemometers for wind speed tests, conducts outreach and provides funding and permitting assistance. Click on the image to go to the program's interactive website.

Skytream 3.7 at the Virginia Beach City Public School's Pupil Transportation Facility.
Total Rated Output: 9.6 kW - Image: JMU

3 of the same devices are also sited at the JEB Little Creek.

Six Honeywell Windtronic devices crown Stihl's headquarters in Virginia Beach. The quiet turbines spin at low wind speeds and are visible to wildlife. Image: Stihl
Potential for Utility Scale Wind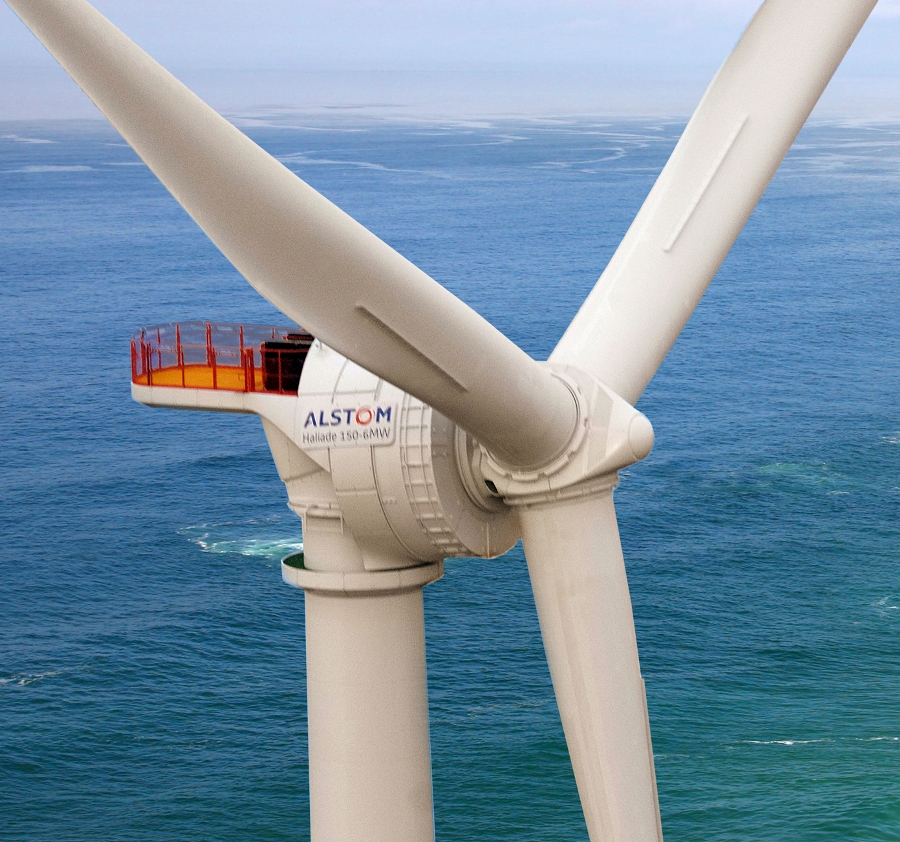 With additional DoE funding, Dominion plans to install two 6 MW Alstom Haliade turbines like this one being tested off the coast of Belgium.
In the 2013 annual report to the SCC, Dominion represents that is pursuing some 247 MW of on shore wind capacity at undisclosed locations. The Company is also moving forward with offshore projects representing a potential capacity of 2 GW.
Dominion is leading a team that is conducting the preliminary survey, permitting and design work needed to install two 6 MW turbines over 20 miles off the coast. The work is being funded with a grant from the DoE and is one of several offshore endeavors around the country. One to 3 of the projects will be selected to receive additional funding needed to move forward and demonstrate full scale offshore devices. If the Virginia team wins the award, twin Alstom turbines could be spinning off the coast as early as 2017. The Alstom Haliade is currently the world's largest operating turbine. One device erected in Belgian waters last summer is undergoing testing. View Alstom's photographic account of the installation.
Dominion has also purchased the lease for 112,000+ acres off the coast of Virginia securing all the rights to available offshore wind tracts. If fully developed, the site could produce 2 Gigawatts of electricity which could power about 500,000 homes.
Economic Benefits Offered by Renewables
Energy production has been a driving force in economic recovery. The cost of energy from renewables continues to decline and in some markets, solar and wind are competitive with traditional sources, especially if other factors like public health, environmental impacts and decommissioning costs are priced in to the cost of energy produced. In states where policy supports renewables, job growth has been documented. In fact, one report points out there are more jobs in the Massachusetts solar industry than in the booming Pennsylvania natural gas industry.  With the highest unemployment rates found among US vets, several organizations and programs are providing training to put their skills to work in high paying clean energy jobs.   And in Michigan, the wind industry is  also attracting tourism. Due to public interest, one local Chamber of Commerce started operating summer turbine tours.  As reported in the Detroit Free Press, the tours are popular:  Buses are full and often have waiting lists.
The economic costs of failing to develop renewables are also quite compelling.

Virginia is uniquely situated to suffer severe economic impacts from rising seas and recurrent flooding.  Low lying land along tidal waters stretching from Northern Virginia to the Atlantic Coast are subject to more frequent inundation.  Based on current atmospheric levels of greenhouse gases, scientists project that a certain degree of warming and sea level rise is "locked in." With exacerbating factors of land subsidence and a slowing of the gulf stream off the mid-Atlantic, relative sea level rise is ranked among global highs in Virginia. While switching to low carbon energy sources may not alleviate short term climatic impacts, it would increase resilience and have other positive benefits.  In the long term, however, a decline in green house gases associated with conservation and clean energy production could limit the need to relocate population and critical infrastructure.
Virginia Beach and Hampton representatives in the State legislature have introduced legislation to form a committee to address the threat of recurrent flooding.  If in fact formed, there's no telling whether or not the committee will encourage the development of alternative energy.  Clearly, if their objective is to deal with the root of the problem, instead of the just the symptom (recurrent flooding), than advancing clean energy should play an important role.
Legislation introduced in the US Congress would definitely advance the renewable industry in Virginia.  H.R. 3654 and S. 1595 would require utilities to produce 25% of energy from renewables by 2025. According to Congressman Polis of Colorado who introduced the bill in the House, the legislation would create approximately of 274,000-297,000 jobs and save consumers almost $100 billion on their utility bills by 2030.  29 states already have standards of some sort.  Unlike most programs, Virginia's standard is voluntary and while Dominion is compliant and plans to meet date specified targets, the Virginia goal is less stringent than most.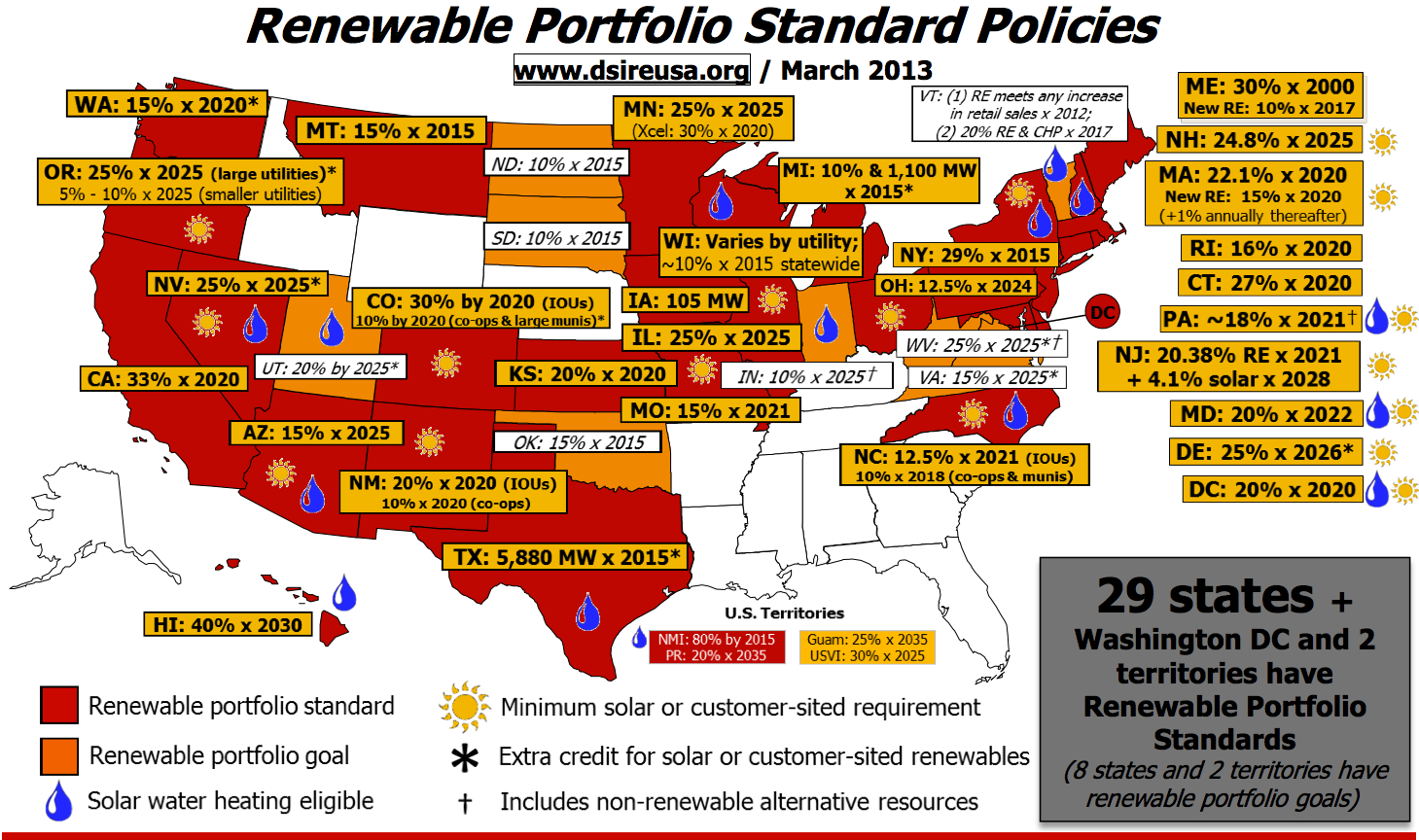 If you support renewable energy initiatives in Virginia, let your representatives know.  
Send a message to your representatives in the Virginia Legislature.
Send a message to your US Senators & Representative
RESOURCES:
Dominions Annual SCC Report November 2013

NREL 2012 - Renewable Energy Data Book

IREC US Solar Market Trend 2012 - Dated July 2013

Noteworthy Solar Projects in the Old Dominion
(click on the image for more information)
Norfolk, VA

The expansive solar array visible when traveling east bound on the Hampton Roads Bridge Tunnel is the largest in the Commonwealth. The Monkey Bottom installation consists of over 8,000 panels covering 10 acres. The system went online at the end of 2012 and provides about 2 % of the Naval facility's power. Bay Electric of Newport News installed the American made SolarWorld panels with assistance form the Blue Sky Group of Venice, FL. Image: C. Brighton
Salem, Virginia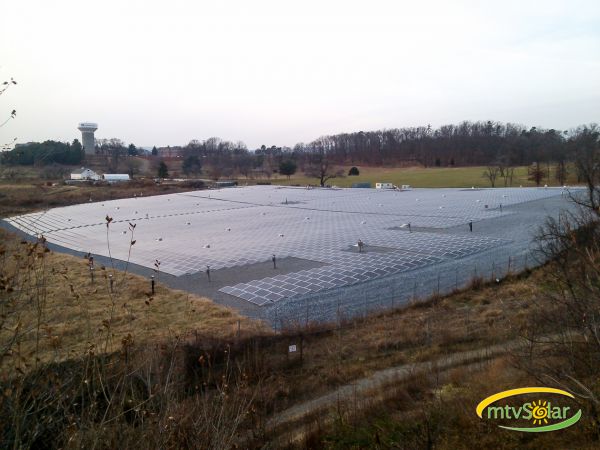 The Salem project occupies land that otherwise could not be used. The 1.63 MW Veterans Administration array installed by Mountain View Solar of Berkeley Spring, WV sits atop a capped landfill. A floating rack system was used to develop the brownfield site. Mounted within a gravel base, the system does not penetrate the landfill. Online December 6, 2013. Image: Mountain View Solar
Gloucester, VA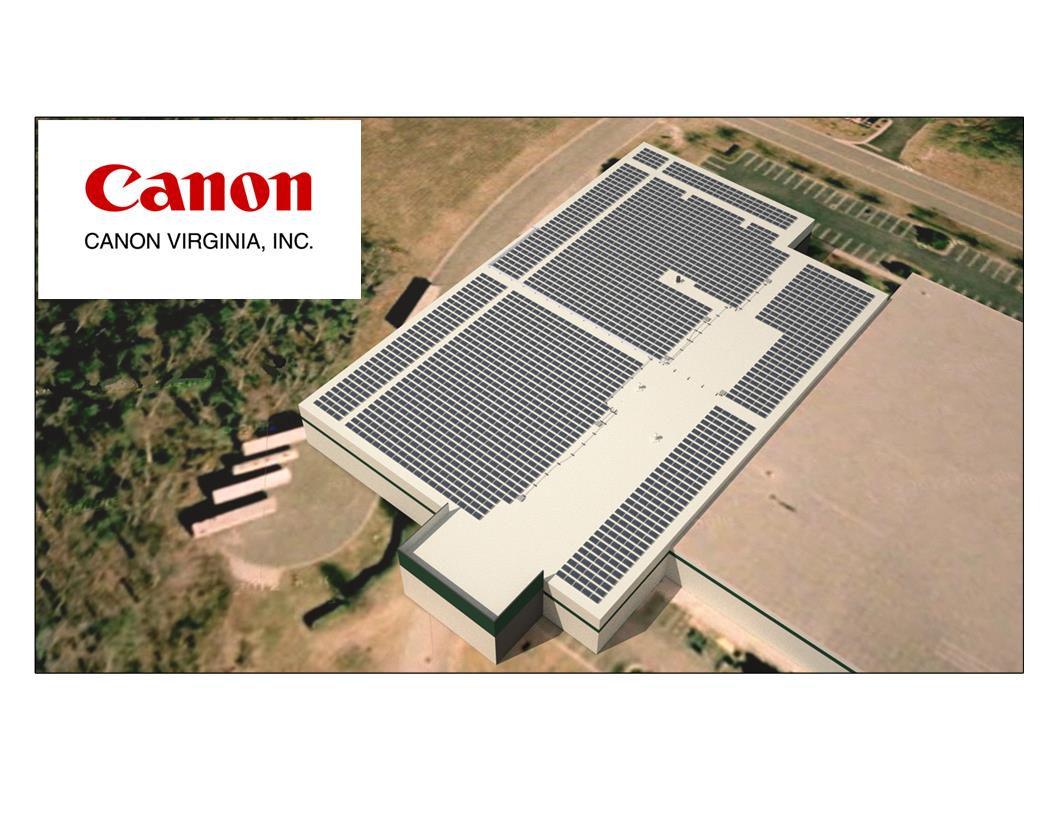 521 kW Planned rooftop project through Dominion's Solar Purchase Program. Image: Dominion
Woodbridge, VA

Ikea 500kW Project by Strata Solar - Online July 2012 - Image: Strata Solar
Lexington, VA
Washington and Lee University, Parking Garage and Lewis Hall PV installations total 444 kW - Online December 2011 - Images: W & L, Secure Futures
Norfolk, VA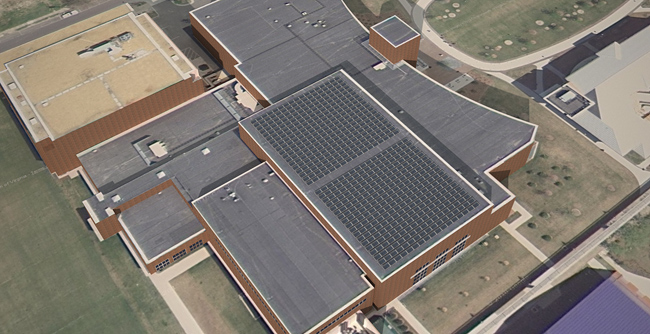 132 kW Planned rooftop project at ODU's Recreation Center through Dominion's Solar Partnership Program - Image: Dominion
Gainesville, VA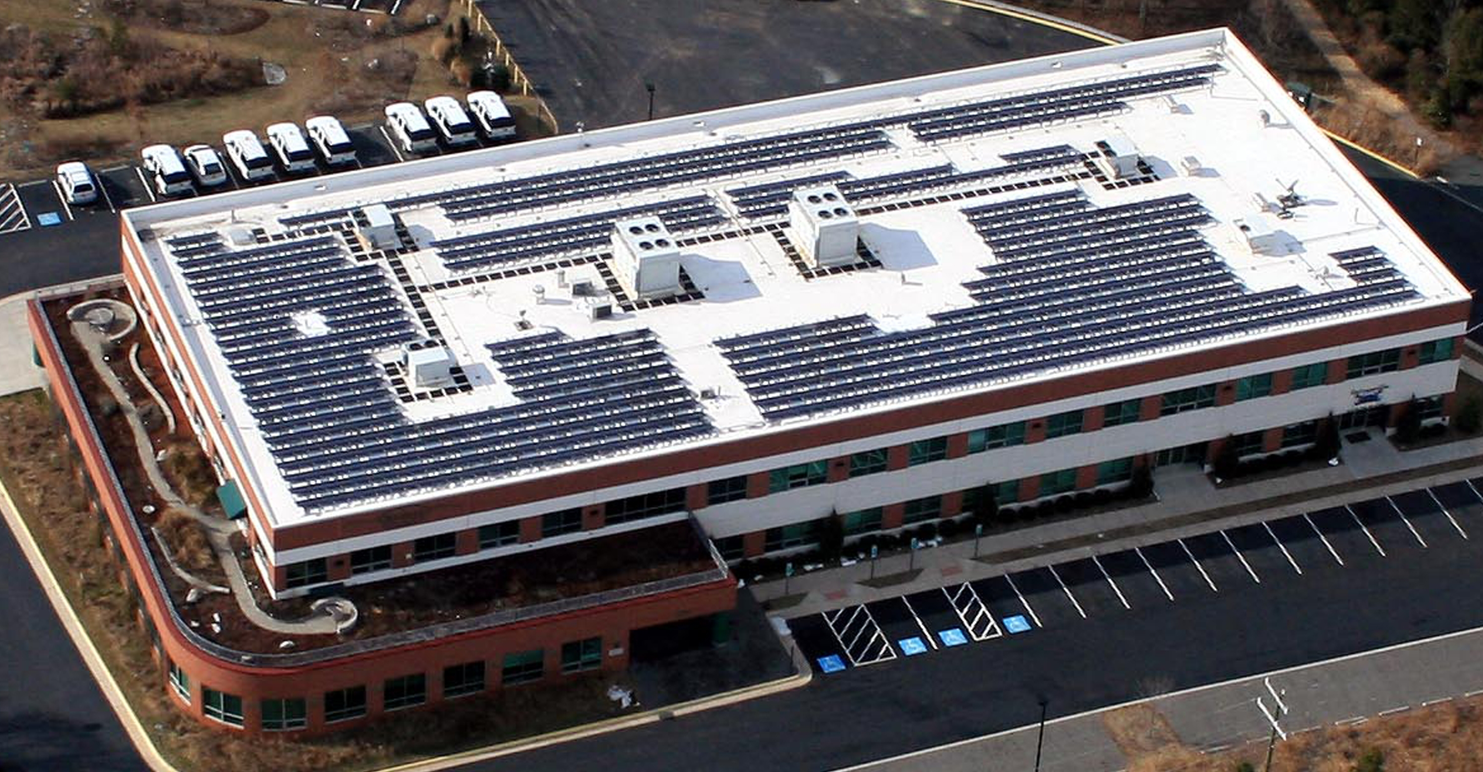 105.82 kW System at Wetland Studies and Solutions -Image: Wetland Studies and Solutions
Harrisonburg, VA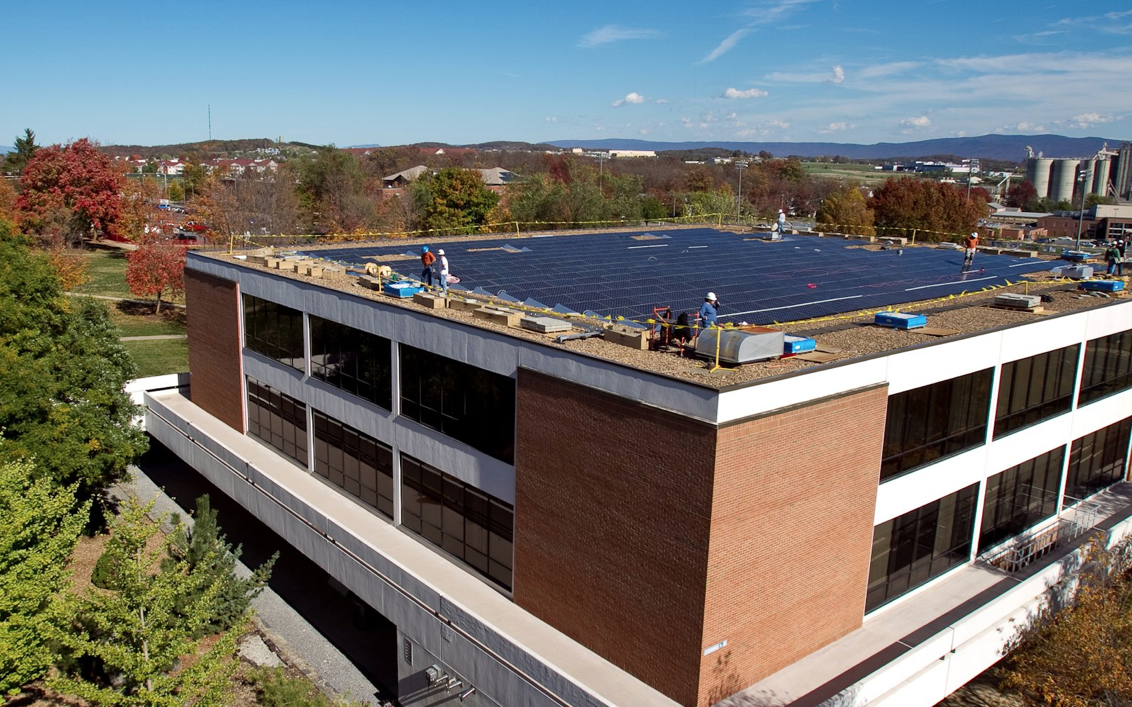 Secure Futures 104 kW development on Eastern Mennonite University's Hartzler Library. Online December 2010. Image: EMU
Newport News, VA

Bay Electric 101.92 KW Roof Mounted Array - Online December 2010 - Image: Bay Electric
Blacksburg, VA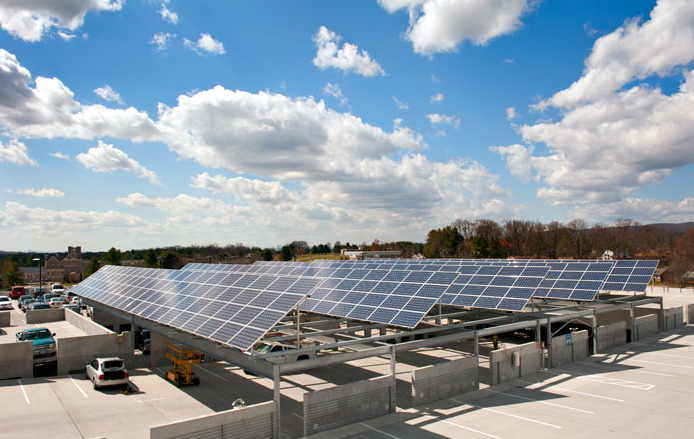 Virginia Tech's 100 kW Perry Street Parking Structure Array - Online Spring 2012 - Image: VT
Salem, Virginia
Roanoke Valley Wine Company 100 KW array. The 420 American made PV panels from SolarWorld and installed by Astrum Solar are expected to supply 70% of the company's sizeable energy demand. Online December 2012. Click on the image for more information. Image: RVWC
Dante, Virginia

Installed by Ecological Energy Systems, a 54 kW total array feeds 12 individual units at a low income apartment complex . Image: Ecological Energy
Bedford, Virginia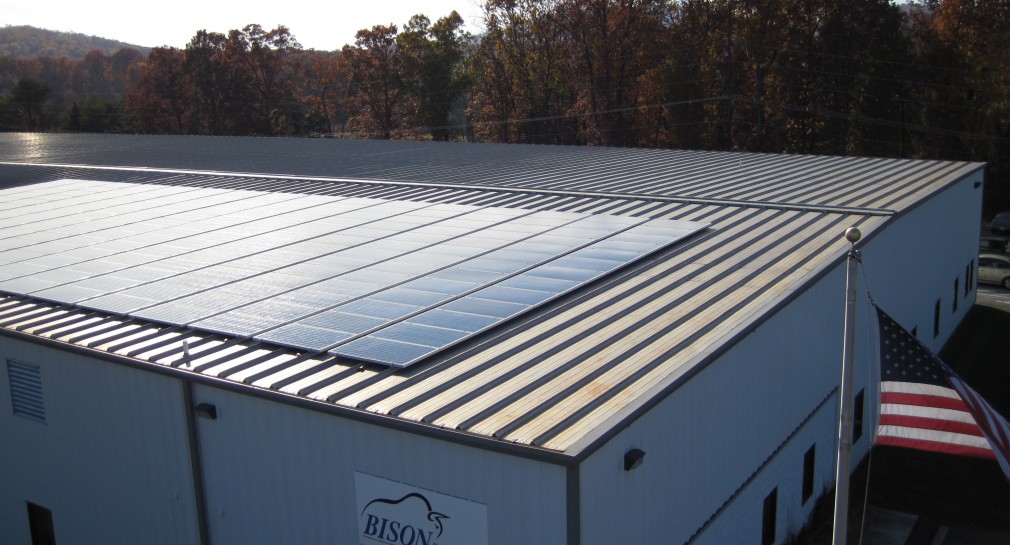 Sigora Solar 48 kW Installation - Bison Printing - Image: Sigora Solar
Newport News, VA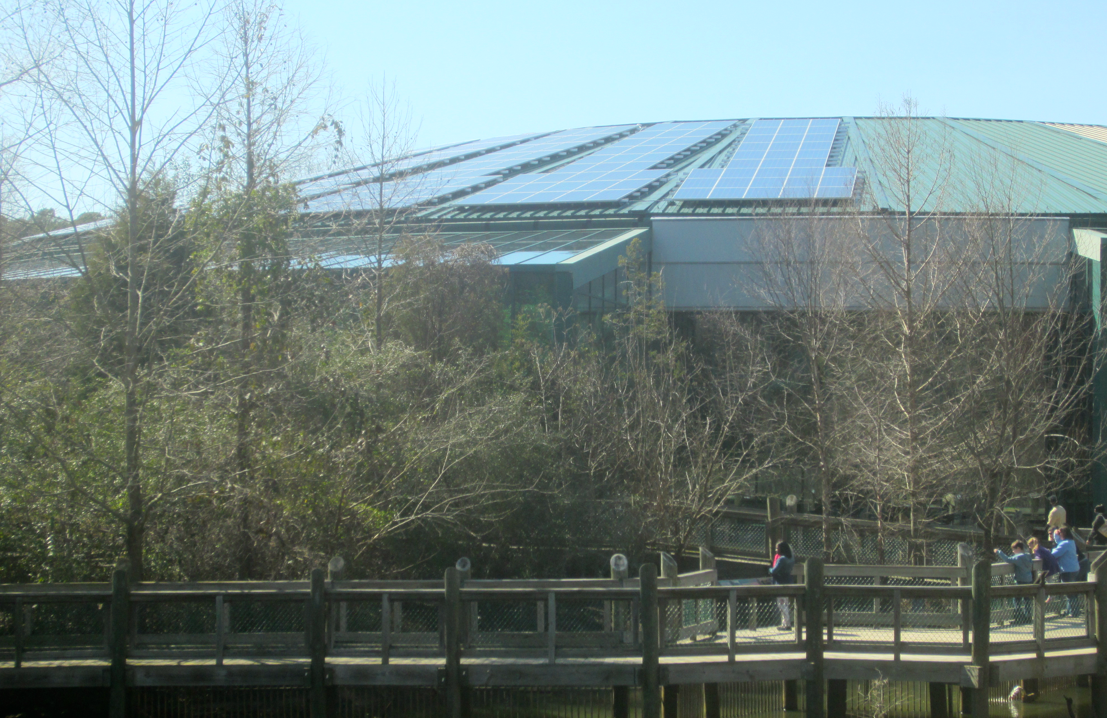 46.2 kW Solar Array at the Virginia Living Museum - Online Spring 2013 - Image: C. Brighton
| | |
| --- | --- |
| Crozet, VA - Henley Middle School in Crozet is hosts a 42 kW PV array alongside a solar thermal system. Through the wind for schools program, a 2.4 Skystream wind turbine was also installed. Image: Baker Renewable | Purcellville, VA - Catocin Creek Distilling41 kW rooftop array. Online September 2013. Image: Catocin Creek Screenshot |
| | |
| --- | --- |
| Hampton, VA - NASA Langley Research Center - 39 kW Array - Image: NASA | Virginia Beach, VA - Rendering of the 39 kW solar array at the Chesapeake Bay Foundation's Brock Environmental Center at Pleasure House Point (now under construction). Image: CB |
| | |
| --- | --- |
| Danville, VA - Community Market 36.19 kW Installation by Southern Energy Management. Online 2010m - Image: City of Danville | Harrisonburg, VA - 35 kW Installation atop the Polly Lineweaver Apartment. This project was developed under a PPA between Secure Futures and the Harrisonburg Redevelopment and Housing Authority. More info at SecureFutures.us |
| | |
| --- | --- |
| | 34.4 KW system at Cozy Pure in Norfolk, VA - Images: Sunrise Solar & Cozy Pure |
| | |
| --- | --- |
| Park View Mennonite Church, Harrisonburg, VA - 125 PV panels, 31.5 kW installed 2011 and 2012and financed through Secure Futures LLC - Image: Secure Futures | Mount Vernon Unitarian Church 25 kW System - Alexandria Virginia Image: MVUC |
More Noteworthy Solar projects in Virginia:
| | |
| --- | --- |
| Ashburn, Virginia - While not a substantial energy producer, the recently completed solar walk at the George Washington University Science and Technology Campus is the first such installation in the world. The slip resistant panel pathway, an extension of the public sidewalk, demonstrates a technology innovation developed by Onyx Solar of Spain that enables the integration of solar into infrastructure. The self powered lighted floor and path panels are also available in many colors. Click on the image to read more. Image: GWU | PORTSMOUTH, Va. - Gene Leonard and Petty Officer 3rd Class Seth Gans discuss the solar thermal arrays that heat the water used in the Naval Engineering Support Unit's building at Coast Guard Base Portsmouth, April 25, 2011. Coast Guard photo by Petty Officer 3rd Class David Marin. |
Baker Renewable Installation at the New River Valley Regional Jail includes 138 solar thermal collectors. The collectors will provide 2.5 million gallons of hot water annually. Image: Baker Renewable

Sigora Solar claims largest roof mounted solar thermal system in May 2013 - 58 Solar thermal panels installed at the Southwest Virginia Regional Jail in Duffield, VA - Image: Sigora Solar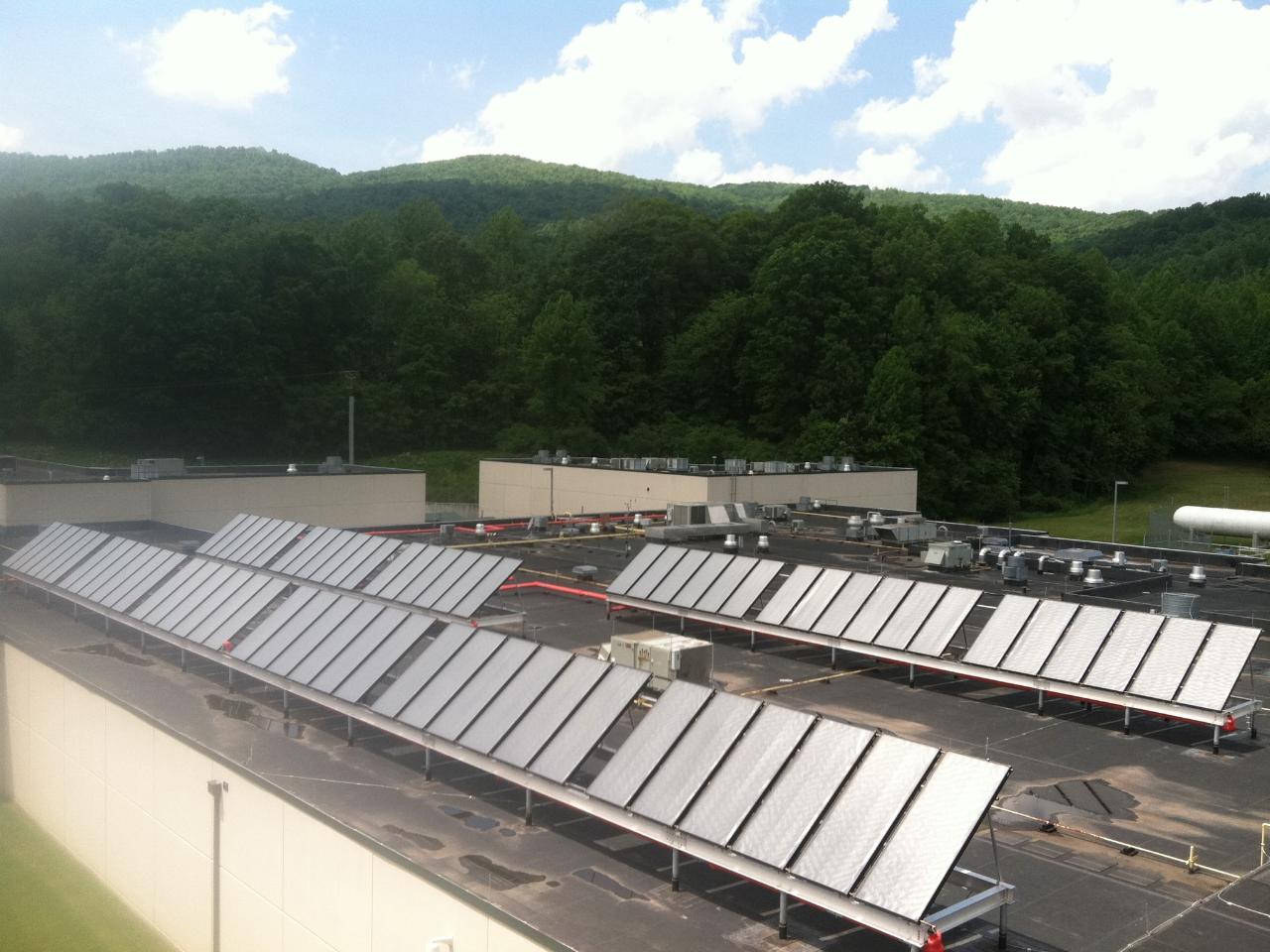 Solar Wall provides free heat at Norfolk Naval Station - Installed 2001 - Image: SolarWall

James Madison University Wind & Solar Education Program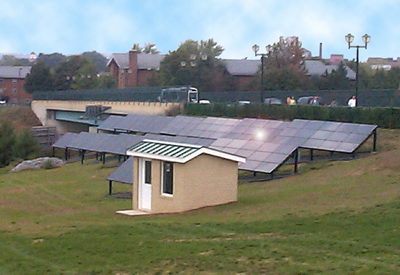 10 kW solar array at JMU / 2 kW wind turbine - Click for more information.
Wind
If you have information about a project that should be included in this listing, send it on.
Check the Archive for Previous Posts
All Rights Reserved. Disclaimer.