Transmitting news and infomation about sustainable endeavors in Coastal Virginia and beyond. Updated Weekly.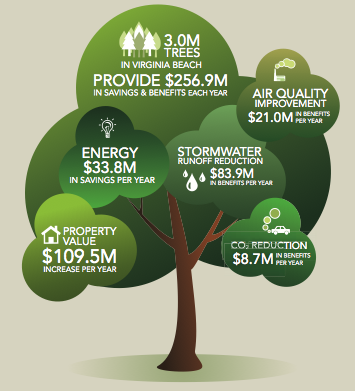 Value of Trees in Virginia Beach
Nature at Work:
Building Ecological Infrastructure Part 1 - Landscape
Posted 25 June 2014 by Carol Brighton

Ecological processes occurring on land and in the sea provide a host of critical functions. Among other things, natural infrastructure filters pollutants, reduces flood and storm impacts and sequesters or neutralizes carbon dioxide. In June the New York Times reported on the findings of a study that values global ecosystem services at $142 trillion annually. That's about 9 times the US GDP.
This first part of a two part series explores the terrestrial landscape and creative strategies to rebuild ecological infrastructure. Part 2 focuses on the marine environment including coastal wetlands.
Trees are hugely valuable resources. In addition to supporting the ecological processes outlined above and the economic services depicted in the illustration, trees provide important wildlife habitat. Meanwhile, new research indicates that there are a host of societal benefits also associated with green infrastructure. In urban areas, overall happiness rates increase while crime rates decline in localities with green spaces. "Across neighborhoods of Wisconsin, from the North Woods to the cities, the results are striking," says Dr. Kristen Malecki, assistant professor of population health sciences at the UW School of Medicine and Public Health. "Higher levels of green space were associated with lower symptoms of anxiety, depression and stress." While there are obvious health advantages associated with a clean environment, a view of nature has been shown to reduce hospital patient healing time and it may even make you smarter. Researchers at the University of Michigan found that students performed better on tests after walking through an arboretum while no benefits were evident after a walk through a treeless cityscape.
Forests Protect Marine Resources
While safeguarding drinking water supplies, the purifying benefits provided by forests don't stop at the shoreline. Trees play an important role in the health of the sea. A single tree can reduce stormwater runoff by about 13,000 gallons a year. Over forty years that tree can sequester a ton of carbon dioxide along with other compounds that affect air and water quality. In the Chesapeake Bay watershed, about 100 acres of forest are lost every day. "We know that forests are the best land cover for preventing nutrient pollution and can say with confidence that every acre of forest lost to other uses means more nutrients entering the Bay and its rivers," says Sally Claggett US Forest Service Liaison to the Chesapeake Bay Program. Yet despite an established framework among bay states to to increase forest cover through planting programs, efforts in most bay states with the exception of Pennsylvania, are falling way short of an annual target to plant 900 acres per year in the watershed (see graphic).
Measures to improve reforestation efforts continue to maintain a position on to do lists. On June 16, The Chesapeake Watershed Agreement was signed by governors of all six states in the Bay watershed and the mayor of Washington, DC. The agreement reaffirms a commitment to protect and restore tree cover. Urban tree canopy goals have also been established by some municipalities and analysis for over 2 dozen Virginia communities has been conducted. For each locality the amount of tree cover as well as capacity for restoration is identified. The City of Virginia Beach recently released an Urban Forest Plan which outlines a program to increase canopy cover from the current level of 36% to 45% over the next 2o years. Norfolk's goal is to increase tree canopy from 33% to 40%. Several Maryland municipalities have also established goals. Last summer Montgomery County passed unique legislation set to limit tree loss resulting from suburban redevelopment. The Tree Canopy Conservation Bill went into effect in March. Specifically targeting "mansionization" projects in Bethesda and Chevy Chase, the bill requires tree replacement when the existing canopy is disturbed. If replanting is not established there is a fee which will fund county reforestation projects.
Growing Green Spaces
New opportunities for green space development are being created. Climbing and adventure parks, like the Virginia Beach Adventure Park pictured at the top of the page and Go Ape in Williamsburg support forest functions while also stimulating economic productivity. Abandoned or derelict urban lots and infrastructure like the NYC Highline have also proved to be ideal candidates for phytotransformation. Urban orchards and food forests, as well as farms and even vineyards are finding city homes. The movement to integrate more green space into cities also includes bus stop gardens, pollinator pathways and wildflower meadows. Where land is at a premium, bridges are being built and barges employed to create gardens and parks. View more images in Green Infrastructure Virtual Tour.
Building Vegetation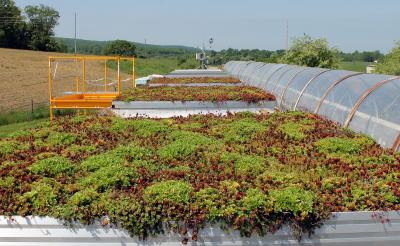 Green Roof Research and Demonstration Facility at Virginia Tech - Image: Elizabeth Grant. Vegetated demonstration roofs can be viewed at the Virginia Living Museum and the Norfolk Botanical Garden. Several Virginia Beach City school buildings, ODU, the Sthil Factory and Citgo Petroleum Terminal support installations. In Richmond, the Pollak Building at VCU has a rooftop garden that is accessible to students and faculty. Tours can be arranged.
Integrating vegetation into buildings is also a blossoming trend that is gaining widespread acceptance. A recent study completed at Virginia Tech, found that green roofs on average reduce runoff by about half. Vegetated coverings not only reduce stormwater runoff, they provide thermal insulation, reducing heating and cooling demand. Rooftop installations, while relatively uncommon in southeastern Virginia, are growing like weeds in many US cities. Our nation's capitol leads the country in rooftop garden installations reducing polluted runoff into the Chesapeake Bay. The city now boasts 2 million sq. feet of green "living" roofs promoted by a rebate programs that provides financial incentives for property owners. The Stormwater Retention Credit Trading Program likened to a carbon cap-and-trade system creates a market for trading stormwater runoff credits.
Exterior and interior living walls are also increasing in popularity. PNC's extensive installation on the facade of its Baltimore Building covers more than 2,000 sq. feet and boldly displays the company logo. Given the health and cognitive benefits associated with plants, indoor gardens are also on the rise. The Under Armour HQ also in Baltimore is home to a biowall, specifically designed to remove toxins that can build up in well insulated energy efficient building. A row house renovation designed by Watershed Architects on Grove Avenue in Richmond includes a two story living wall. And, at the Atriums in Poquoson, Virginia, a small residential community, all the units boast active indoor gardens that enhance air quality.
Algae is another source of living greenery being incorporated into buildings. In Germany panels used to grow algae are located on the building facade. In France building wastewater is being used to grow algae on a rooftop. In both cases, the algae are processed to provide building energy. See images included in the Green infrastructure virtual tour.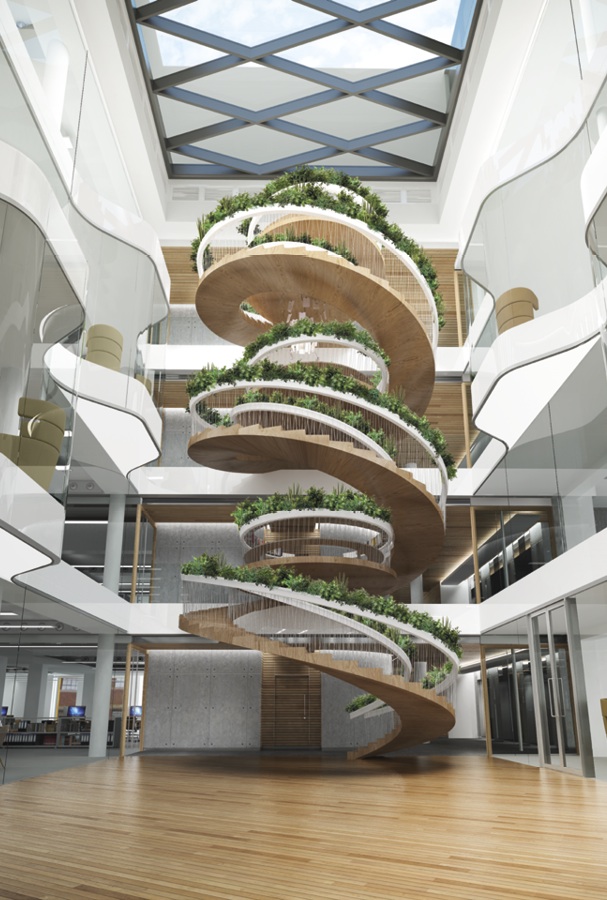 Inviting workers and visitors to take the stairs, the edible staircase designed by Paul Cocksedge will be featured in a London renovation
Integrating Food Production into the Workplace
Urban agriculture is another way plants are being incorporated into the built environment. Several rooftop farms operate in NYC and other major cities. The Farmery located in Durham, NC is a retail outlet where the produce is actually grown on site. And now food production is also entering into a new realm: workspace. While workplace community gardens are not unheard of, WM Jordan has one in Newport News, a Japanese company is taking the concept to new heights. A nine story urban farm coexists within the Tokyo offices of Pasona. Soil based and hydroponic gardens are integrated into common areas and work spaces. Over 200 different food crops are grown. The main lobby even boasts a rice paddy and food produced on site is served in company cafeterias.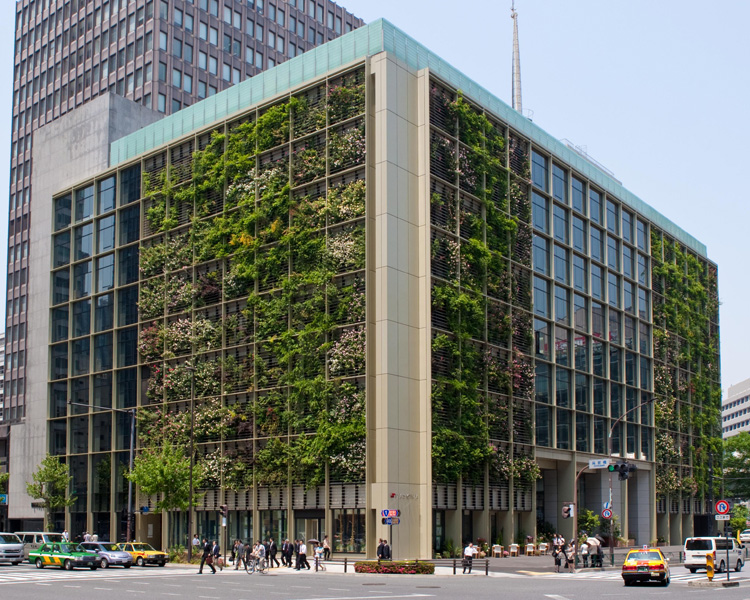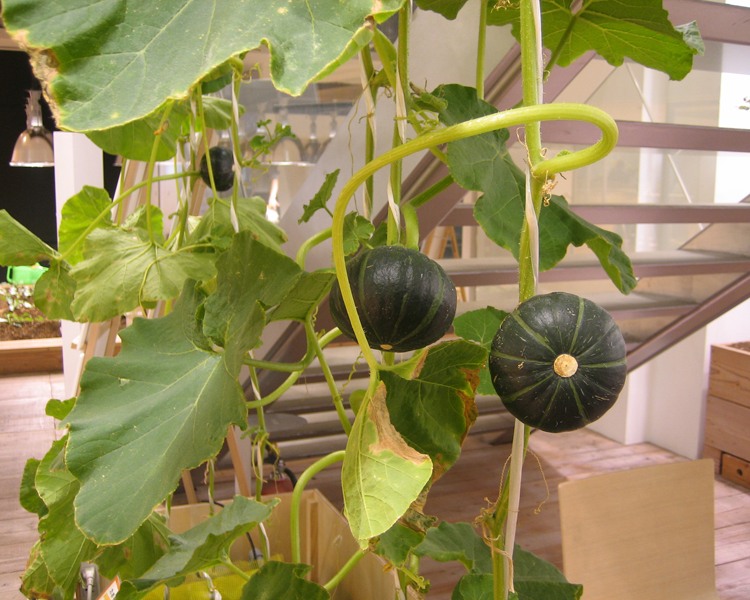 At the Pasona Tokyo Headquarters office space and farming coexist..
Clearing the Air
Removing atmospheric pollutants is a high priority in just about every urban area. Industry, power plant and vehicle emissions clustered around cities create health risks. Several innovative solutions are being developed. Dow Chemical working with the Natural Resources Defense Council is lobbying to create a sanctioned air quality program for reforestation around a Houston, Texas facility. Natural filtration is also part of a Baltimore company's scheme to remove greenhouse gases from power plant emissions. Hy-Tek Bio is developing a process to fuel algae growth with smoke stack flue gases. In addition to filtering pollutant the system can capture oxygen produced in the process and produce algae based feedstock for consumer goods.
Materials and coatings that photocatalytically neutralize air pollutants are making their way into infrastructure. Concrete containing titanium dioxide now lines some Chicago streets. More expensive than traditional concrete, the product was introduced into thin pavers used in bike and parking lanes. Smog eating coatings have also been applied to a Mexico City hospital facade and locally on the Jordan Bridge retaining walls.
Doing Dirty Work
Ecologically engineered plant based filtration systems that treat waste and storm water are at work here in Virginia across the country and around the world. Most of the building integrated systems are small in scale delivering on site processing for a wide array of users. Organica, a company based out of Hungary is designing municipal scale wastewater treatment facilities that can also serve double duty as community botanical gardens. Partnering with Veolia of France, the company's first municipal facility in North America is now under construction in British Columbia. With this development, the town of Sechelt, just north of Vancouver, is creating a new place for city residents to learn about the environment and enjoy green space. More information as well project renderings can be found at the Sechelt website.
Instead of referring to their greenhouse based systems as wastewater treatment plants, the Organica cofounder prefers the term"water renewal gardens." In a Ted Talk, Attila Bodnar described the philosophy behind company designs and presented a rendering of what a facility with the capacity to handle the effluent of a population of 75,000 might look like in the place of a parking lot in NYC.
Most primary biological treatment facilities in operation in the United States are much smaller in scale. Worrell Water of Charlottesville, Virginia has designed and installed on site systems called "living machines" at schools, airports, government facilities and more. According to to C-ville weekly, the CFA Institute recently completed a major renovation of the old Martha Jefferson Hospital which also touts a living machine
John Todd who pioneered eco machine technology in the United States designed the system installed at the Omega Institute in New York. The building is one of the first in the United States to be certified as "living" by the Living Future Institute.
Large expansive wetlands engineered to mimic natural systems have been used for water treatment since the 1970s in the United States. Generally designed to treat stormwater runoff or to polish treatment plant effluent, growing concern over nutrient and pharmaceutical pollutants could spur more interest in this technology. Endocrine disrupting chemicals pass through conventional treatment systems and accumulate in the marine environment around metro areas. In a study being conducted by
UNC researchers
, triclosan was found in oysters at every North Carolina site they took samples at. Wetland filtration would prevent the flow of vast quantities of dangerous compounds to the sea. At the same time, recreation space and wildlife habitat would be expanded.
The potential for natural waste water treatment is evident in two west coast projects. The Arcata Marsh and Wildlife Sanctuary in California and Talking Waters Garden in Albany, Oregon are shining examples of sustainable design. At both locations, the sites were transformed from derelict industrial wastelands to verdant gardens enjoyed by wildlife and thousands of visitors every year.
At Talking Water Gardens, waterfalls aerate and cool the water entering the Williamette River which is important for salmon spawning. An old loading dock from the original mill located on the site was used to create the weeping wall, a prominent feature of the garden. See images in the Green Infrastructure Virtual Tour.
Regionally, opportunities exist to see natual infrastructure at work. In Portsmouth, a small constructed wetland is employed on the Elizabeth River Project's Learning Barge that treats grey water generated at hand sinks. The Herb Bateman Visitor Center at the Chincoteague National Wildlife utilizes a more extensive wetland filtration system that recycles treated water for toilet flushing. A plant based natural waste water treatment project is also planned at the Chesapeake Bay Foundation's Brock Environmental Center now under construction at Pleasure House Point near Lynnhaven Inlet in Virginia Beach. Several biofiltration systems have also been incorporated into storm water drainage infrastructure at local parking lots. Filterra, a company based in Ashland, Virginia has devised a planted system that can be installed into retrofitted storm drains to reduce nutrient loads entering waterways.
Bioremediation
The remediation of toxins and other pollutant using trees, plants and other organisms is an evolving field. Floating wetlands, more basically designed than the system pictured below, are located at the Virginia Zoo, the Virginia Tech Agricultural Research Station in Virginia Beach and William and Mary campuses. On the Eastern Shore of Maryland, the Choptank Riverkeepers are installing a bioreactor to reduce the nitrogen flowing from a farm field to the Bay. Runoff is funneled through the reactor which contains bacteria laden wood chips. As stormwater flows through, bacteria digest nitrogen from agricultural runoff. Research is also being conducted on remediating soils and removing fecal bacteria from cattle ranches using mycofiltration which relies on mushrooms to transform pollutants. With a unique underground network, mushrooms are also capable of sequestering vast quantities of CO2.
Phytoremediation is also being employed at Superfund and hazardous waste sites. Poplars planted at the Aberdeen Proving Ground in Maryland are filtering toxic compounds used for chemical warfare. At a pond contaminated with PCBs in Alta Vista, Virginia, Willow and Poplar saplings are being tested for their ability to break down the toxins.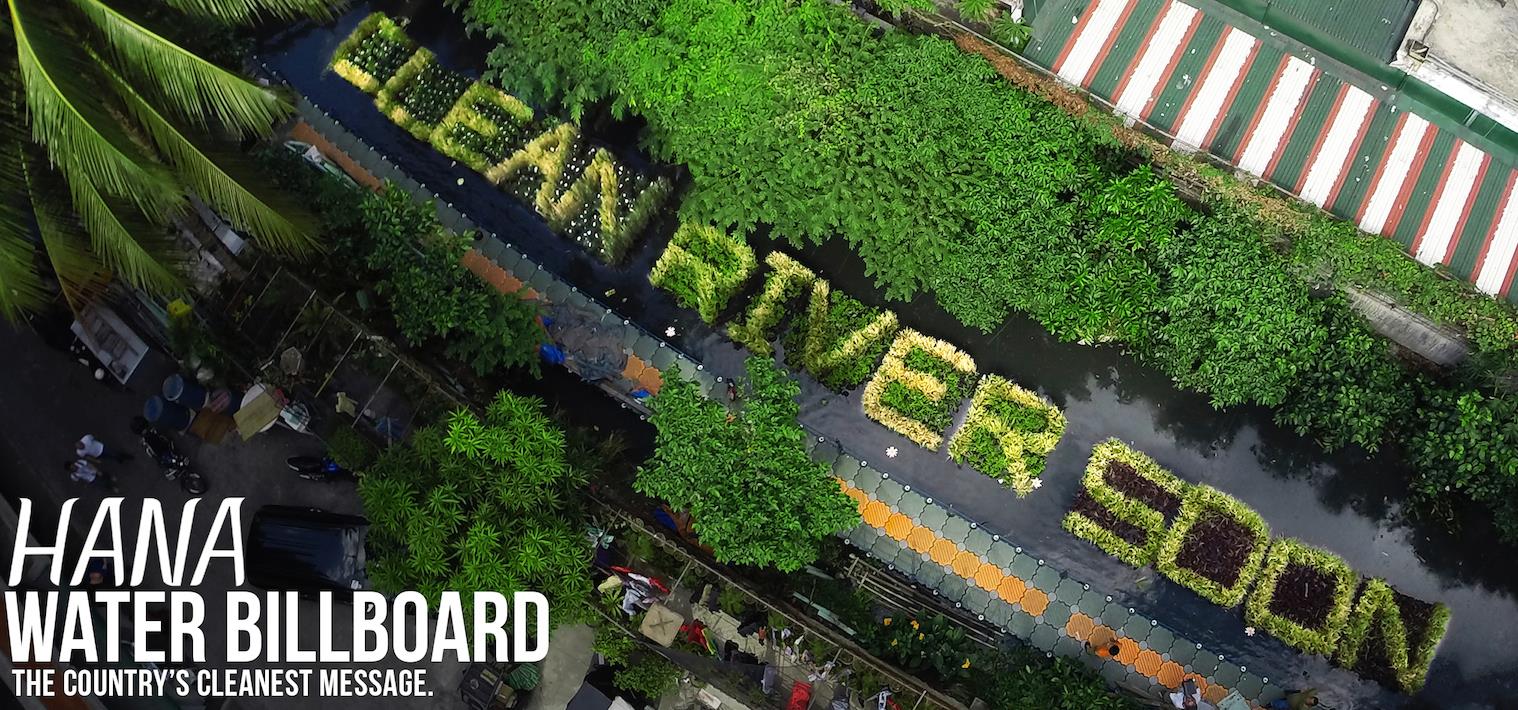 Water Cleaning Billboard remediation project on the Pasig River in Manila - Image: HANA
More images featuring the infrastructure discussed above can be viewed in the Nature at Work - Green Infrastructure Tour
Check the Archive for Previous Posts
All Rights Reserved. Disclaimer.