Transmitting news and infomation about sustainable endeavors in Coastal Virginia and beyond. Updated Weekly.
Charting a Course to Connect our Offshore Wind Resource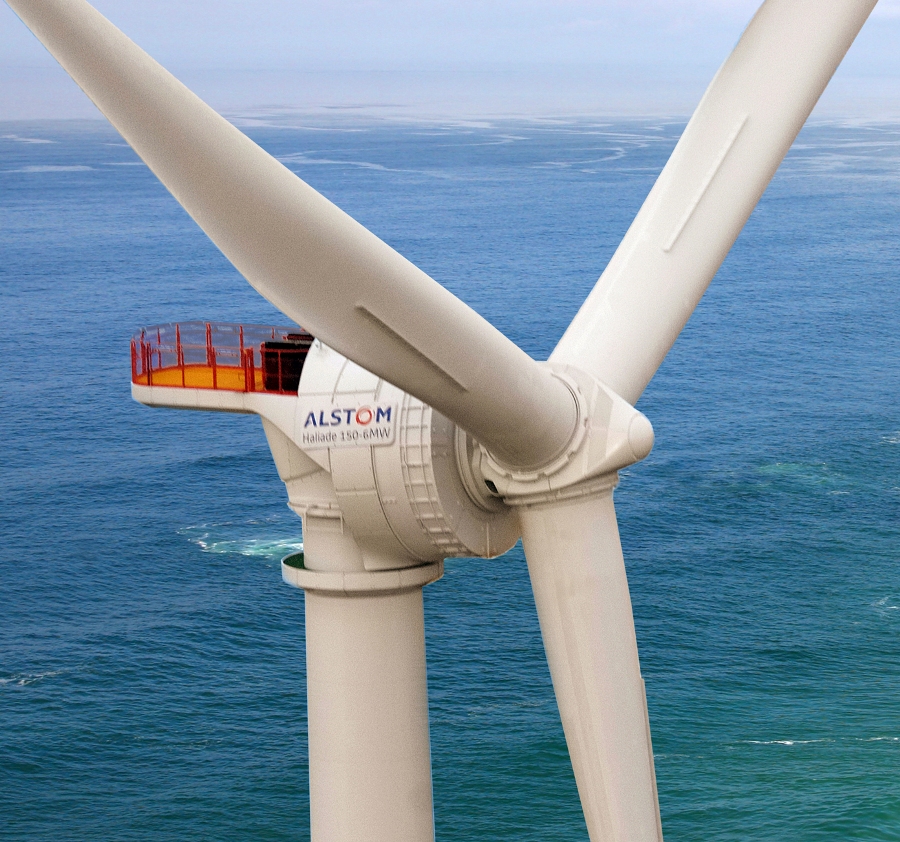 Alstom's Prototype 6MW Haliade off the Coast of Belgium. The French company has entered into a joint venture with General Electric. Image - Alstom
Posted 4 December 2014 - by Carol Brighton
Harnessing clean free energy seems like a no brainer. So, it should come as no surprise that the US has experienced explosive growth in the wind industry. This trend is illustrated in a DoE time progression map and an interactive map produced by USGS. Absent on both maps are projects in Virginia. That may be about to change.
Just weeks ago two turbines went online in Virginia Beach at the Chesapeake Bay Foundation's Brock Environmental Center. And now, plans are moving forward for a twin turbine demonstration project that will feature the deployment of giant machines to take advantage of strong offshore wind.
With a $47 million award from the Department of Energy, Dominion is collaborating with a consortium of partners to deploy two 6 MW turbines some 26 miles off the Virginia coast. Developed specifically for the offshore market, the Alstom Haliade is among the largest in the world currently in operation. Plans call for installing the turbines upon innovative "twisted jacket" foundations that offer the strength of traditional structures with substantially less steal.
Alstom's prototype Haliade model recently began sending electricity to the grid in Belgium. Without a gearbox, the direct drive turbine sports a massive 150 meter rotor supporting blades that extend about 24o feet. As a result the Haliade is 15% more efficient than existing turbines. Watch a youtube of the prototype construction.
Public Information Meeting December 17
The Bureau of Ocean Energy Management (BOEM) has released an Environmental Assessment (EA) of the proposed Virginia Offshore Wind Technology Advancement Project. The EA addresses the societal and environmental consequences associated with the construction, operation, maintenance, and eventual decommission of the turbines and cables that will deliver power to shore in Virginia Beach. The impacts of noise, presence of structures, bottom disturbance, vessel traffic, and onshore activities are considered.
The comment period is open until January 2. Submission details are listed on the BOEM website. For more information, BOEM will conduct a public information meeting to explain the proposed activities analyzed in the EA and provide additional opportunity for public comment.
The BOEM meeting will be held on Wednesday, December 17, 2014, from 5:00 to 8:00 p.m., at the Virginia Aquarium and Marine Science Center, 717 General Booth Boulevard, Virginia Beach, Virginia 23451.
Moving Forward
Offshore wind farms started powering Europe in 1991. Now providing 3% of global electric supply, Navigant Research projects wind capacity will grow to 7% by 2018 and it is anticipated that much of that growth will be in the offshore sector. As a fast growing and mainly carbon free industry, offshore wind development offers both environmental and economic benefits. Despite over a decade of effort pushing Nantucket's Cape Wind project forward, other than the University of Maine's 1/8th scale floating demonstration project, no significant offshore projects are connected to the US electric grid.
In addition to the demonstration proposed off of Virginia, hope for US offshore wind can be found in another pilot project planned near Rhode Island's Block Island. Deepwater's 30 MW Project, also utilizing Haliade turbines, is fully permitted and its 5 turbines could be spinning as early as 2016. These initial projects are critically important as they chart the course for future offshore wind developers, reducing costs associated with planning, constructing, and operating offshore farms.
Watch a Youtube of the Installation of the Prototype Alstom Haliade near the Belgian Port of Ostend
Resources:
Virginia Offshore Wind Technology Advancement Project (VOWTAP) Environmental Assessment - Submit Comments
Alternative Energy Pinterest Collection
Energy Transformation on Flipboard
Tidewater Current | Renewable Energy
Check the Archive for Previous Posts
All Rights Reserved. Disclaimer.