Transmitting news and information about sustainable endeavors in Coastal Virginia and beyond. Updated Weekly.
New Sources of Seafood Cropping Up
Aquaculture Ventures from the Mountains to Offshore
Posted 23 March 2015 by Carol Brighton
90 percent of seafood consumed in the US is imported, half of which is farmed.  As a result, Americans often feed their seafood appetite with chemically laden fare derived from facilities that degrade marine resources. To generate healthier seafood choices and alleviate an $11 billion trade deficit without compromising wild domestic fisheries, entrepreneurs across the country are investing in sustainable aquaculture production. And Virginia is participating in this trend. With plenty of press featuring the success of shellfish cultivation, the focus of this post, is lesser-known emerging technologies that will allow domestic producers to meet greater seafood demand both on the coast and far inland.  Indoor, aquaponic, multi-trophic, and offshore operations are explored in Virginia and beyond.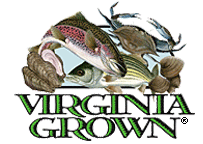 The seafood industry is one of the Commonwealth's oldest and plays an important role in the economy. Ranked as the largest seafood producer on the East Coast, Spencer Neale of the Farm Bureau notes "aquaculture is truly a bright spot for Virginia." By actively promoting aquaculture, which is considered to be the fastest growing food production sector in the world, Virginia has become an industry leader.  During March's Blue Planet Forum in Norfolk, the Virginia Secretary of Commerce, Maurice Jones, recently underscored a commitment to aquaculture expansion, commenting that land based projects are currently in economic development in rural parts of the state.
Through the Sea Grant system, startups have access to expert support.  In addition to conducting research and advancing technology, scientists facilitate the transfer of their work for economic expansion. From assisting in species selection and development, facility design, branding and identifying grant opportunities, scientist at Virginia Tech, the Virginia Seafood AREC and VIMS have provided crucial assistance to aquaculture enterprises. Through their collaboration with Sea Grant, an innovative startup on the Delmarva Peninsula is showing promise.

Fish Farming on the Eastern Shore – Bradford Bay Farms 
Sited where both agriculture and seafood are major economic drivers, Bradford Bay Farms is like no other producer on the Eastern Shore.  Several years ago, when wild black sea bass stocks were overfished and harvest limits were prescribed, company owner Dr. Clarke Morton began working with Sea Grant scientist and set out to cultivate the fish.  In the land based system, fish are being grown far more efficiently than other terrestrial protein and relieve pressure on ocean sources. Run by manager Chris Bentley, the operation is now turning out a consistent supply of healthy perfectly portioned fish with minimal environmental impact. 
Within a sustainibly designed facility, natural Atlantic seawater is filtered in a recirculating aquaculture system (RAS) that reuses water and creates a clean, secure environment for fish rearing. Solar and geothermal technologies are employed for climate control.  And to treat wastewater to a higher standard than is required by regulations, a constructed wetland is being planned.
According to Dr. Morton, the fish take about 18 months to reach 1 pound or market size. The Sashimi quality fish are raised free of hormones, antibiotics or other chemicals in 7,000 gallon tanks.  With a diet high in soy and low in fishmeal, exposure to environmental contaminants like mercury or PCBs found in wild stocks is negligible. The feed conversion ratio is also low compared to other protein sources. To grow one pound of fish, about 1.6 pounds of feed is required. 2.5 pounds of feed are required to produce a pound of chicken and the conversion ratio grows for pork and more than doubles for beef. Dr. Morton estimates that the company currently harvests an average of 150 pounds of fish every week and they are planning to expand production.  The fresh fish are distributed to a major retailer and restaurants in DC and Raleigh.  The Virginia Natural Fish Company, a cooperative of producers also sells frozen fillets along with local pond raised catfish, trout, freshwater shrimp and hybrid striped bass.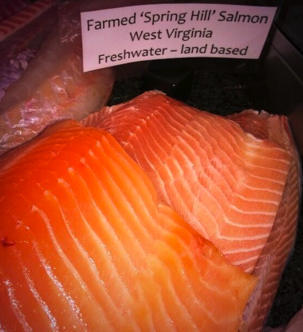 The Conservation Fund's Fresh Water Institute in Sheperdstown, WV is producing aquacultured salmon on sale now for a limited time in Washington metro locations. Image: 2014 Twitter Feed from DCFishwife
Indoor Farms Growing far From Traditional Sources
The beauty of the recirculating tank technology is that these systems do not need to be located near water.  They can be positioned to serve major population centers and to create jobs in depressed economies.  Blue Ridge Aquaculture, located in rural Virginia near Martinsville, is the world's largest indoor tilapia production facility and ships to major metropolitan areas along the East Coast. 
The Freshwater Institute, in neighboring West Virginia, runs a salmon research operation and is harvesting fish for Spring 2015. The salmon branded as "Spring Hill" is rated as a best choice by Monterey Bay Aquarium's Seafood Watch. Distributed through J.J. McDonnell in the Washington metro area, it can be found while supplies last in select Wegmans stores. A few other startups are growing salmon similarly. Bell Aquaculture of Indiana recently added coho salmon to its lineup and a major Norwegian producer is planning a big project in Homestead, Florida.
In the northeast, Australis is using the indoor recirculating tank system in a 2 acre Massachusetts barramundi farm. Shrimp, the most popular seafood consumed in this country, is also being farmed in a number of land based operations. A recent article in the New York Times features indoor saltwater farming at Sky 8 in Boston and RDM operations in the Midwest. Sky 8 is distributing 1,300 pounds of fresh shrimp a month to local buyers.
While there are more aquaculture success stories, as with any startup business venture, there are also failures. Two regional companies previously featured in a post on this site, Virginia Cobia Farms and Marvesta Shrimp Farms of Maryland, have closed their doors. While these were small companies, the highly acclaimed 31 acre Local Ocean facility in New York which produced several species including yellowtail for major retailers also quietly crumbled. Despite some setbacks in the industry, entrepreneurs continue to work to advance sustainable farming. And the cultivation of highly valued species continues to drive investment.
Carolina and Florida Caviar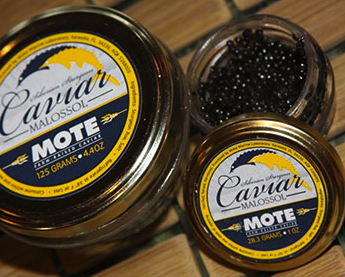 Caviar produced at the Mote Aquaculture research facility - In late 2014 the sale of the sturgeon research program to a local business was announced. Image: Mote Marine Laboratory and Aquarium
The objective of a long-term initiative at Mote Marine Laboratories was to create a sustainable system to protect an endangered species and establish a viable commercial scale project that could be transferred to the private sector. To do this, researchers focused on a very lucrative commodity: caviar. Decimated in the wild, Siberian sturgeon became the focus of researchers at the start of the century and a program was initiated to raise the fish in a closed system in sunny Sarasota, FL. Slow to mature sturgeon were managed for several years before caviar and meat could be harvested. Later income was derived from caviar and fillet sales to help to fund the project's operation. And in late 2014, Mote made a return on its investment: The program was sold locally to Southeast Venture Holdings, LLC.
According to Mote President & CEO, Dr. Michael P. Crosby, "This sale marks the first major private business spin-off from Mote research and achieves a major goal for the Laboratory. The sale of the Siberian sturgeon operation is just the first step in what will be many more partnerships with private sector entrepreneurs."
In recent years sturgeon farms have cropped up across the country and there are over 35 such operations internationally. One happens to be in nearby North Carolina. The Atlantic Caviar & Sturgeon Company located in Happy Valley raises sturgeon in naturally cooled pure water from the Blue Ridge mountains in 32 20,000 gallon grow tanks. Their Ossetra caviar is available online and sell for $65/ounce. Along with the caviar, sturgeon fillets which are likened to swordfish are rated as a "Best Choice" by Fish Watch. The company also markets hickory smoked fillets. Surgically and hormonally based egg harvesting methods that save the fish for future production are beginning to be utilized by other companies.
Adding Value by Co-Producing Crops and Fish
Aquaponic cultivation is another trend gaining ground.  Through a symbiotic relationship, beneficial to both plant and fish, the method unites crop production with fish farming. Grown using the same water source in a recirculating system, plants are fed a filtered supply of fish tank water.  As waste cycles though a maze of soilless plants, nutrients vital for plant growth but toxic to the fish are removed and fresh clean water is returned to the tanks. Frequently grown in green or grow houses, there's no need for chemical fertilizers or pesticides. With water recycling, the systems use far less of an increasing precious resource than conventional agriculture while exceeding production output. With higher operating costs than traditional agriculture, aquaponics is ideally suited for cold climate inner city locales where fresh local food is at a premium.
Urban Organics of Minnesota has achieved so much success in downtown Saint Paul, the company is expanding into a second site at the former Schmidt brewing factory. This kind of success has not been seen in the region, but there are lots of small venture startups like Hickory Jack's in Chesapeake, Life Enrichment Sciences in Gloucester, and HerbAqua in Smithfield. In addition to tilapia, freshwater lobster (aka red claw crayfish) is being raised at Hickory Jacks. A small system installed at Kellam High school in Virginia Beach is giving students hands on experience with the technology and a facility is in the works in Roanoke, VA that will serve to train youth in the business. Pulaski Grow won a $15,000 grant competition through the Rural Entrepreneurship Challenge that will help teens develop enterprising skills as they build a community resource. The program is free and open to the local youth.
Saltwater Systems
Following the aquaponic model, Mote Marine Laboratories is doing something a little different. In their grow house, saltwater species are being raised together in a recirculating system. Red drum are being grown in tanks that will feed difficult to source marine plants such as sea purslane and saltwort. These healthy sea vegetables are popular in Europe and researchers hope to create a domestic market for them.
A startup in Maine is expanding upon this concept and looks to grow multiple marine species. Acadia Harvest just won a $657K grant form the National Science Foundation to further develop a land based yellowtail and black sea bass farm. To reduce costs and increase their revenue stream they will co- produce these species with other marketable products including oysters and algae. Designated as Integrated Multi-trophic Aquaculture (IMTA), co-cultivation of species is also a growing trend in coastal operations. By designing systems that extract and recycle excess nutrients, the environmental impact of open water systems can be significantly reduced and new income avenues created. Cooke Aquaculture in northeast Canada is incorporating seaweed and mussels into its salmon farming operation. These species are also being co-cultured in Long Island Sound at the Thimble Shoals Oyster Company (more info).
Surprising Seaweed - Superfood of the Seas
Like shellfish, seaweeds remove nutrients from the water column and require no external inputs. Not only popular in nutritional supplements and health foods, they are commonly incorporated into many products we regularly consume. Ice cream, salad dressing and numerous prepackaged goods contain seaweed derived stabilizing and thickening agents. They are also commonly used in cosmetics, chemicals, fertilizers and have tremendous potential to produce animal and fish feed, plastics and other materials as well as fuel and energy.
Long revered in ethnic cuisine, they are now being touted in American culture as a new "super food." Farming operations are expanding and new products are being introduced to the marketplace. Sweden is investing heavily into the production of this crop with its "Seafarm" project.
The experimental sugar kelp farm is up and running in the waters that separate the country from Denmark near Strömstad and expansion is in the works. Project head, Fredrik Gröndahl says, "it will be an energy forest at sea. We plan to build large farms on 2 hectares…In 15 years time, we will have many large algae cultivations along our coasts." Providing a reef effect, the farms are expected to attract fish and dampen incoming waves. With storm protection and restorative benefits associated with seaweed farming, it would seem that cultivation in the Chesapeake Bay would be advantageous. Virginia Sea Grant has funded some research on the topic. University of Maryland's Dr. Ji Li has explored the integration of seaweeds into oyster aquaculture in the Bay and conducted on site experiments at Marinetics oyster farm. Meanwhile recent research from VIMS also indicates that one type of seaweed, red algae, could provide beneficial habitat for juvenile blue crabs. More information on seaweed.
Alternative Feeds
Seaweed and shellfish aquaculture require no nutritional input, but feed is required for other highly valued species. And feeds conventionally rely on fishmeal from the base of the food chain: forage fish. One way to ensure that forage fish stocks remain stable and grow truly sustainable seafood is to find alternative feeds. Making fishmeal free feeds is the holy grail for aquaculture. There's an abundance of research being conducted and success has been achieved in replacing a significant portion if not all fishmeal with various ingredients including soy, algae and other grains. This topic could be the subject of a book length narrative. Instead, a few noteworty advances are shared.
AgriProtein, a South African company with backers like Bill Gates, is opening a fly larvae based feed production facility. The nutrient recycling facility will create protein for animal and fish feed while also providing another essential public service: waste management. The larvae literally consume garbage and turn it into a valuable protein resource. In California, Two X Sea has entirely removed fish from the diet of it's McFarland Springs Trout. The fish which contain high Omega 3 levels are nourished on a 100% vegetarian diet.
Marine microbes form the basis of a natural prawn feed developed in Australia without any fishmeal. Novacq's patented method has been licensed for commercial production. The company claims that the growth rate of prawns raised on their diet is 20-30% higher than those raised on conventional feeds. Microbial processes are likewise being developed by Calysta. The California energy company intends to produce proteins and other key ingredients of high nutritional value through the fermentation of methane. With major investments, including $2 million from Aqua-Spark and another $8 million through others in Series B funding, Calysta's work is well funded.
In the Chesapeake Bay region, both the University of Maryland and Virginia Tech have conducted exhaustive research on alternative feeds. A former VT scientists is now director of the newly launched Bell Farms Feed Mill. According to Steve Craig, they are "the first company to produce a fishmeal free diet for carnivorous fish." The company's parent, Bell Aquaculture, farms several species. As a vertically integrated company, they have the benefit of inhouse research on the performance of their formulations and can optimize the feed needs for life cycle stages and for different species. Experiments with vegetarian feed at the University of Maryland have garnered the attention of the press and been the subject of numerous news articles in recent years. There's a good reason for all this attention. The global market for fish and livestock feed is worth $370 billion annually. Considering the efficiencies in fish production over other protein sources, the number of aquaculture operations could skyrocket along with population growth. The World Bank foresees a 36% rise in seafood demand met mainly through aquaculture by 2030.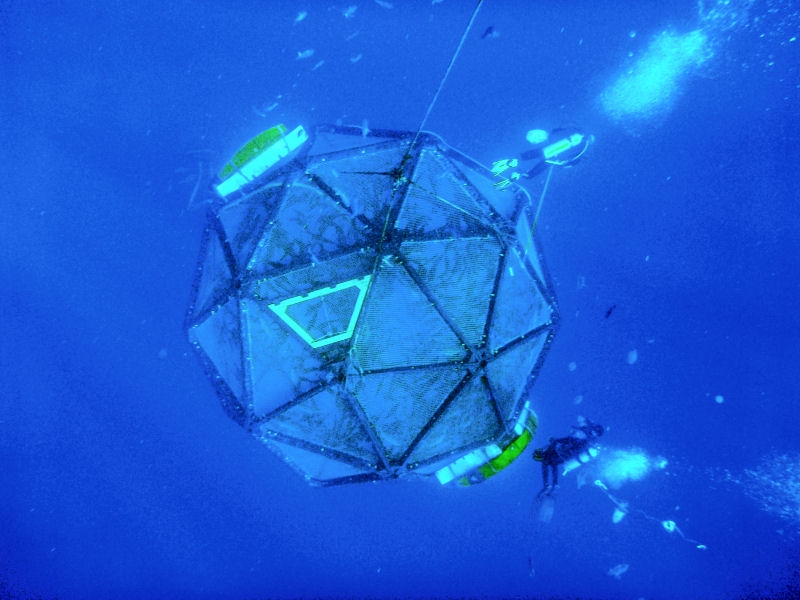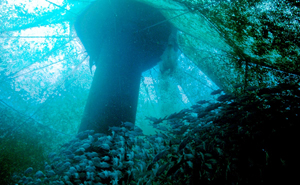 Two different aquaculture structures employed off Hawaii. At the top, Kampachi Farm's Aquapod floats below the surface. The bottom image from NOAA illustrates how a turbine tower could also be used to host a surface pen. Images: NOAA
The Last Frontier | Offshore Farming Pioneers
Whether human enterprise should enter this sphere is not discussed here. The reality is that governments are looking for ways to feed more people and create economic opportunities through offshore resources. Aquaculture, if practiced in the right way, may be one of the most benign uses of this territory.
Offshore farming is currently being conducted in Mexico and the Caribbean. In Hawaii, Blue Ocean Mariculture has pens positioned just off the North Kona Coast and Kampachi Farms has partnered with Lockheed Martin to design remotely operated underwater floating farms. The mainland US is also likely to see activity soon. NOAA is currently considering offshore permits for the Gulf of Mexico and other projects are also in planning.
Rose Canyon Fisheries looks to establish a floating facility 4.5 miles off the coast of San Diego that will annually yield 5,000 metric tons of yellow tail jack, white seabass and striped bass. Two mussel farming projects are also moving forward on the East and West Coasts. The State of California has OK'd Catalina Sea Ranch's mussel farm off of Long Beach and the Army Corps of Engineers has approved plans for a mussel farm 4 miles off of Cape Cod, in close proximity to land leased for wind development.
Co-locating Offshore Facilities
With offshore wind development moving forward along the East Coast, Dr. Michael Schwarz of the Virginia Seafood AREC thinks that co-siting wind farm infrastructure with aquaculture presents an interesting opportunity. Cost sharing could reduce development costs for both industries and provide greater economic returns through the utilization of the same space. His facility located in Hampton, Virginia has investigated the cultivation of a number of finfish species. Currently, pompano, cobia and yellowtail are being grown in tanks. The facility is also partnering with Lockheed Martin to create a spinout venture: the Forever Oceans/Virginia Tech International Aquaculture Academy. Lockheed Martin's Forever Oceans project aims to grow ocean aquaculture through a licensing system for an end-to-end farming solution franchise. Training programs in support of the Forever Oceans project will be offered through the Hampton facility. No additional information has been released about the collaboration.
There's also no indication that Lockheed Martin and Virginia Tech or investors will venture into aquaculture off the Virginia coast. With the aquapod technology and a twin turbine pilot project planned off Virginia, the opportunity exists. Like artificial reefs, open ocean infrastructure developed multi-trophically and organically could provide more benefits than risks for marine life.
More Information:
The Virginia Aquarium will host its annual "Sensible Seafood Fest" in May. There you can learn more about and taste local sustainable seafood options. For updated news on aquaculture and fisheries, click on the links to view aggregated news collections. Here are some links to related posts on this site:
Fighting Fishy Activity in the Seafood Industry

The Stars Come Out for the Ocean
Nature at Work - Part 2 - Marine Ecosystems
Avoiding a Collision Course among Ocean Giants
Celebrating the Sea & Talking Trash
Marine Pollution Solutions (in Waste as a Resource)
Fishing for Sustainable Seafood: Successful Solutions to Feed the Future
News Collections: Seafood Trends & Supply | Fisheries | Aquaculture | Algae & Seaweed Uses
Check the Archive for Previous Posts
All Rights Reserved. Disclaimer.