Transmitting news and information about sustainable endeavors in Coastal Virginia and beyond. Updated Weekly.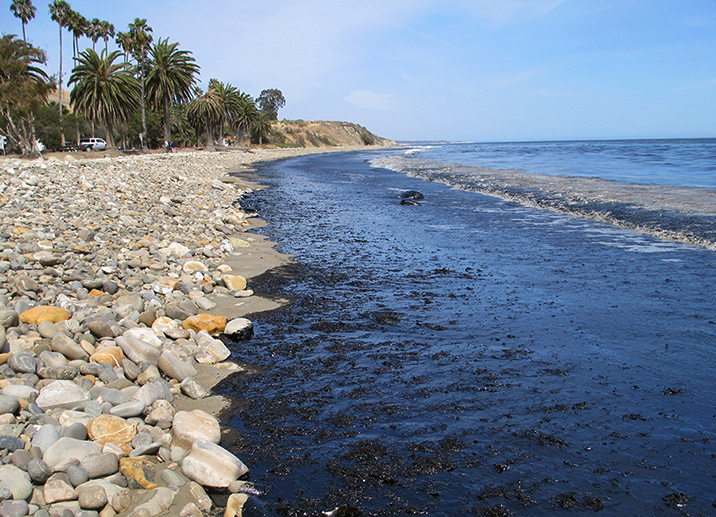 The prevalence of disaster scenes like the May oil spill along a protected segment of the California coast is driving a global movement in support of clean energy. Image: US Coast Guard
Initiatives Inspire Energy Transformation
Posted 25 May 2015 by Carol Brighton
With an uptick in extreme weather, swelling seas and other disastrous events connected with fossil fuel consumption, clean energy and climate campaigners are not just taking to the streets: They're launching epic initiatives and pulling off impressive feats.  The call for energy reformation is being made loud and clear. Hundreds of kayaktivists blockaded Shell's Arctic oil rig at the port of Seattle last week. As protests to protect the Arctic continue to draw crowds, eco adventurers are undertaking monumental journeys to inspire the masses and demonstrate the potential of solar and wind powered craft. The ripple effect of the global wave of activism is even being felt in Tidewater.
In May, concerned citizens all over the nation including Virginia Beach demonstrated along local shorelines calling for a shift to emission and spill free power sources.  University students also led a pipeline resistance ride through the Commonwealth that brought them to Norfolk.  And now a kayatavist from down under is paddling his way through the Chesapeake Bay for climate action.
  Kayak4Earth Paddler Transiting the Bay
As part of an ambitious expedition to deliver a message to policy makers, Australian kayaktivist Steve Posselt is now touring Virginia shores. He stopped in Virginia Beach Memorial Day weekend and is now heading north.  His Kayak4Earth tour will ultimately end in Paris in time for international climate talks at the end of the year.  The 62 year-old is frustrated with a lack of commitment from the Australian government to act on climate. "Like so many people" explains Posselt, "I want deep emission cuts and a commitment from Canberra to treat the warming of the earth as the gravely important issue that it is. … I want to represent all Australians, who want to accept our responsibility to make change, and do whatever it takes to contribute positively to the fight against global warming."
Steve Posselt, a kayaktivist from down under is currently paddling up the East Coast to garner public support for climate talks late this year in Paris. His route which covers waterways in three continents brought him to Lynnhaven Inlet in Virginia Beach where he toured the Chesapeake Bay Foundation's Brock Environmental Center. Posselt reckons he's covered over 2000 miles to date. See more images.
Posselt started the American leg of his journey in early March at the Gulf of Mexico and paddled or pedaled most of the way to Virginia. Encountering floodwaters along the Mississippi, he changed plans, purchased a bike and cycled through the mountains to put his kayak back in the water in Greenville, NC. Heading north he made his way up to the Lynnhaven River. Along the Virginia segment of the Southeast Coast Paddling Trail, he encountered severely blocked passages. After following a tough route through to Virginia Beach, he particularly enjoyed seeing renewable energy at work at the Chesapeake Bay Foundation offices.
Currently transiting the length of the Bay, he will continue on to New York where he will board the Queen Mary 2 to cross the Atlantic. He plans to continue kayaking through the UK and on to Paris. You can follow Posselt's adventures through the Bay and beyond at Kayak4earth.com.
As Posselt paddles, sailors on Polynesian canoes are delivering a similar message to his fellow citizens down under. The Mālama Honua Worldwide Voyage is currently on a 3 year 50,000 nautical mile odyssey. Their mission is to navigate civilization onto a more sustainable course. Using ancestral wisdom, the navigators aboard two vessels, the Hōkūleʻa and Hikianalia, will follow the stars and other cues provided by nature to reach population and government centers.  As they make port calls in 26 countries they hope to inspire humanity to embrace the indigenous mind-set of caring for island earth. Through their campaign, they are building a network of citizens across the globe that will lead a charge for change. The schedule and route can be found here. A stop is planned in Washington, D.C. and the Daily Press reports that a Newport News visit next Spring is possible. Watch the arrival of the Hokulea in Sydney Harbor on May 22.
Within the coming week(s), pioneers in solar flight and sailing plan to rendezvous in Hawaii. As soon as the right weather window opens up, the Solar Impulse 2, an electric aircraft powered completely by the sun, will commence a five day flight from China to Hawaii as part of a round-the-world circuit. There the solar impulse team will meet up with the sailors of the Hydropetere, a revolutionary flying catamaran. With foils that deploy at 10 knots, upward thrust lifts the vessel out of the water for swifter travel. Floating above the sea surface with very little drag, the craft can exceed 60 mph and has averaged 58 mph over long distance. The Hydroptere will endeavor to make a record breaking transit from Los Angeles to Hawaii in the same 5 day time frame as the Solar Impulse 2 journey.
Watch the videos below to learn more about these innovative water and air crafts.
Read more about energy transition action and the deployment of clean technology in the following posts:
Surge for Fossil Fuels Protests
ELF Sightings in Virginia | Enchanting Mode of Transport in Williamsburg
With the Support Pharrell Williams, Climate Action is a Hot Topic - Live Earth Concert June 18 to engage 2 billion people in climate action.
Sunny Days Ahead for Transitioning Vets
Converting to Electric Transport - Learn about electric vehicles and how one local teacher converted an old VW into a very reasonable EV.
Marine Propulsion – Is Wind back on the Horizon?
Sailing Into a Sustainable Future
Also See:
The Tidewater Current Renewable Energy Page
Pinterest Collections on Renewable Energy, Conventional Energy Concerns & Earth-Climate News
Check the Archive for Previous Posts
All Rights Reserved. Disclaimer.